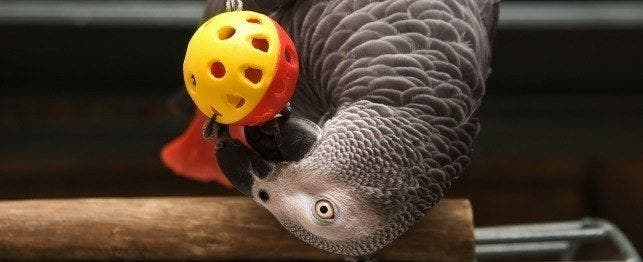 10 Amazing Toys that Your Bird Will Definitely Enjoy
Your bird provides you with hours of entertainment. Now, with some of these toys, he can entertain himself.
Bundle of Fun
This toy is loaded with lots of fun things to do.
Bunch-O-Bells
Let your bird ring in each new day with this group of bells.
Clip On Bird Toys
This interactive toy is perfect for your small bird. It hangs from your bird's perch and provides hours of fun. Made by Toy Shoppe.
Jingles Perch Toy
A toy to clip onto your bird's perch. Made of leather and beads, your bird will love this toy.
Rawhide Ring Toy
Made for the large parrot, this toy is made of interlocking rawhide rings and will really give your bird's beak a workout.
Foot Fun
For the bird that loves to play with his feet, this toy is hilarious.
Cage Mates
Is your bird lonely? Give him the perfect companion. Available in a variety of styles, this 'bird' needs no food or water. Made by Multi Pet.
Jubilee Hanging Toy
For the strong bird, this toy is tough and double stranded for loads of fun.
Treasured Trinket
With lots of plastic hearts and various toys, your bird will be busy all day..
Tweety's Toy
Made of spools, stars, hearts and leather, this toy will provide entertainment for even the pickiest bird.