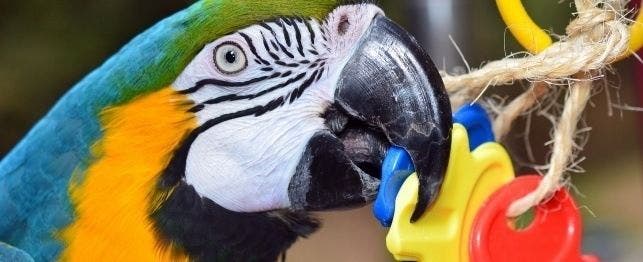 Birds of a Feather: Saving Unwanted Birds
When his owners packed up and moved to another part of the country, Barney, a 4-year-old Amazon parrot, found himself left behind. The house's new owners discovered the bird – scared and half-starved and living in the basement – the day they moved in.
Mojo, a mature blue and gold macaw, lived for nearly three years in an outdoor aviary high in the mountains near Aspen, Colo., without adequate shelter or heat. When Animal Control officers found the bird, they discovered that one of his legs was seriously damaged due to frostbite.
Mackie, a 7-year-old cockatoo, was a lot noisier, a lot messier and a lot more demanding than his owners had planned on. Unfortunately for the bird, they "punished" him by burning him with cigarettes. When his burns became infected, they handed him back to his previous owner and asked her to take him to a shelter.
Barney, Mojo and Mackie all wound up at the Gabriel Foundation, a non-profit rescue and rehabilitative organization located in Aspen, Colo., dedicated to the well-being of companion parrots.
The Gabriel Foundation is just one of a number of bird rescue organizations. As birds have become more and more popular, the need for ethical bird rescues has also grown. Unfortunately, the proliferation of unwanted pet birds has strained the resources of many rescue groups.
Impulsive Ownership
Birds come to rescue organizations in different ways. Julie Murad, founder and director of the Gabriel Foundation, says they are often impulse purchases. " When the newness wears off and the owners become tired of the noise and the mess, they ask us to take the birds," she says.By the time a bird arrives, she says, it has usually gone through between three and six homes.
Murad started the Gabriel Foundation in 1995 after her beloved hyacinth macaw, Gabriel, died suddenly. Now in its sixth year, the foundation has rescued more than 650 birds, most of whom have been rehabilitated and placed in new homes. "We probably receive around 100 phone calls a day from people inquiring how to give up a bird, adopt a bird, or calling with a question about bird care," Murad says. "We do not have to go looking for birds that need help."
About 100 birds live at the foundation at any given time – and there is often a waiting list to get in. There are close to 30 permanent residents, birds that are, says Murad, "too traumatized by past abuses to be handled, or too old, or too ill to be adopted."
Rehabbing a Parrot
When a bird is rescued, it gets a thorough physical examination. At the Gabriel Foundation, the exam includes DNA sexing and tests for psittacosis and psittacine beak and feather disease (two very infectious diseases among parrots). The bird is then placed in quarantine, which can last anywhere from 30 to 120 days, depending on veterinary recommendations.
Usually, the birds go through a certain amount of rehabilitation – both physical and behavioral – before they are ready to be adopted. They are often malnourished, injured or wounded, or have serious illnesses that need to be addressed.
There are emotional injuries as well. "Many of the birds are mourning the loss of their family, or they've been treated so abominably that it takes a while before they can learn to trust humans again," Murad says. A big part of trying to rehab a bird, she says, is simply showing them kindness, patience and respect. With fearful parrots, that may mean sitting by the bird's cage and talking softly to him – with no attempt at physical contact. "You have to go at the bird's pace and not try to push too fast," Murad says.
The Adoption Program
Once a bird has been nursed back to health and has gotten over his fear of people, he is ready to go up for adoption. Finding a new home for the bird, however, doesn't happen overnight. The foundation requires an extensive application and interview process, which, Murad says, generally takes between three and six months.
People who are interested in adopting one of the birds must first fill out a confidential application form, including personal references, and send in a $50 application fee. Half of the fee covers a one-year basic membership in the foundation; the remainder pays for a packet of information about bird care that is sent to the applicant.
The foundation asks applicants to come to the Colorado facility for an in-person interview. If that's not possible, candidates are asked to meet a foundation representative in their area. "By meeting with prospective adopters, we can learn a lot about their lifestyle and what they want in a pet, and this helps us match them up with the right bird," Murad says.
Applicants pay an adoption fee that ranges from $50 for small birds, such as cockatiels and lovebirds, to anywhere from $150 to $650 for larger parrots, such as African greys and cockatoos. The fee covers vaccinations against the polyoma virus and the cost of implanting microchip identification as well as toys, medical records and free consultation from the foundation for the life of the bird. Part of the fee is plowed back into the foundation to help cover operating costs.
After an adoption has been approved, there are follow-up interviews and a three-month probation period, Murad says. "We probably spend close to 15 hours on every adoption in interviews and interaction with potential adopters. It's a very thorough process," says Murad. "We want to make sure that the home any of these birds goes to is the last one."
This sort of careful screening is necessary, Schira says, to avoid placing the bird in an even worse situation. "Some "rescue" organizations will take a bird and try to breed it," They then try to sell these birds to pet stores or privately. "Traits that made the bird difficult in the first place are passed on, which can lead to even more unwanted birds."
To learn more about the Gabriel Foundation, visit them at www.thegabrielfoundation.org.