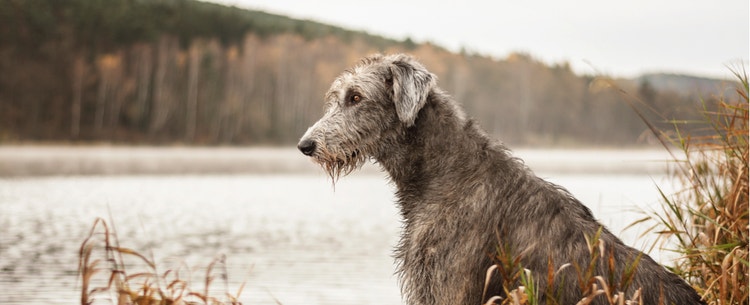 Irish Wolfhound
Life Expectancy
6 - 8 years
The Irish Wolfhound is the tallest member of the hound group. As the name implies, they were bred in Ireland and excelled at hunting wolves. Today, they are mostly kept as house pets, though their size and maintenance requirements prevent them from becoming commonplace. They are incredibly gentle as adults, and make wonderful family companions, as long as they are given room to expend energy daily.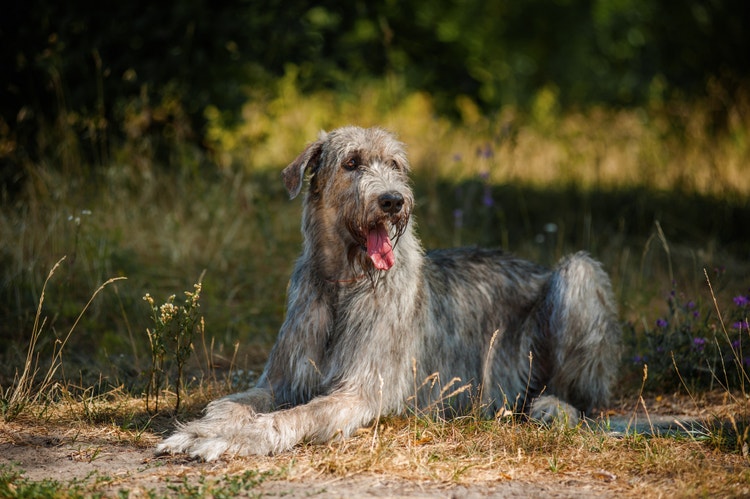 Friendliness to strangers
4
friendliness to other pets
4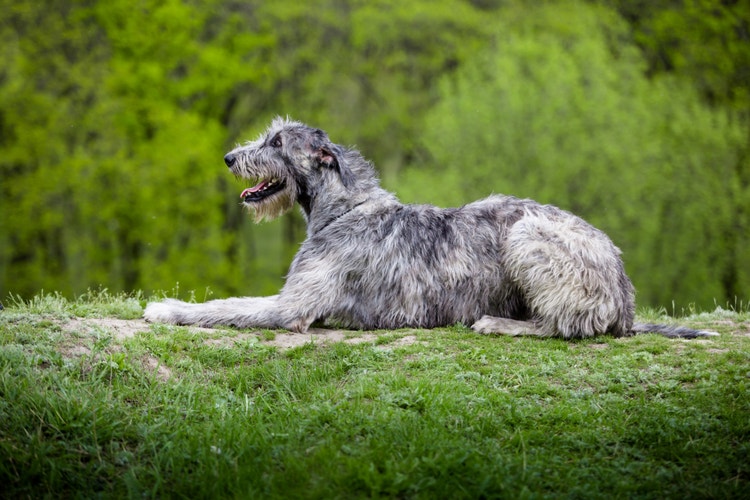 Where Are Irish Wolfhounds From?
The Wolfhound is a member of the sighthound group that includes Greyhounds, Afghans, and Scottish Deerhounds. They originated in Ireland, a result of crossing English dogs and Middle Eastern coursing hounds. The exact year of their creation is unknown, but they were written about as early as the 4th Century. They were such brilliant hunters of wolves and the now extinct Irish Elk that their prowess was said to exceed that of Mastiffs and Bulldogs. The breed nearly became extinct in the early to mid 19th century, when prey dwindled and they were no longer needed for the hunt. Fortunately, they experienced a resurgence in the late 1800's when Captain George Graham of the British army concentrated on a careful breeding and standardization program to restore their numbers. Today, they are mostly companions, though some owners let their stretch their legs by competing in lure coursing.
Caring for an Irish Wolfhound

What Kind of Diet Does an Irish Wolfhound Need?
What Kind of Diet Does an Irish Wolfhound Need?
Wolfhounds are giant-breed dogs and prospective owners need to budget and keep in mind the large volume of food required over their lifetime. Their peak growth occurs around 18 months of age and, during this period, they need a large amount of calories and specific nutrients to keep up with their rapidly growing bodies. Make sure that they are fed a large-breed puppy diet. They are prone to gastric dilatation volvulus (GDV or bloat), so it may be helpful to feed smaller, more frequent meals and to avoid exercise around mealtime.

How Much Grooming Does an Irish Wolfhound Need?
How Much Grooming Does an Irish Wolfhound Need?
Grooming of an Irish Wolfhound is infrequent and relatively simple. Their wiry fur needs brushing weekly to keep it tangle free. They don't shed much, but you will need to strip their undercoats twice yearly.

Are Irish Wolfhounds Healthy Dogs?
Are Irish Wolfhounds Healthy Dogs?
The Irish Wolfhound is giant-breed dog and, therefore, has associated health problems. Like most large dogs, their average lifespan is 6 to 8 years of age. Due to their size, they are predisposed to orthopedic issues including osteochondrosis dissecans (OCD), arthritis, hip dysplasia, and osteosarcoma. Cardiac issues are common in older Irish Wolfhounds, predominantly dilated cardiomyopathy. They should be screened for orthopedic, ocular, and cardiac disorders.
The Irish Wolfhound is predisposed to: gastric dilatation volvulus (GDV, bloat), hip dysplasia, cataracts, entropion, dilated cardiomyopathy (DCM), atrial fibrillation, von Willebrand's disease, shoulder osteochondrosis (OCD), osteosarcoma, hypothyroidism, and Wobbler's syndrome.

How Much Training Does an Irish Wolfhound Need?
How Much Training Does an Irish Wolfhound Need?
Wolfhounds are intelligent and do well with positive reinforcement training. Starting classes at an early age is necessary to keep your young Wolfhound out of trouble, since they can be destructive if bored. As they age, they develop a serenity that makes them perfect for therapy work.

How Much Exercise Does an Irish Wolfhound Need?
How Much Exercise Does an Irish Wolfhound Need?
Wolfhounds are running hounds that need space to stretch their long legs. They also have a strong prey drive, and care should be used when allowing them to run off leash, so they don't chase other animals. As they age, they tend to develop lazier tendencies, but still need a daily walk or playtime to stay in shape. After the day is done, they love nothing more than to snuggle on the couch.
What Are the Physical Characteristics of an Irish Wolfhound?
What Do Irish Wolfhounds Look Like?
A tall frame and rough coat are hallmarks of the Irish Wolfhound. They are the tallest of the running hounds, with males reaching 32″ in height and females peaking at 30″. They typically weigh between 90 – 150 pounds.
Irish Wolfhound Head and Eyes
The Wolfhound head boasts a long, slender muzzle. Their dark eyes are keen, yet gentle. Fur is longest over the eyes and under the chin, and may be trimmed to keep it tidy. Their small ears are naturally folded.
Are Irish Wolfhounds Tall?
Yes, Wolfhounds are tall, long, and lean, featuring a deep chest and slightly arched back.
How Long Is an Irish Wolfhound's Tail?
The tail of an Irish Wolfhound can be upwards of 30″ long! These massive appendages are slightly curved and carried down.
Irish Wolfhound Front Legs
IW forelimbs are long and straight, with elbows held slightly under the chest. The feet are round and pointed straight forward.
What Color Coats Does an Irish Wolfhound Have?
The wiry double coat of the Irish Wolfhound comes in a variety of colors, including black, blue, cream, wheaten, gray, and several brindle combinations.
Irish Wolfhound Back Legs
A Wolfhound's hindlimbs are sturdy and very well muscled, providing power when running after prey. Their legs are long and straight when viewed from behind.
Irish Wolfhound Facts
John F. Kennedy kept an Irish Wolfhound in the White House named "Wolf," who was a gift from Ireland's Father Thomas Kennedy.
Only nobleman were allowed to own Irish Wolfhounds in medieval Ireland. However, a small group of aristocrats that had not yet inherited their fortune were also allowed to keep their own hounds. These groups were referred to as "Fianna" and tales of their conquests are intertwined with Irish Wolfhound history in medieval literature.
Singer/songwriter Sting breeds and owns 11 Irish Wolfhounds and founded Dukesarem Kennel. This kennel's mission statement promotes health and well-being in the breed through careful screening and breeding practices.
Other Breeds to Explore
References
Irish Wolfhound Dog Breed Information and Personality Traits. Hill's Pet Nutrition, Inc., 2020.
American Kennel Club. The Complete Dog Book. Random House Digital, Inc., 2006.
Morris, Desmond. Dogs: The Ultimate Dictionary of Over 1,000 Dog Breeds. Trafalgar Square, 2002.
Wilcox, Bonnie and Chris Walkowicz. The Atlas of Dog Breeds of the World. T.F.H Publications, Inc., 1995.