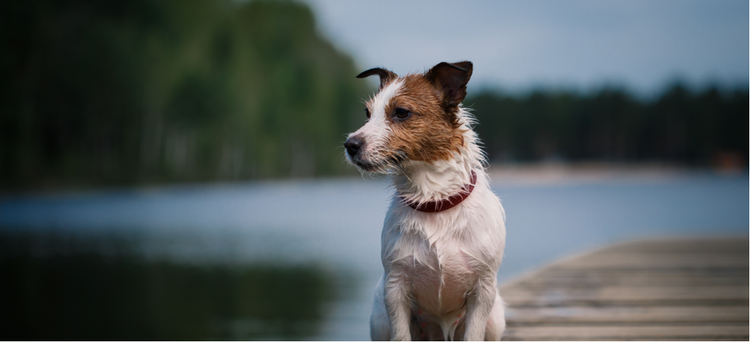 Jack Russell Terrier
Life Expectancy
13 - 16 years
Area of Origin
Great Britain
The Jack Russell Terrier, also known as the Parson Russell Terrier, is a high-energy, intelligent dog that was bred primarily to hunt foxes. Their compact body and quickness is what makes them effective hunters. Jack Russells have a strong prey drive that does not always mix well with small children, as they sometimes confuse kids for quarry. However, they can be incredibly affectionate with older children that understand this particular breed's behavior. Their independent nature and prey drive make them best suited for single-pet households. They have a history of killing small animals, such as chickens, cats, and other dogs. This lively, little breed would be perfect for a family that enjoys hiking, long walks, and being outdoors. Keeping this breed active and entertained will help keep them out of trouble. Early obedience training is a must for this hyperactive breed.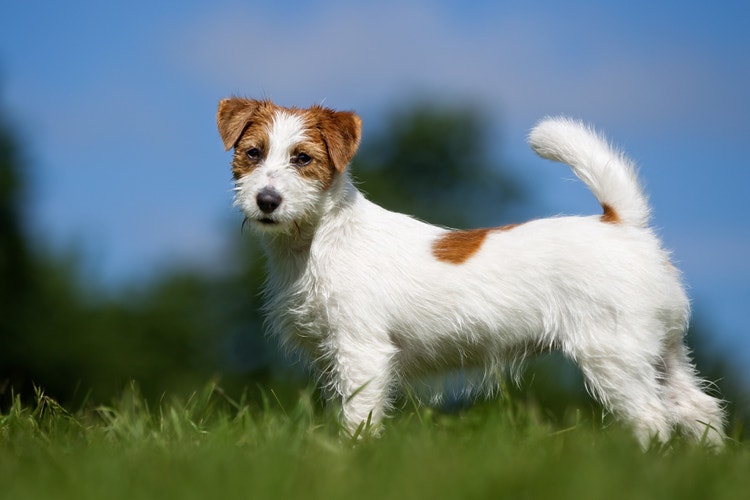 Friendliness to strangers
2
friendliness to other pets
1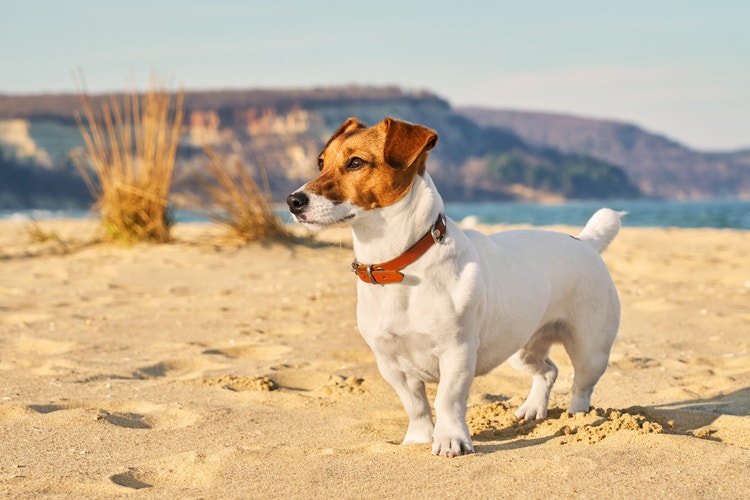 Where Are Jack Russell Terriers From?
The Jack Russell Terrier originated in the mid-1800s in England. Reverend John Russell was a fox hunter at that time and began a breeding program. He is referred to as the "father of the Wirehaired Fox Terrier" and as the "Sporting Parson," since he bred his own strain of White Fox Terriers. The Jack Russell Terriers of today share physical similarities to Russell's dogs.
Since then, cross breeding has resulted in variations within the breed, such as short legs, long legs, and big chests. There may have also been an addition of fighting bulls and terriers to increase aggressiveness for hunting. The Jack Russell was imported to the United States in the 1930s and The Jack Russell Terrier Club of America was established in 1976. The breed was recognized by the American Kennel Club in 1998.
Caring for a Jack Russell Terrier

What Kind of Diet Does a Jack Russell Terrier Need?
What Kind of Diet Does a Jack Russell Terrier Need?
The Jack Russell Terrier should be fed a breed- and age-appropriate diet. This high-energy dog may burn a lot of calories, so be sure to monitor their weight. However, as with any breed, the Jack Russell can also become obese, so monitoring of caloric intake is essential!

How Much Grooming Does a Jack Russell Terrier Need?
How Much Grooming Does a Jack Russell Terrier Need?
The Jack Russell Terrier requires weekly brushing and bathing. Their nails should be trimmed regularly. Routinely checking ears and cleaning as needed will help prevent infection.

Are Jack Russell Terriers Healthy Dogs?
Are Jack Russell Terriers Healthy Dogs?
The Jack Russell Terrier is a relatively healthy breed with only a few associated conditions. One such concern is lens luxation. This is an inherited disorder in which the lens of the eye becomes dislocated. Dependent on the type and severity of the luxation of the lens, surgical intervention may be required. Severe cases can lead to blindness. Routine eye examinations by your veterinarian or veterinary ophthalmologist are recommended.
Another potential disorder is Legg-Calve-Perthes disease, which is a genetic abnormality of the hip joint. Mild cases can result in intermittent lameness. Severe cases result in pain, complete lameness of the leg, and muscle atrophy. In severe cases, surgical intervention may be required (femoral head ostectomy or a total hip replacement). X-rays can be performed by your veterinarian to assist in diagnosing this disease.
The Jack Russell is a breed that has been associated with myasthenia gravis, however, their risk is relatively low. Myasthenia gravis is a neuromuscular disease that causes generalized weakness. The muscles of the esophagus can also be affected, resulting in difficulty when eating and swallowing. This can result in aspiration of food and lead to pneumonia. Myasthenia gravis can be medically managed with medications and elevated feedings, however, the risk of recurrent pneumonia is high in these patients. Seek veterinary attention if your pet exhibits any signs of weakness, difficulty swallowing or eating, and/or regurgitates regularly.
Routine examinations by your veterinarian are recommended to keep your pet healthy.

When Should I Start Training My Jack Russell Terrier?
When Should I Start Training My Jack Russell Terrier?
Jack Russells can be difficult to train due to their independent nature, so early obedience training is crucial for this breed. Perseverance and a positive attitude are necessary when training a Jack Russell. They are easily bored, so coming up with new games or challenges will help keep them and you engaged in training.

How Much Exercise Does a Jack Russell Terrier Need?
How Much Exercise Does a Jack Russell Terrier Need?
Jack Russell Terriers require a lot of exercise! Walks, hikes, and frequent play are essential for this breed. They are great agility dogs and would surely enjoy a game of fetch. Keeping them occupied and well exercised will help prevent unwanted behaviors, such as digging and destructiveness.
What Are the Physical Characteristics of a Jack Russell Terrier?
How Big Are Jack Russell Terriers?
Jack Russell Terriers stand 12 – 15″ high and weigh 13 – 17 pounds. They are a compact, muscular hunting breed with a rough or smooth weatherproof coat. Their V-shaped ears and intelligent facial expression are characteristic of the breed.
Jack Russell Terrier Facial Features
A Jack Russell's head is proportionate to the body, featuring dark-rimmed, almond-shaped eyes. They have V-shaped ears that fold at the level of the skull and drop down.
Are Jack Russell Terriers Athletic?
Yes, Jack Russell Terriers sport a compact, athletic body built for agility and hunting.
Why Do They Cut Jack Russells' Tails?
Jack Russell tails are docked for fashion and competitive purposes. The tail is held upwards when moving and level when at rest.
Jack Russell Terrier Front Legs
The Jack Russell has strong, straight forelimbs set well underneath the body, which feature cat-like, rounded paws.
What Colors Are Jack Russell Terriers?
Jack Russell Terriers should be at least 50% white with tri-colored markings (black and brown). Their weatherproof double coat can be rough, smooth, or broken (short wire).
Jack Russell Terrier Back Legs
Jack Russell Terriers have muscular hindlegs with low-set hocks that are parallel to the ground. They have cat-like hind paws.
Jack Russell Terrier Facts
A Jack Russell Terrier was featured in the famous painting His Master's Voice, in which a dog is staring into a phonograph. This image has been used in advertising for many record labels, including RCA.
A Jack Russell played "Eddie" on the hit TV show Frasier.
The breed's name was officially changed to Parson Russell Terrier in 2003 by the Russell Terrier Association of America.
Other Breeds to Explore
References
Morris, Desmond. Dogs: The Ultimate Dictionary of Over 1,000 Dog Breeds. Trafalgar Square, 2002.
American Kennel Club. The Complete Dog Book. Random House Digital, Inc., 2006.
Wilcox, Bonnie and Chris Walkowicz. The Atlas of Dog Breeds of the World. T.F.H Publications, Inc., 1995.
Parson Russell Terrier Dog Breed Information. American Kennel Club, 2020.