Maltese
Life Expectancy
12 - 15 years
For over 2,000 years, the playful and endearing Maltese has been a popular lapdog of royals and ladies of court. They are easily identified by their flowing, white fur. Although they appear to belong in the terrier group, Maltese are spaniels. As such, they are playful, friendly, and love to spend time with their families. Despite their tiny size, they are great watchdogs who will bark at any unexpected noises.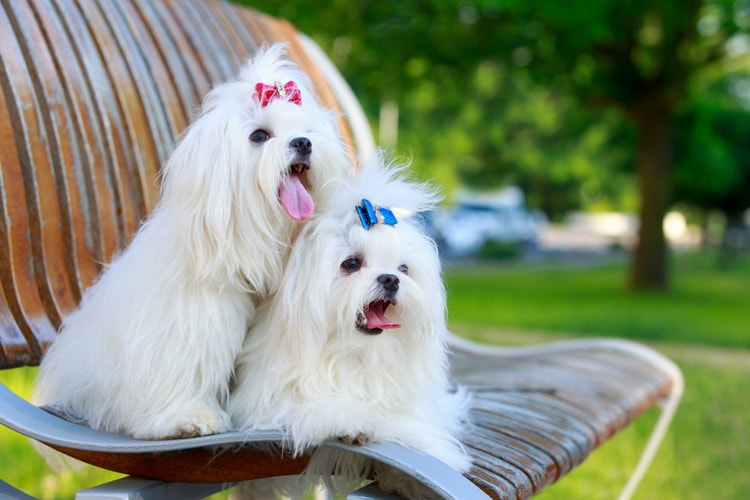 Friendliness to strangers
4
friendliness to other pets
4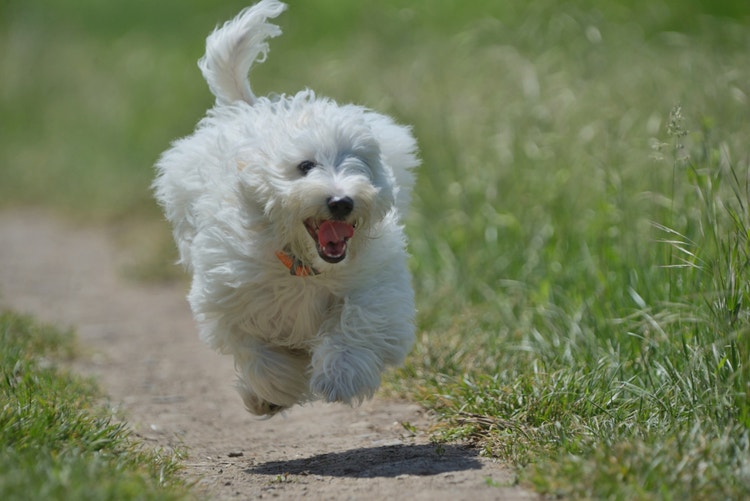 Where Are Maltese Dogs From?
The Maltese breed has been a popular lapdog of nobles and royalty for many centuries. As their name suggests, they originated on the small island of Malta, south of Sicily. They are a member of the group known as bichons, which are dogs from the Mediterranean that share ancestry with Portuguese Water Dogs and Poodles. The small stature of the Maltese was ideal for ladies of nobility to carry them in their sleeves and pockets. Despite that small size, they are very hardy and adaptable dogs that enjoy agility and obedience competitions as much as providing companionship.
Caring for a Maltese

What Kind of Diet Does a Maltese Need?
What Kind of Diet Does a Maltese Need?
Maltese do best with any high-quality dog food. They can be picky eaters; trial and error may be necessary to find the right diet. Caloric intake is important to monitor so they do not become overweight, especially if treats are used for training. Discuss any dietary concerns with your veterinarian.

How Much Grooming Does a Maltese Need?
How Much Grooming Does a Maltese Need?
You'll need to brush and detangle daily to keep your Maltese's coat from matting, though shedding is not of great concern. Upkeep may be too much for some owners, who then choose to groom the coat to a more manageable length.

Are Maltese Healthy Dogs?
Are Maltese Healthy Dogs?
The Maltese is a fairly healthy breed, with an average lifespan of 12 to 15 years. They should be screened for cardiac, ocular, and liver disorders.
Maltese are predisposed to: portosystemic shunt, luxating patella, hypoglycemia, patent ductus arteriosis (PDA), chronic valvular disease (CVD), pyloric stenosis, hydrocephalus, distichiasis, glaucoma, progressive retinal atrophy (PRA), and white shaker syndrome.

How Much Training Does a Maltese Need?
How Much Training Does a Maltese Need?
Maltese are quite intelligent, though they can be stubborn! They require positive reinforcement training, and do not typically need more than basic classes. Despite their diminutive stature, they perform well in agility. Watching a Maltese perform in agility trials among much larger dogs is extremely entertaining.

How Much Exercise Does a Maltese Need?
How Much Exercise Does a Maltese Need?
Maltese dogs do not need more than a short walk daily to keep them healthy and happy. Even playtime in the house or yard will suffice, and they are quite adaptable. They thrive just being in the company of their families.
What Are the Physical Characteristics of a Maltese Dog?
How Small Are Maltese Dogs?
The Maltese is tiny and delicate in appearance. The average height is 10″ for males and 8″ for females. They generally weigh 4 – 6 pounds.
What Color Eyes Do Maltese Dogs Have?
Maltese have dark, expressive eyes with black rims. Their ears are naturally floppy and covered with long, draping fur. Their heads are rounded and of medium size, with a moderately long muzzle ending in a black nose.
Are Maltese Dogs Strong?
The Maltese body is small and sturdy, but their bones are relatively delicate.
What Does a Maltese Tail Look Like?
The Maltese tail is long and carried up over the back, with fur draping to the side.
Maltese Front Legs
Maltese forelimbs are straight and finely boned. The feet are compact with black pads. Long fur between the toes is typically trimmed.
What Color Coat Does a Maltese Dog Have?
The long, flowing, white coat is a distinguishing characteristic of the Maltese. Their fur is single layered, without an undercoat. The hair on top of the head is commonly tied in a top-knot for convenience and cleanliness.
Maltese Back Legs
Maltese hindlimbs are well muscled for their size, with stifles and hocks moderately angulated.
Maltese Facts
Publius, a 1st century Maltese governor, had a Maltese dog named Issa. She was such a beloved pet that many poems and paintings depicted her likeness.
The Greeks devoted tombs to their Maltese dogs, and they are depicted in many Greek paintings and sculptures.
In the 16th Century, a Maltese was sold for the current equivalent of $2,000.
Other Breeds to Explore
References
Maltese Dog Breed Information and Personality Traits. Hill's Pet Nutrition, Inc., 2020.
American Kennel Club. The Complete Dog Book. Random House Digital, Inc., 2006.
Morris, Desmond. Dogs: The Ultimate Dictionary of Over 1,000 Dog Breeds. Trafalgar Square, 2002.
Wilcox, Bonnie and Chris Walkowicz. The Atlas of Dog Breeds of the World. T.F.H Publications, Inc., 1995.