Pomeranian
Life Expectancy
12 - 16 years
The Pomeranian is a tiny dog with a huge personality and unwavering devotion to their owners. They're versatile enough to enjoy city and suburban settings, but regal enough to be the preferred companion of kings and queens.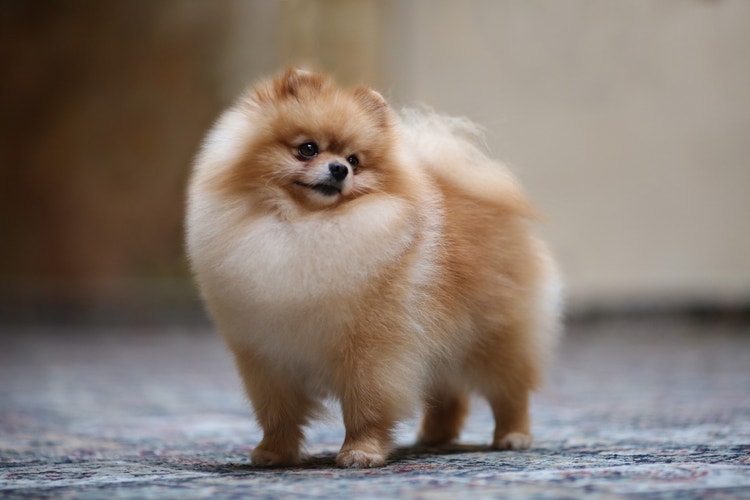 Friendliness to strangers
3
friendliness to other pets
2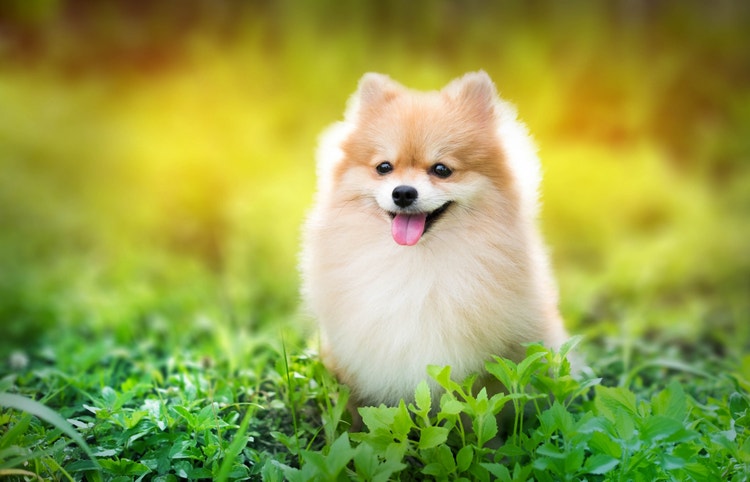 Where are Pomeranians From?
The Pomeranian originates from the European herding spitz dogs, which were a bit larger and fuller coated than the Poms we know today. Their ancestors came to England from Germany in the 18th century, when German-born Queen Charlotte married into the British royal family.
The spitz dog became a very popular Victorian breed by the 19th century, and were even painted multiple times by Thomas Gainsborough. In 1888, Queen Victoria visited Florence, Italy and fell in love with the breed, bringing four puppies home with her to England. The Queen's dogs were about 12 – 18 pounds and were frequently exhibited in British conformation shows.
After Queen Victoria's death in 1901, the breed continued to grow in popularity and shrink in size. Although they are named after their homeland, they are known to be an English breed because of Queen Victoria's influence. Over the years, the breed has been dwarfed and the current average show weight is only 4 – 5 pounds. They journeyed to The States in 1892 and the American Pomeranian Club began showing in 1911.
Caring for a Pomeranian

What Kind of Diet Does a Pomeranian Need?
What Kind of Diet Does a Pomeranian Need?
The Pomeranian requires a healthy diet. They are prone to obesity, so calorie intake and weight need to be closely monitored. Offering treats infrequently and carefully measuring your Pom's meals is essential.

How Often Should You Brush a Pomeranian?
How Often Should You Brush a Pomeranian?
The Pomeranian requires frequent brushing to maintain their luxurious coat. It is also recommended that they get thoroughly groomed every 4 – 6 weeks. Teeth also need brushing daily to avoid dental disease – it's not as hard as it sounds! Most dogs enjoy the taste of dog toothpaste (just don't use human toothpaste).

Are Pomeranians Healthy Dogs?
Are Pomeranians Healthy Dogs?
The Pomeranian is a hardy little dog. Common concerns include luxating patellas and a collapsing trachea, both of which afflict many small breeds. congestive heart failure, seizures, and a skin disease called Alopecia X, which is also known as "Black Skin Disease," are also typical for the breed.
Pomeranians are predisposed to: medial patellar luxation, tracheal collapse, hypothyroidism, testicular tumors, atlantoaxial subluxation, cryptorchidism, patent ductus arteriosis (PDA), sick sinus syndrome, progressive retinal atrophy, entropion, cataracts, and congenital elbow luxation.

Is Training a Pomeranian Easy?
Is Training a Pomeranian Easy?
Training is a breeze for the Pomeranian. You may struggle with housebreaking your Pom, so be consistent and have patience. This breed also enjoys acting as a medical alert dog.

How Much Exercise Does a Pomeranian Need?
How Much Exercise Does a Pomeranian Need?
Pomeranians love being lap dogs, but do require exercise, particularly running and structured play. When outdoors, Pomeranians are suspectible to attack from predators and able to crawl through small spaces, so they should always be monitored when outside of a controlled space. If your Pom suffers from collapsing trachea, keep outdoor play limited to cooler hours of the day to avoid overheating.
What Are a Pomeranian's Physical Traits?
What Does a Pomeranian Look Like?
The Pomeranian is a small, nosey, and crafty dog. Desired height is 12 inches at the shoulders and the desired weight is 3 – 7 pounds.
How Big Is A Pomeranian's Head?
The Pomeranian skull is round and eyes are medium-sized and almond-shaped. Ears are high on the head and pointed upward. The nose is typically black, but may carry a bluish hue.
Pomeranian Body
The body of the Pomeranian is square, well balanced, and as long as it is tall.
Pomeranian Tail
The tail is heavily feathered and lies flat.
Pomeranian Front Legs
The shoulders are strong and equal in length to the upper arm. Dewclaws are typically removed.
What Type of Coat Does a Pomeranian Have?
The Pomeranian has a thick double-coat and plentiful outer coat. The coat should frame the head, resemble a lion's mane, and may come in a variety of colors or patterns. Feathering is present on the forelegs.
Pomeranian Back Legs
The thighs are moderately muscled. Dewclaws are typically removed.
Pomeranian Facts
This breed's name can be traced back to Pomerania, Poland, though this is not the origin of the breed.
The Pomeranian is a member of the unofficial "Spitz Group" and a descendant of sled dogs from Iceland and Lapland.
Queen Victoria, credited with influencing both the popularity and stature of the Pom, bred and showed "Windsor Marco" at the 1891 Crufts dog show, taking home 1st Prize.
Other Breeds to Explore
References
Morris, Desmond. Dogs: The Ultimate Dictionary of Over 1,000 Dog Breeds. Trafalgar Square, 2002.
American Kennel Club. The Complete Dog Book. Random House Digital, Inc., 2006.
Wilcox, Bonnie and Chris Walkowicz. The Atlas of Dog Breeds of the World. T.F.H Publications, Inc., 1995.
"Pomeranian Dog Breed Information." American Kennel Club, 6 Nov. 2017, www.akc.org/dog-breeds/pomeranian.