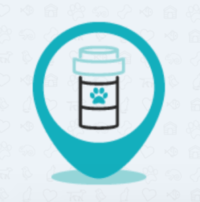 Probiotic Culturelle for Dogs and Cats
Overview of Culturelle
Culturelle is a probiotic medication recommended for dogs and cats with diarrhea, constipation, or excessive "gas".
Probiotics are substances that stimulate the growth of beneficial microorganisms in the intestinal flora. They generally consist of live bacteria and yeasts which can help restore the good bacteria and reestablish the right balance of intestinal flora. There are many types of probiotics and one that is commonly used in dogs and cats is called "Culturelle". Learn more about probiotics and prebiotics.
Culturelle® products contain Lactobacillus Rhamnosus Gg (LGG®) probiotic, which is a single-strain super probiotic that has proven effectiveness for immune health and digestion support.
Quality control studies by some veterinarians support that Culturelle is superior in quality standards and efficacy over other similar probiotics on the market for dogs and cats. The Culture Probiotics Digestive Health products each contain 10 billion active cultures.
Culturelle is available over the counter but should not be administered unless under the supervision and guidance of a veterinarian.
Brand Names and Other Names for Culturelle
Human adult formulations: Culturelle Probiotics Digestive Health capsule, Culturelle Probiotics Digestive Health orange chewable, Culturelle Probiotics Digestive Health extra strength capsule, Culturelle Probiotics Pro-Well capsule, Culturelle Probiotics Pro-Well 3 in 1 complete, Culturelle Probiotics Pro-Well Immune + Energy, Culturelle Probiotics Pro-Well Health & Wellness.
Human kid formulations: Culturelle Probiotics Kids Packets, Culturelle Probiotics Kids Chewables, Culturelle Probiotics Kids with Fiber Packets.
Human baby formulations: Culturelle Baby Calm + Comfort drops, Culturelle Baby Grow + Thrive drops, Culturelle Baby Grow + Thrive packets.
Veterinary formulations: None
Uses of Culturelle for Dogs and Cats
Precautions and Side Effects
While generally safe and effective when prescribed by a veterinarian, Culturelle can cause side effects in some animals.
Culturelle should not be used in animals with known hypersensitivity or allergy to the drug or pets.
If your dog is showing signs of restlessness, large abdomen, nonproductive vomiting, please see your vet as soon as possible. These symptoms could be caused by a potentially life-threatening condition called Gastric Dilatation-Volvulus (Bloat).
The safety of Culturelle use in pets pregnant or lactating has not been established however it is considered safe for use by many veterinarians.
Culturelle is commonly used with other medications including antibiotics and those for nausea and/or diarrhea.
Consult with your veterinarian to determine if other drugs your pet is receiving could interact with Culturelle. Please discuss use if your pet is on a restricted or limited ingredient diet.
How Culturelle is Supplied
Culturelle is a human over-the-counter product available in capsules, sachet's (little packets like sweeter), liquid, and as a powdered drink supplement.
Dosing Information of Culturelle for Dogs and Cats
Medication, even over the counter medication such as Culturelle, should never be administered without first consulting your veterinarian.
The capsule or sachet products are most commonly recommended for use in dogs and cats. The chewable products and kids/baby products may contain xylitol which can be toxic to dogs. However, based on information from the manufacturer, the chewable tablets contain less than 0.1 mg amount of xylitol per tablet.
In dogs, the dose of Culturelle recommended for diarrhea ranges from ½ capsule total dose for small dogs and 1 capsule total dose for large dog every 12 to 24 hours.
The dose of the sachet packet is 1/10 of a packet per 10 pounds of body weight every 12 to 24 hours sprinkled on the food.

A 25-pound dog would get ¼ of a packet every 12 to 24 hours
A 50-pound dog would get ½ packet every 12 to 24 hours
A 100-pound dog would get 1 packet every 12 to 24 hours

In cats, 1/10 of a packet per 10 pounds of body weight or ½ capsule every 12 to 24 hours. You can sprinkle this on the food.
The duration of administration depends on the condition being treated, response to the medication and the development of any adverse effects. Be certain to complete the prescription unless specifically directed by your veterinarian. Even if your pet feels better, the entire treatment plan should be completed to prevent relapse or prevent the development of resistance.
Can be stored at room temperature. Keep away from light and moisture.
Resources & References:
ASPCA Pet Poison Hotline
Current Veterinary Therapy XV, Bonagura, and Twedt
Diagnosis and Management of Protein-Losing Enteropathies in Dogs and Cats Part I. Atlantic Coast Veterinary Conference 2014. Jennifer E. Stokes, DVM, DACVIM (SA Internal Medicine). Clinical Associate Professor, Veterinary Medical Center, University of Tennessee, Knoxville, TN, USA.
Nutraceuticals in Dermatology. North American Veterinary Dermatology Forum 2006. Susan G. Wynn, DVM. Bell's Ferry Veterinary Hospital, Acworth GA.
Pet Poison Helpline
Plumb's Veterinary Handbook by Donald C. Plumb, 8th Edition
Textbook of Veterinary Internal Medicine, Ettinger & Felman
When More Is Needed: Nutraceuticals. Pacific Veterinary Conference 2015. Joe Bartges, DVM, PhD, DACVIM, DACVN. Cornell University Veterinary Specialists, Stamford, CT, USA.