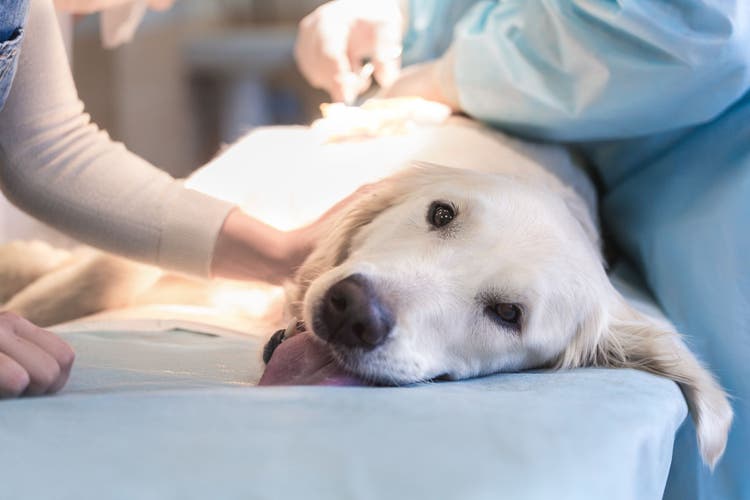 Yunnan Baiyao for Dogs and Cats
Overview of Yunnan Baiyao for Canines and Felines
Yunnan Baiyao, also known Yunnan Paiyao, Yunnan Bai Yao, or by the literal translation Yunnan White Drug, is Class-1 protected traditional medicine originating in China. It has hemostatic (blood clotting) powderized medication famous for its use in the Vietnam War to stop bleeding by the Vietcong.
The herb sanqi (Panax notoginseng) is believed to be the principal anti-hemorrhage component of the product. It is believed that Yunnan Baiyao works by activating platelets, which are blood components critical to blood clotting.
The formula for Yunnan Baiyao is a closely guarded secret. Yunnan Baiyao was developed and manufactured by a state-owned enterprise in Yunnan, China. According to Wikipedia, "The company website mentions that the progesterone is in the formula, in addition to several saponins, alkaloids, and calcium phosphate. The separate herbal ingredients are reportedly made up by thirteen separate teams, none of whom have any knowledge of the ingredients the other teams are mixing. The individual mixed components are then combined by a further team, who have no knowledge of what constitutes them but knows the proportions in which they are combined."
Yunnan Baiyao is available without a prescription but should not be administered unless under the supervision and guidance of a veterinarian.
This drug is not approved for use in animals by the Food and Drug Administration but it is prescribed legally by veterinarians as an extra-label drug.
Brand Names and Other Names of Yunnan Baiyao
This drug is registered for use in humans only.
Human formulations: Yunnan Baiyao
Veterinary formulations: None
NOTE: There are many fakes of this drug. It is recommended to only obtain the proprietary product.
Uses of Yunnan Baiyao for Dogs
Yunnan Baiyao is used orally to stop internal bleeding and has been effective topically in wounds to stop bleeding and optimize healing. It is commonly used to help control internal bleeding associated with some cancers such as hemangiosarcoma of the liver, spleen or heart in dogs, or bleeding bladder tumors in dogs and cats.
In humans, Yunnan Baiyao has been used to support the immune system, nervous system, and relieve muscle pain but these uses are not consistently addressed in pets.
Precautions and Side Effects
While generally safe and effective when prescribed by a veterinarian, Yunnan Baiyao may cause side effects in some dogs. The most common side effect of Yunnan Baiyao is stomach upset e.g. vomiting and diarrhea
Yunnan Baiyao should not be used in dogs with known hypersensitivity or allergy to the drug.
Yunnan Baiyao should be used with caution in dogs with liver disease and is often used every other day or for a limited period of days.
Yunnan Baiyao has been shown to be safe if given with antibiotics, vaccines, pain medication and other drugs such as non-steroidal anti-inflammatory drugs.
There have been limited long-term studies to identify side effects in dogs and cats. It is not approved for use in pregnant or lactating pets.
How Yunnan Baiyao Is Supplied
Yunnan Baiyao is available in boxes of 16 capsules x 0.25 grams each.
Dosing Information of Yunnan Baiyao ® for Dogs
Medication should never be administered without first consulting your veterinarian.
It is most commonly given orally as a capsule but the capsule contents may be used directly in small sounds to stop bleeding.
There is a fair amount of literature and controversy about how long Yunnan Baiyao is to be used. In some cases, Yunnan Baiyao is recommended for 2 to 4 days and up to 15 days. Other veterinarians recommend a treatment regimen of 5 days on and 5 days off.
Daily use may be recommended for pets with terminal conditions.
In dogs, guidelines commonly used in bleeding dogs:

Active internal bleeding – One capsule pet 15 – 20 pounds four times a day for 1 -2 days.
After active bleeding has stopped – One capsule pet 20-30 pounds two to three times a day for 3-7 days.
Maintenance dose recommended is 1 capsule per 30 – 50 pounds two to three times per day.
Other common recommendations in dogs include:

Dogs from 10 to 30 pounds, give 1 capsule by mouth two times a day.
Dogs 30 to 60 pounds, give 2 capsules two times a day.
Dogs over 60 pounds, give 2 capsules three times a day.
In cats, a common dose of 1/2- 1 capsule once daily is recommended. Some cat owners having success mixing Yunnan Bai Yao with fish-based cat food.

The duration of administration depends on the condition being treated, response to the medication, and the development of any adverse effects. Be certain to complete the prescription unless specifically directed otherwise by your veterinarian. Even if your pet appears to be feeling better, the entire treatment plan should be completed to prevent relapse.
We hope this article gives you more information about Yunnan Baiyao for use in dogs and cats.
References: