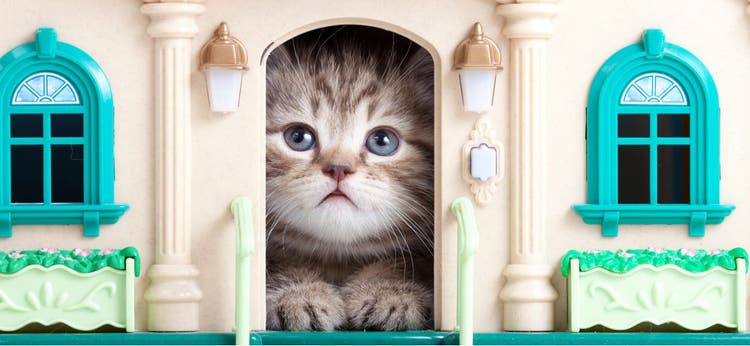 10 Of the Coolest Cat Houses We've Ever Seen
Does your cat hang out in strange places? Maybe he sits next to your favorite book on the top shelf of your library. Perhaps he plops down on your freshly laundered underwear. He might even dangle atop the arm of your recliner. Have you ever thought about getting him a cat house? Indoor cat houses provide security and entertainment for kitties that don't get to explore the great outdoors. Outdoor cat houses give cats a place to hide out during inclement weather and keep them safe from predators. These are the coolest cat house ideas we've come across.
HOK Kitty High Rise
This house has everything your feline could want. The simple design uses wood for the frame. The interior surfaces are covered with carpet, which encourages cats to scratch. Four tunnels give kitties a place to hide out and a means of escape if another animal pays them a visit. The transparent walls of the passageways provide a peek-a-boo play experience. The front porch is the perfect place for growing cat grass, a plant that's safe for animals to eat and can prevent them from chewing on your own houseplants.
Check out the HOK Kitty High Rise here.
The Kitten Coop
A chicken coop can be used creatively to house your furry friends. Just don't keep birds in there at the same time. This coop was raised up so that the cats could enter and exit their humans' home through a window. An extra floor was added to the base. The entire house is surrounded by mesh screen, which prevents the cats from escaping and other animals from entering. This is an ideal way to allow your indoor cat to go outdoors safely.
Check out the Kitten Coop here.
A-Frame Cottage
This wooden cottage has a simple triangular design and would look sophisticated indoors or out. When made from high-quality wood, like red cedar, cat houses like this keep your cat cool in hot weather and warm when it's cold out. You can also add insulation for more comfort. Wooden cat houses are becoming more popular. You can often find them at high-end pet shops. You could also make one yourself.
Check out the A-Frame Cottage here.
Hobbit House for Cats
What's more perfect for your little hobbit than this gorgeous hillside hole? Your cat can curl up under the faux grass, entering through the hole in the front. You'd never guess that this was designed for animals. It looks more like a work of art.
Check out the Hobbit House For Cats here.
Cat Tower with Wheel
Does your cat have extra energy to expend? He can run, jump, and climb on this tall tower. It features a huge hamster wheel, a giant slide, and lots of places to scratch and hide out. Hopefully, your kitty won't make the wheel squeak all night the way a hamster might. Although this piece of furniture for cats doesn't look like it's available for purchase in the U.S., it would make for a rewarding DIY project.
Check out the Cat Tower with Wheel here.
Aquarium Cat House
Got fish? Save space and give kitty some entertainment by building your aquarium around the cat house. This one has a roof to prevent prying paws from getting inside. It looks beautiful and will capture the attention of humans and pets alike. Just make sure that you give your fish plenty of hiding spots so that they don't get stressed out from being watched all day.
Check out the Aquarium Cat House here.
Vintage DIY Kitty Camper
It's no secret that cats like cardboard boxes. Therefore, why don't you make an adorable cat house out of some of your recyclables? This one is creative but doesn't require any carpentry skills to make. All you need is cardboard, strong tape, and some paint. If your cat likes to scratch cardboard, you might have to replace this at some point. However, it's so easy to build that you might get excited to change up the design.
Check out the Vintage DIY Kitty Camper here.
Screened Cat Porch
Does your cat like to sit by the window and watch the world go by? Make more room for your precious pet by creating a screened-in porch on the other side of the opening. Cats can get fresh air and experience being out in nature without getting lost or chased by the neighborhood dog. There are many different ways to build a screened cat porch.
Check out some Screened Cat Porches here.
Catio
We're fairly sure that cats have taken over a human's patio to create this huge cat playground. There are plenty of cat condos, scratching posts, and tunnels around. The swinging bridge adds an element of playfulness. It also gives kitties a chance to exercise their confidence.
Check out the Catio here.
Outdoor Cat Tree House
If your cat isn't happy to sit by the window, create a jungle gym that takes him to a tree in the backyard. This maze of wood and screen lets cats safely meander from the house to the great outdoors. The tree house is actually perched on a stone fireplace that's no longer in use. However, you could easily build it onto any substrate or the trunk of an actual tree.
Check out the Outdoor Cat Tree House here.
Does Your Cat Need A House?
The best cool cat houses work with your budget, space, and lifestyle. You might not need an enormous jungle gym if your cat is content in a cozy nook inside. Approximately 96 percent of cat owners let their felines snooze in the bedroom. If your cat enjoys snuggling into the crook of your knee, he may not sleep in a cat house overnight. However, he might use it to hide out and play during the day. Letting your cat roam free in the great outdoors can put him at risk. Make his world safer by giving him a protected space that allows him to get fresh air without being exposed to busy roads or other animals. A cool cat house can make everyone in the family happy and impress your kitty's friends.