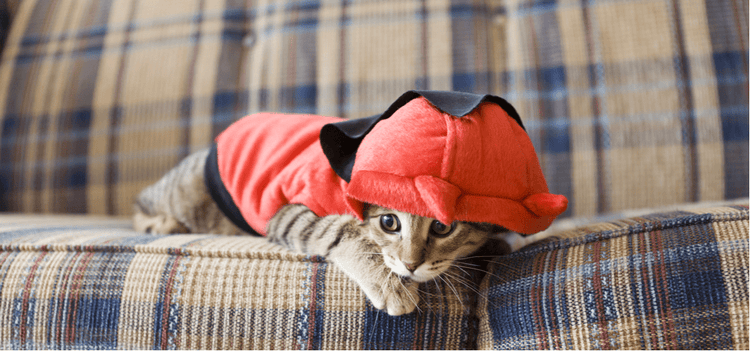 7 Outfits for Cool Cats
All products featured in this article were independently selected by our editorial team. As an Amazon Associate, PetPlace will earn if you click on the provided links and/or purchase a qualifying product from Amazon.
Sometimes it's just fun to dress up your cat for the day. Outfits for cats are great for holidays, parties, or any other kind of event you have going on!
If you're a cat owner, you love having your cats involved in every part of your life, so why not make sure they look stylish with great outfits?
Whether you're looking for a casual outfit for your cat or something silly, there's something out there for every curious kitty. Of course, always make sure your cat is comfortable wearing clothes before you put an outfit on her for any amount of time. A day of fun can quickly turn into a disappointment or something worse if your cat rips off the clothes or even eats part of them.
So the next time you have a rainy day and nothing to do, find a fun outfit for your cat and have a photo shoot. You can quickly propel yourself to Instagram stardom with a few fun, quirky pictures.
Need some style inspiration? Check out some famous cats to see what they're wearing. Your cat can imitate the stars, and the two of you can have a fun afternoon of bonding.
Our seven outfits for cats are perfect for whatever you have planned. From fun and unique to fashion forward, our favorite outfits are sure to delight every curious feline.
Add a Little More Fun to Your Day With These Awesome Outfits for Cats
Your cat can let out her inner predator with this adorable and hilarious raptor costume. This outfit is a little more intense for your cat, but it's definitely unique and will make for an awesome photo shoot with your kitty. Perfect for saving for Halloween or wearing around the house, dressing your cat up like a raptor is sure to bring joy to your day.
Get snuggly with your kitty! This hoodie is perfect for relaxing, unwinding or just staying warm. Made of super soft fleece, your cat will love the soft material and you'll love how it looks. Have your cat join in on lazy Sunday by getting in the spirit with this cute hoodie. This site also makes ones for humans so you can even get one to match and prove that you and your cat really are best friends.
If your cat has a big personality, this lion's mane is perfect for helping her be her true self. Dress your cat up like a tiny lion and let her roam her kingdom hunting for prey. All your visitors will immediately know who rules the house when your cat walks by. Not only because of your cat's confidence, but because of the majestic gold crown this mane comes with. Perfect for casual everyday wear or dressing up for parties, this mane will help your kitty feel like one cool cat.
Your cat can be a fashionista with the trendy outfits from Cat-Toure. They make outfits for cats that are perfect for showing your kitty's style, and are made from high quality materials so they'll last a long time. From tanks to polos, there's something for every cat to express her personality through her clothes. Cat-Toure's clothes have even been worn by celebrity cats, so if your cat is a queen yearning for stardom, this is a good way to start.
If your cat isn't the biggest fan of outfits, but you still want him to look cute, try adding a bow tie to his collar for a classy touch. You can find a tie in just about every color so there's no doubt you'll be able to find something your cat will love. Cats who don't mind clothes will love these too. Jump on the minimalist trend and get your cat a bow tie to wear to your next dinner party. Your guests will love your stylish cat, and he'll love all the attention.
Classy, yet casual. This turtleneck sweater will keep your cat warm if you're taking her outside, but she'll also look especially stylish. Every cat needs a great sweater in her wardrobe, and this sweater will have heads turning. You might be surprised how adorable your cat looks once she gets this on. The sweater is machine washable and is not too thick so your cat won't overheat.
If you haven't seen the video of the cat in a shark costume riding a robot vacuum, you should. Your cat can be the next viral video star with this shark costume, and it's a great conversation piece if you have company over. Bring out the fierce side of your cat with this costume. The shark is even made with a fleece lining, so your cat can use it for a coat in colder weather.
All products featured in this article were independently selected by our editorial team. As an Amazon Associate, PetPlace will earn if you click on the provided links and/or purchase a qualifying product from Amazon.