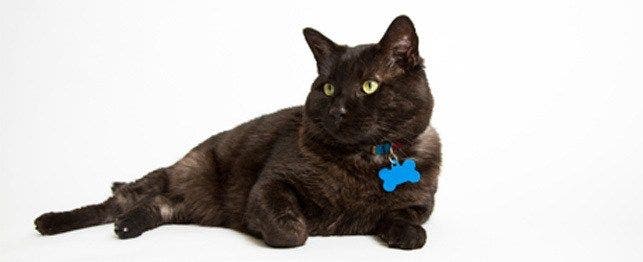 Best Summer 2017 Blockbuster Cat Names
When it comes time to name your feline, you want a cool cat name. You need something that reflects your little prince's personality without sounding silly when you call him to come inside for dinner. If you give him a sub-par name, he'll know. He'll pay you back by howling at midnight and refusing to let you read the paper without sprawling across it. Let him know that you think he's a star. Name him after one of the summer's blockbuster movie hits.
Transformers
This fifth installment in the action series is entitled "The Last Knight." Optimus Prime is gone. He is searching for his maker on the planet Cybertron, which is now shattered into pieces and heading straight for Earth. On Cybertron, Optimus Prime is put under the control of the villain Quintessa, who wants to destroy Earth and revamp Cybertron. On Earth, a group of Transformers joins a British lord and an Oxford professor to find an ancient relic and save the planet. These cat names are perfect for a feline that just might save your world.
Knight
Bumblebee
Megatron
Quintessa
Cade
Yeager
Wembly
Sqweeks
Canopy
The Mummy
In 2017's version of The Mummy, gender roles are reversed. When adventurer Nick Morton discovers an ancient crypt, he unearths the a previously undisturbed sarcophagus and heads to England. The mummy is Ancient Egyptian Princess Ahmanet, and she wants power and revenge. She has the ability to possess human bodies, and she brings about death and destruction as she tries to recoup the supremacy to which she believes she's entitled. Is your cat a little ominous or otherworldly? Here are some names for him. Of course, you can also just go with the run-of-the-mill human names from the movie to play it safe.
Ahmanet
Jekyll
Nick
Jenny
Malik
Pharao
Egypt
Baby Driver
Although Baby Driver isn't your conventional summer blockbuster, it's an action-packed film that offers some great star cat names and a fantastic soundtrack. Baby is young, he's also a hearing-impaired getaway driver who uses music to help him steer away from the heists. He gets sucked into job after job for his boss Doc, even when it means putting his loved ones in danger. Ansel Elgort drives the car, and Jon Hamm, Kevin Spacey, and Jamie Foxx back him up perfectly. Here are some names for your tough-cookie kitty.
Baby
Griff
Buddy
Darling
Barista
Doc
Bats
Despicable Me 3
In this goofy animated comedy, Gru joins Dru, his long lost twin, to defeat villain Balthazar Bratt. Bratt was a child actor who lost his role as a supervillain once he hit puberty. To show the world what he was capable of, Bratt then became a true supervillain. The flamboyant Dru wants his brother to teach him how to become more villainous. However, Gru is done with his days of wickedness. Together, Gru, Dru, and the Minions work to thwart Bratt and his evil plan. If your cat is quirky, eccentric, or makes funny little noises when he "talks," consider one of these names. He will eventually follow your every command.
Gru
Lucy
Balthazar
Margo
Edith
Agnes
Silas
Fritz
Mel
Minion
Spider-Man: Homecoming
Twenty-year-old Tom Holland plays 15-year-old Peter Parker, who lives with his Aunt May after Tony Stark tells him that he's not ready to be an Avenger. Parker has trouble concentrating on normal high-school life, however. After all, he is Spider-Man. When Vulture asserts himself as a villain, it's Iron Man and Spider-Man to the rescue. Vox called this "the best superhero movie of 2017." Here are some names for a cat who is your own personal superhero.
Spidey
Vulture
Iron Man
Flash
Happy
Pepper
Friday
Tiny
War For Planet Of The Apes
Caesar and his apes fight against a treacherous army of humans in this sci-fi thriller. Caesar must confront his sinister side as he starts an epic mission to avenge his species. The simian leader helps settle the fate of man and ape as he fights the Colonel in an impressive battle. Here are some cat names for a cat that has the potential for world domination.
Caesar
Colonel
Maurice
Nova
Rocket
Red
Luca
Koba
Winter
Spear
Lake
Boyle
The Emoji Movie
Did you know that emojis are alive inside your smartphone? That's what The Emoji Movie is all about. Gene and his friends live in Textopolis, where they wait to be picked for their expressive faces. The problem is that, unlike any other emoji, Gene makes a multitude of expressions. He just wants to be normal and searches for a code that will fix his condition before Textopolis is deleted forever. If your furry friend is full of emotion, think about naming him after one of the little yellow guys.
Jailbreak
Flamenca
Hi-5
Mary Meh
Smiler
Mel Meh
Fist Bump
Guardians Of The Galaxy Vol. 2
Peter Quill, otherwise known as Star-Lord, is hired by the Sovereign, an influential extraterrestrial species, for protection. When Rocket steals the objects that the Guardians were supposed to guard, the Sovereign is out for revenge. The audience discovers the secret of Star-Lord's parentage as the Guardians attempt to get away leading to an epic adventure across space. This movie provides some adorable as well as renegade names for your little protector.
Star-Lord
Rocket
Gamora
Drax
Baby Groot
Yondu
Nebula
Mantis
Ego
Taserface
How To Name Your Cat
It's fun to give your cat a name that reminds you of a film that moved you. Maybe your cat has a particular quality that makes him similar to a character from one of 2017's summer blockbusters or maybe he simply purred when you spoke the name aloud to him. Even if one of the names seems a little ludicrous, don't cross it off the list until you try it out on your cat. After all, many movie star cats have silly names. Cameron Diaz named her cat Little Man. Snoop Dog has a cat named Frank Sinatra. If you still can't decide, try naming your cat after a feline star. You can't go wrong with a name that's already been pinned on one of the most famous cats on screen.