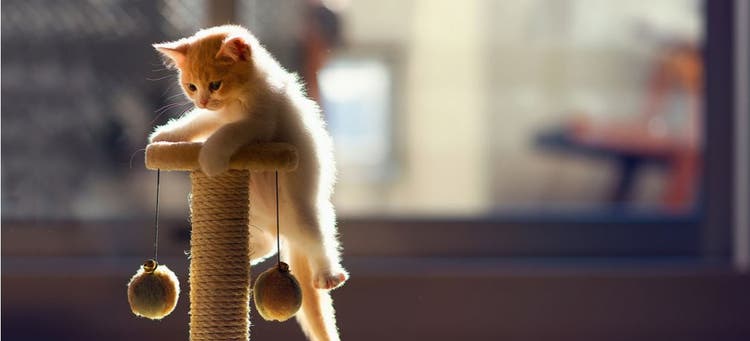 How to Celebrate National Kitten Day
Feline fanatics celebrate National Cat Day at the end of October, but July 10th is all about kittens. Whether you're a cat owner yourself or just fond of felines, check out these ideas for celebrating National Kitten Day 2021.
Spoil Your Cat
Kittens and adult cats alike will appreciate a little extra attention and affection on July 10th. You could celebrate by heading out to the pet store for new toys and favorite treats, cook up a special snack at home, or just spend a little extra quality time on the couch.
Celebrate on Social Media
Put your cat in the spotlight this National Kitten Day by sharing videos and snapshots with your Instagram followers and Facebook friends. Make sure to use appropriate hashtags like #NationalKittenDay so even more feline fans can see your posts and show your pet some love. If you're feeling ambitious, check out these tips for creating a dedicated Instagram account for your kitten.
You'll definitely want to follow these 10 Instagram cats to see what they've got in store for this year's National Kitten Day festivities.
Make a Donation
Got funds to spare? Take some time to research animal advocacy institutions and organizations that would welcome a donation. You might consider a national organization like the Humane Society or a similar entity at the state or local level. Shelters and animal hospitals may also appreciate donations in the form of food, treats, toys, or other cat care necessities.
Adopt or Foster a Kitten
If you're prepared for the commitment of responsible cat ownership, National Kitten Day could be the perfect time of year to welcome a new pet home. Browse online or give your local shelter a call to see if any local kittens are looking for cat lovers to take them home. If you can't quite manage adoption at this time, think about fostering. This temporary commitment involves briefly caring for a cat until they're ready for a forever home.
Help Educate Cat Lovers
Don't have the time or money to provide cat care? Take to social media to spread the word about cat-centric causes and organizations in your area. Offer information to friends and family members who may be looking for opportunities to adopt, make a donation, or volunteer their time.
Volunteer at a Pet Shelter
Local animal-friendly organizations are always happy to accept a helping hand. Call shelters and animal hospitals ahead of time to learn how you can best support their day-to-day efforts and improve the lives of needy cats and dogs.
Read Up on Kitten Care
Commemorate your kitten's special day with some light reading to find new pet care tips and better offer everything your cat needs to stay happy and healthy:
PetPlace's library has hundreds of articles to help cat lovers care for pets of every breed and age. Take some time to browse today. Your cat will thank you!