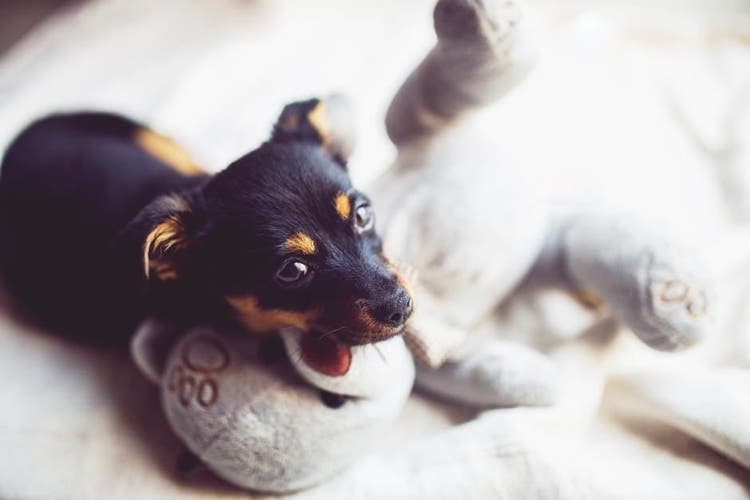 Best Black Friday Deals for Your Pets | 2017 Preview
Black Friday may not be here yet, but we're gearing up with our predictions for what we think will be some of the best pet-related deals of the year's biggest shopping day. We've looked at the best deals from the past two years to make our list. But, each year new items are added to the Black Friday discounts, so keep your eyes peeled for our follow-up list which will come out closer to the shopping holiday where we will discuss all of the best 2017 Black Friday deals for pets.
Cat Food
We've seen some great cat food deals in past years. In 2015 Chewy.com offered a 24-count case of Hill's Prescription Diet k/d Kidney Care Chicken & Vegetable Stew Canned Cat Food for online purchase at 34-percent off plus free shipping. With more than 50 flavors to choose from, Purina Friskies® and Fancy Feast® offered up their wet food for 42 cents and 52 cents per can, respectively, at PetSmart.
Additionally, in 2016 Purina Friskies® offered up their 5.5oz cat food for 41 cents before noon and 42 cents after noon. Select BLUE™ and BLUE Wildness™ 11-15 lbs bags were available at $29.99, Purina® Pro Plan and Purina® Beyond 5-7 lbs bags were for sale at $16.99 per bag.
Cat Litter
The first of the Black Friday deals on cat litter in 2015 was the BLUE Naturally Fresh® Walnut-based cat litter which was marked down 50% at Petco. In 2016, shoppers could save 50% on select NATURE'S MIRACLE™, BLUE™, and sWheat Scoop™ cat litter at PetSmart. A 42 lbs bag of Fresh Step cat litter was also available for only $10.99 while a Purina® TIDY CATS® BREEZE litter box was for sale for $18.99. And lastly, select NATURE'S MIRACLE, BLUE™ and sWheat Scoop cat litter bags were on sale for 50% off.
Cat Toys
A healthy cat needs constant stimulation from playing with toys and puzzles. Capitalize on Black Friday offerings and replenish your feline's toy collection with enough items to keep him occupied for days and weeks on end.
From tunnels your cat can climb through to toys replicating the movements of hidden prey for your cat to "hunt," Petlinks cat toys present your feline with numerous opportunities to play. In 2015 select Petlinks toys were half-off at Pet Supplies Plus additionally, in 2016 the entire stock of PetHoliday™ cat toys and scratches were 50% off. Even better, Whisker City® Cozy Inn 49" cat towers were on sale for $49.99 while select cat scratcher posts were on sale for $9.99.
Cat Accessories
The types of accessories available for cats are nearly as plentiful as the quantity of whiskers adorning a typical cat's cheeks. A cat can be furnished with treats, apparel, scratchers, and feeders, among other common accessories. When it comes to cat treats, Chewy.com was offering Smart n' Tasty Feline Dental Treats with Chicken for online purchase at 47% off with free shipping in 2015. Along with treats, PetCo was offering 50% off holiday motif dog and cat toys, apparels, treats, and scratchers in 2016, enough to outfit even the most stylish on kitties.
Dog Food and Treats
As your pooch will attest, you can never have too much dog food. This is especially true when your brand of choice boasts an extended shelf life. On Black Friday, the discounts you encounter for dog food can prove substantial, as evidenced by Chewy.com offering Blue Buffalo Freedom Senior Chicken Recipe Grain-Free Dry Dog Food at more than 30% off plus free shipping when you order online.
2015 also saw saving of up to $9.49 on Greenies Pill Pockets® at Pet Supplies Plus and paying half the listed price for Purina Beggin' Strips® at PetSmart. In 2016 pet parents were able to take 50% off select treats and chews at PetSmart, while select NUTRO®, Simply Nourish™, and BLUE™ dog 30-33 lbs bags of dog food were on sale for $39.999 each. 2016 was apparently the year to save on dog food at PetSmart because they also offered select Purina Pro Plan® and Authority 30-35 lbs bags of dog food for $29.99 each.
Dog Beds and Furniture
Whether seeking dog furniture or bedding, several nationwide pet stores advertised half-off discounts on their entire stock of dog beds and furniture items on Black Friday. In both 2015 and 2016 shoppers got to take advantage of these 50% off deals at most large pet retailers.
Dog Toys
In 2015 buy two, get one free deals were available for select dogs toys at Petco, including the entire stock of Leaps & Bounds dog toy products. The pet retail giant also featured collections of dog toys themed around Dr. Seuss and Star Wars. In 2016 PetSmart offer 50% select PetHoliday™ toys while PetCo offered BOGO 50% off holiday motif dog toys as well.
Dog Accessories
Just like all of the other categories on this list, there was no exception when it came to huge savings on dog accessories. From dog beds to collars, shoppers saved big the past two years when it came to dog accessories. In 2015 you could save 50% on select apparel, wire crates, apparel, accessories, beds, and collars. While in 2016, PetCo offered buy one, get one 50% off on dog toys, apparel, and treats.
Save Big This Black Friday with PetPlace
We're ready for the holiday season, and this holiday season we plan on saving big. Follow along for our Black Friday savings coverage as the big day approaches. Do have a Black Friday tradition? Share it with us below!