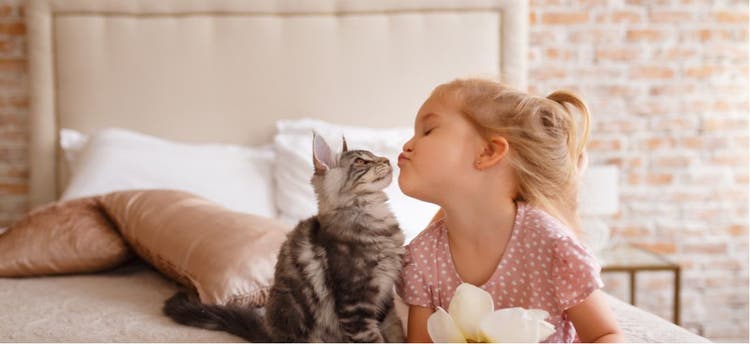 5 Ways to Celebrate International Cat Day
August 8th is International Cat Day and that means it's the purr-fect time to show your cat how much you care. Here are a few suggestions for International Cat Day celebrations from the cat lovers at PetPlace.
Give Your Cat a Shoutout on Social Media
It's no secret that the internet loves cats. International Cat Day is as good a day as any to introduce your feline friend to the online community. If you're feeling ambitious, you might even think about starting a social media account on their behalf.
Stream Some Cat-Centric Entertainment
You'll probably be stuck inside for International Cat Day 2020. Why not make the most of it by streaming a movie that you and your cat will both enjoy. Here are a few recent cat-focused flicks to stream on August 8th.
Kedi (2016): This Turkish documentary focuses on the beautiful city of Istanbul and the cats that call it home. Presenting a cat's-eye view of the world capital, Kedi is a must-watch for anyone who's ever checked out a cat video playlist on YouTube. You can even stream it for free on Kanopy if you're a member of a participating library.
Cats (2019): Tom Hooper's film was a box office flop, but it has found a new audience on streaming services. We expect that you and your cat will have much more fun with Cats than critics did.
The Aristocats (1970): Disney+ subscribers won't want to miss this animated classic. Featuring memorable music and characters, the film is an underseen gem that cat lovers everywhere will enjoy.
Bake Homemade Cat Treats
Add something fun and different to your cat's diet with one of these pet-approved recipes:
Crispy Liver Morsels: Liver probably isn't your favorite cut, but cats can't get enough of the taste. Better yet, the chicken liver in these tasty treats is full of valuable minerals like iron.
Tuna Tidbits: These delicious, fishy treats are easy to make and hard for cats to resist. You've probably got most of the ingredients in your pantry already.
Tigger Treats: Featuring steamed vegetables, lean fish, and healthy grains, these snacks are a healthy choice for cats of any age.
Make sure to avoid any ingredients that might prove hazardous to your cat, upset their digestion, or lead to excessive weight gain.
Make Some New Cat Toys
Instead of rushing out to the pet store to buy new toys for your cat, try fashioning some homemade toys from household objects. This is an especially great option for pet owners who are also parents. Kids will love the opportunity to make some arts and crafts for their cat. Check out these simple DIY toys.
Knotted T-Shirt Toy: All you need to make this cat toy is an old shirt and some scissors. Just a few minutes of effort can provide your cat with hours and hours of fun.
Pom-Pom Toys: Cats love to bat these pom-pom balls and you'll love how simple they are to make.
Cat Wand Toy: This simple guide includes plenty of opportunities to improvise. Invite your kids to get creative and make a toy that's specially designed for your cat.
Adopt or Foster a Cat
If you're interested and have the resources, there's no better time to adopt or foster a cat than on International Cat Day. Call your local shelter to learn how they're adapting to the COVID-19 pandemic.