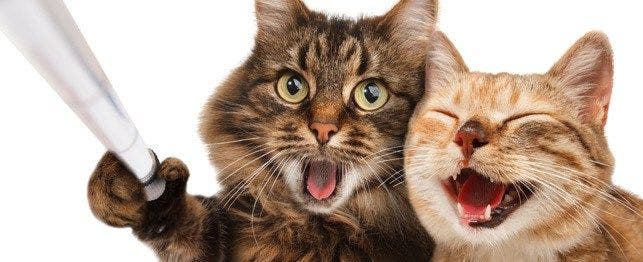 Like These Right Meow: The Top 10 Cats of Instagram
Let's face it — cats pretty much own the internet. Cats are quirky, unpredictable, and, of course, cute, so it's no wonder they're so popular on social media and throughout the internet. They're so popular, it was hard to select just 10 for this "Top 10 Cats of Instagram" list!
Instagram and other social media sites are the perfect places for people to spread their love of cats, and countless users are using the platforms to turn their ordinary cats into famous felines.
Whether it's because of that perfect picture of a photogenic feline, or a video catching a cat in an act of mischief or doing something funny or finicky, the cats of Instagram are growing in popularity.
So without further ado, here are our favorite cats of Instagram (in no particular order).
The Top 10 Cats of Instagram
1. Lil Bub
If you love stories with happy endings, you should follow Lil Bub, a rescue cat living a charmed life. Lil Bub has several health issues, but hasn't let any of them slow her down on her way to fame. The runt of a feral litter found within a tool shed in rural Indiana, Lil Bub has blossomed into a wide-eyed, tongue-displaying, social media superstar. And she has helped raise well over $300,000 for animals in need! Follow her @iamlilbub.
2. Nala Cat
As the most famous cat on Instagram, you could say that Nala was at the beginning of the internet cat craze. Nala was adopted when she was 5 months old, and has over 3 million followers on Instagram. A shorthair and tabby mix, Nala is a sweet cat whose classic cat antics have lead to her massive popularity. Follow her @nala_cat.
3. Princess Monster Truck
This unique kitty is helping to change the lives of other animals in need. Princess Monster Truck was found abandoned and living in a bush outside her owner's home. Her adorable underbite helped her charm her way into thousands of hearts, shooting her into social media stardom. Princess Monster Truck uses her wide following to spread the news about people who are seeking help for animals in need. Follow her @PrincessMonsterTruck.
4. Sam Has Eyebrows
You've probably seen various memes online where people draw eyebrows on their pets. Sam is a little different, because his fur pattern makes him appear to actually have eyebrows. Sam brings joy to his followers with his permanent worried expression. Sam was abandoned on a front step and taken in as a foster cat, but he was loved so much that he became a permanent part of the family. Follow him @samhaseyebrows.
5. Hamilton the Hipster
Mustaches and cats … put them together and you have the ultimate pop culture fad. Hamilton is a rescue cat with white fur under his nose that gives him the perfect mustache without any effort. As an adoptee himself, Hamilton is a big supporter of cat adoption. Follow him @hamiltonthehipstercat.
6. Grumpy Cat
Grumpy Cat found instant fame after a photo of her went viral in 2012. Her real name is Tardar Sauce, and her cantankerous expression is caused by an underbite and feline dwarfism. In reality, Tardar Sauce is a gentle, loving cat who happens to look a little annoyed. She also makes donations directly to shelters, helping animals in need. Follow her @realgrumpycat.
7. Pudge
Pudge is a cute exotic shorthair with a sassy personality. Her followers are entertained with photos of Pudge's daily life as a celebrity who wants it all. Pudge also has a YouTube channel where she and her owner post cat craft DIY videos every Wednesday. Follow her @pudgethecat.
8. Richard Kitty
While many people opt for kittens when adopting, adult cats are in need of homes, too. Richard Kitty is a huge advocate for adult cat adoption and cat adoption in general. At 2-years-old, Richard (and his signature one blue eye and one brown eye) was adopted from a shelter. This southern California cat is now living large with frequent massages and treats from his owner. Follow him @richard_kitty.
9. Albert
If you love kittens, you'll love having Albert's pictures come up on your screen. Albert is a munchkin cat, so his legs are a bit shorter than typical breeds. The small cat often dresses up in everything from sweaters to full costumes from popular TV shows. Albert's fashionable style and cute stature have lifted him to internet fame. Follow him @albertbabycat.
10. Coby
If you follow a lot of makeup accounts, you should add Coby to your list. Known as the prettiest cat on the internet, Coby is a British shorthair with stunning blue eyes and white fur. He even appears to have winged eyeliner. Coby's account says he has an even bigger personality than his eyes, which is easy to see through his photos. Follow him @cobythecat.