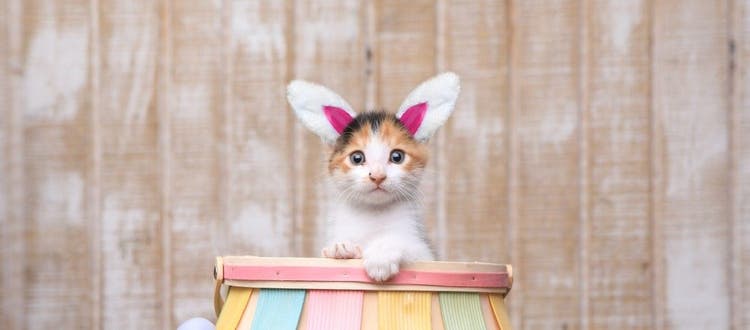 More Ways to Celebrate Easter with Your Cat
Love the ideas in 7 Ways to Get Your Pet Involved in the Easter Fun, but looking to go the extra mile? Here are 3 more awesome Easter ideas for cat lovers.
1. Cosplay Your Cat as the Easter Bunny
Peter Cottontail doesn't have anything on your stylish feline friend. With so many options out there, you will be able to find the perfect costume to put your kitty in the holiday spirit.
2. Take Your Cat to Meet the Real Deal with an Easter Bunny Photoshoot
Relish the time together with this amazing Easter memento. Get copies of the photo for your friends and family, because everyone will want one! If your cat travels well and warms up to strangers, this will be a fantastic Easter outing for your whole family.
3. Create Cat-Inspired Easter Art
If you're like us, your pet is your muse, so add some Easter-themed flare to your portfolio. It doesn't have to be fancy or even good, because art is about the fun you have making it, and what better subject than your beloved feline?
No matter how you choose to celebrate the upcoming Easter holiday with your cat, you're sure to have fun in each other's company. Don't feel pressured to do something out of the ordinary. For your cat, quality time with you is an excellent gift on its own.