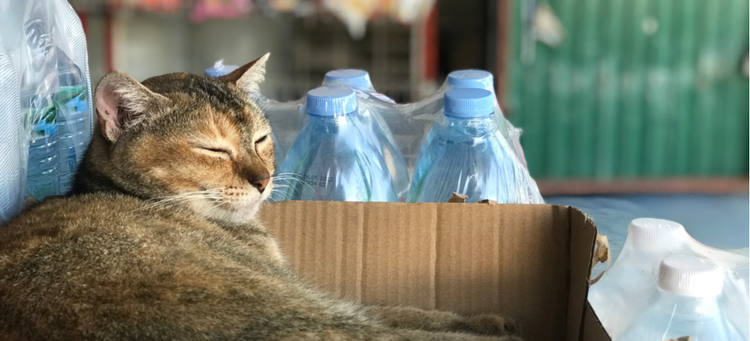 New York's Bodega Cats
If you're a native New Yorker, a regular visitor, or one of the more than 500 thousand Twitter users who follow @BodegaCats_ then you're already familiar with one of the Big Apple's most adorable traditions. Many of the city's more than 10,000 bodegas (a New York-specific term for grocery stores) provide a home to pet cats. These four-legged city dwellers can be seen wandering between the aisles, sleeping on the shelves, and greeting the customers in stores across all five boroughs. They've built a following that far outnumbers even New York's population.
Bodega Cats: A Beloved New York Tradition
For many deli owners, cats function like essential members of the staff. New York's rodents are nearly as ubiquitous as its felines and bodega cats often serve a valuable pest prevention purpose. That's not to mention the more intangible role these furry companions play for an entire community.
Thanks to cat-centric accounts on Twitter and Instagram (@bodegacatsofinstagram), people can show their affection to bodega cats wherever they reside. Residents of the City that Never Sleeps can even submit videos and snapshots of their own.
Are Bodega Cats Legal?
While plenty of New Yorkers are happy to look the other way, bodega cats are not technically legal. Both the New York State Department of Agriculture and Markets and NYC's Department of Health and Mental Hygiene prohibit animals from residing on premises where foods and drinks are sold. Only fish and service dogs are exempted, so bodega cats occupy a unique legal grey area.
Fines for housing cats alongside groceries can total in the hundreds and reach into the thousands for repeat offenses. This presents a catch-22 for store owners. For some, the risk of fines for harboring a cat are nothing compared to the risks posed by rats. Rodents don't just raise a red flag for health inspectors, but can also cause trouble by consuming merchandise.
"Any animal around food presents a food contamination threat," says the Department of Health and Mental Hygiene's Robert Corrigan. Speaking to The New York Times back in 2007, he acknowledged that cats may help manage pests, but neglected to fully endorse their de facto role. "Anything from animal pieces and parts to hair and excrement could end up in food," he adds, "and that alone, of course, is a violation of the health code." That the same arguments have persisted for more than a decade suggests that bodega cats may be here to stay.
Legal or not, bodega cats have amassed a legion of passionate defenders. When one Yelp user cited a cat in her one-star review for a Lower East Side deli, she quickly attracted the ire of cat lovers across the web. Advocacy groups like Spay and Neuter Intervention Project have long supported full legal protection for New York's thousands of bodega cats. They've got plenty of feline fans on their side. In 2016, a Change.com petition earned nearly 6,000 signatures and, as Twitter and Instagram make clear, they've got thousands more supporters out there.