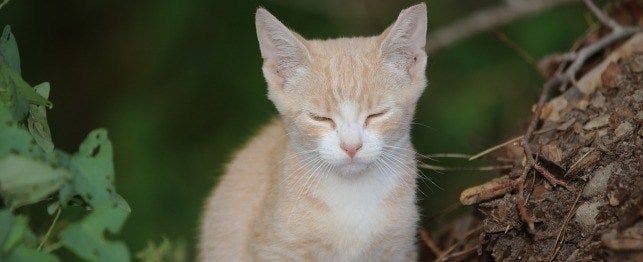 The Truth About Feral Cats
Feral cats are a common problem. In order to increase public awareness, National Feral Cat Day is October 16th and this year Alley Cat Allies is kicking off a yearlong campaign to publicize the "Truth about Feral Cats."
Feral cats live outside but they are not homeless. You see them sunning on decks, hiding in the shadows of office buildings, and lingering outside barns. They live on the fringes, cautious, and seldom venturing close to humans. Born outside, these unsterilized cats are from colonies and make homes wherever they can.
Tomcats prowl for mates, females become pregnant, and the cycle of reproduction continues. But consider this….what if there were no new kittens?
Compassionate individuals and groups all over the country are working to make that a reality. Alley Cat Allies has a cost-effective plan that not only reduces feral cat populations; it also improves and extends the lives of colony members. It's called Trap, Neuter, and Return or TNR. TNR is reducing the number of stray and feral cats in communities nationwide.
"TNR is the only method proven to reduce outdoor cat populations," says Becky Robinson, national director of Alley Cat Allies. "TNR is the answer, trapping and killing is not. Cats who used to have litter after litter can now live longer, healthier lives in their outdoor homes, without giving birth to kittens. When it comes to caring for feral cats, TNR is the best thing for them."
Each year on October 16th, national attention is focused on TNR and the treatment of feral cats through National Feral Cat Day (NFCD). Alley Cat Allies (ACA), the national feral cat resource, founded NFCD six years ago.
With TNR, cats already living outdoors are humanely trapped and taken to veterinarians, where they are evaluated, vaccinated, sterilized, and eartipped for identification. Kittens and stray (tame) cats are adopted into good homes. Healthy adult feral (unsocialized) cats are returned to their outdoor homes under the care of dedicated volunteers. No more kittens are born and the feral cat population is reduced.
For additional information about National Feral Cat Day please visit www.nationalferalcatday.org.
About Alley Cat Allies
Alley Cat Allies, based in Bethesda, MD, is leader of the national feral cat movement with more than 100,000 supporters, is the national nonprofit clearinghouse for information on feral and stray cats. For 15
years Alley Cat Allies has advocated Trap-Neuter-Return (TNR), the most effective and humane method to reduce feral cat populations. To learn about Alley Cat Allies, visit www.alleycat.org.