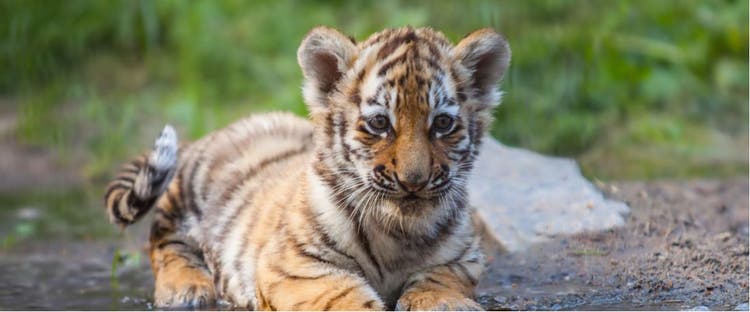 Tiger King and Exotic Animal Ownership
With so many Americans stuck inside under stay-at-home orders, binge watching has become more popular than ever. Streaming giant Netflix has seen one particular program build a larger following than any other: its new documentary miniseries Tiger King. According to the service's internal data, Tiger King (which premiered on March 20th) drew almost 35 million viewers within ten days. There's no telling how many millions have tuned in since.
The series looks at the controversial world of big-cat collection with an emphasis on the strange-but-true story of "Joe Exotic," Carole Baskin, and their various associates. In addition to following these eccentric characters, the documentary exposes the exploitation that many big cats face in captivity. Tiger King's first episode includes the surprising fact that there are more tigers in the United States in captivity than there are in the wild. It has left many viewers with additional questions about big cat and exotic animal collection. Are places like Joe Exotic's Greater Wynnewood Exotic Animal Park really legal?
Are Exotic Pets Legal?
In short, it depends. States not only differ in how they approach exotic animal ownership, they also have their own definition for the term "exotic." In Pennsylvania, for example, it refers to "all bears, coyotes, lions, tigers, leopards, jaguars, cheetahs, cougars, wolves, and any crossbreeds of these animals." Texas uses the term "dangerous wildlife" and includes chimpanzees, baboons, gorillas, as well as several additional types of wild cat.
20 states — including New York and California — place comprehensive bans on the ownership of exotic and dangerous wildlife. 13 other states have partial bans. In Michigan, for example, owning a big cat became illegal with the passage of the Large Carnivore Act in 2000. The new law created a strict permit system allowing some Michiganders to keep big cats that they already owned. These residents were required to register their animal, attach a microchip, and adhere to a host of guidelines. Nevada, North Carolina, and Alabama are the least restrictive states when it comes to owning, breeding, and transporting exotic animals.
Some private breeders and collectors, like Exotic himself, argue that they are engaged in a conservation effort. National Geographic reports that a true sanctuary "exists to provide lifetime care to animals that have been abused, neglected, discarded or are otherwise in need of help." You won't find breeding or any hands-on contact with guests at a genuine sanctuary. The magazine singles out cub-petting facilities as particularly misguided and destructive. These facilities often "speed-breed" tigers and kill cubs once they're too old to safely interact with guests. Check out National Geographic's site for tips on assessing whether or not a sanctuary is responsible and ethical.
The Big Cat Public Safety Act
While certain states impose bans, there is no federal law prohibiting Americans from owning exotic pets like big cats. That could change if House Resolution (H.R.) 1380 is signed into law. Also known as the Big Cat Public Safety Act, H.R. 1380 has earned bi-partisan support over the last year. It has found 227 co-sponsors in the House (a majority) and 17 in the Senate. Representative Mike Quigly, one of H.R. 1380's initial sponsors, hopes that Tiger King can attract more attention to the bill.
If passed, H.R. 1380 would prohibit private big-cat ownership. Anyone who currently owns a big cat would face a strict licensing process. It would also ban cub-petting and otherwise prohibit zoos from allowing public contact with big cats.
The World Wildlife Fund has already collected nearly half a million signatures in support of H.R. 1380. Concerned cat owners are invited to sign and reach out to their state legislators to express their support.