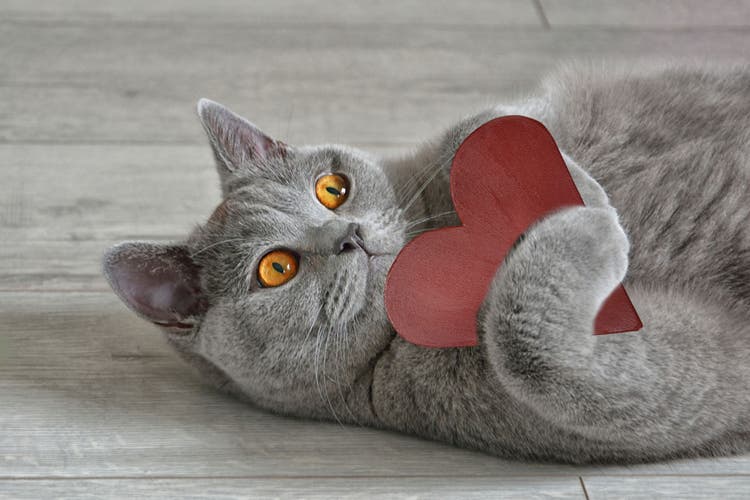 Your Purr-fect Horoscope…for February
HAPPY BIRTHDAY, AQUARIUS!
With your affectionate and straight-forward personality, you're not only completely likable, but highly intelligent. You also are adaptable and march to the purr of a different drummer. Amazing Aquarius, born under the 11th sign of the Zodiac, you flaunt your cat-like independence indoors–and outdoors (if you can escape). Yep, you've got that wild cat spirit purr-fected to a T.
What makes you the cat's meow: Like a typical uninhibited feline, Water Bearers can be creative, imaginative and oh-so whimsical. Indeed, you can keep up with an agile cat (or two), but you manage to s-l-o-w down to lend a paw to your human companions, too.
What makes you catty: Let's face it, cat shows or silly tricks (ugh!) bore both pleasure-seeking Garfield and you. And boring people or pets can trigger your aloofness and "fight or flight" response. After all, life is too much fun to be trapped, right?
Purr-fect matches: Other intelligent and oh-so chatty air signs (like Aquarius, Gemini and Libra) can keep you a contented pussycat 24/7.
Cat-loving celebrity: Vanna White
Don't know your pet's sign? See What's Your Pet's Sign?
AQUARIUS (January 21 – February 19)
Hey, it's time to catch up with Cupid during the New Moon on February 12. Think new exotic bird, reptile or fish. Or perhaps that loving feeling will ignite with your human pal. Hint: Give presents to express your cat love (i.e., dead mice on the doorstep). WARNING: After mid-month expect fur to fly if you insist on being the master of your house. Purr-fect Days: 11, 12. Human tip: Bring home two lovebirds for your cat's visual amusement.
PISCES (February 20 – March 20)
Open your eyes Fish cats. Love is beautiful. This month, however, be more bold! It's time to pounce on your cat dreams, especially during the New Moon February 12. Be comforting and stroke that cat-human bond. Try curling up next to your loved one's warm head at bedtime and be a pillow pussycat. Purr-fect days: 13, 14. Human tip: Provide kitty with a soft blanket or furry mouse toy.
ARIES (March 21 – April 20)
This month, forego some of those catnaps and share your affection. Find new ways to say "I love you" to your caretakers and household critters. Go ahead–be assertive Ram felines. A sandpaper tongue kiss is nice. (Humans really do like it!). Or play an active game of cat and mouse with the dog. Run, run, run. (He'll love it!) Purr-fect days: 10, 15. Human tip: Invest in wind chimes or nature sounds tunes for your cat's sensual pleasure.
TAURUS (April 21 – May 21)
The good news: After the New Moon on February 12, you can enjoy good vibes with a pet pal or human friend. Expect a cat toy or treat on Valentine's Day. Be on guard, especially during the Full Moon on February 27 because squabbles about your gift can rattle your stable Taurean cat world. Purr-fect days: 13, 14. Human tip: Rent the video, "Romancing the Stone" and woo your puss with a tidbit of fresh fish.
GEMINI (May 22 – June 21)
Looking for love? Around V-Day Gemini felines get plenty of TLC. FYI: By the Full Moon on February 27 a trip to paradise is in the stars. Remember that cat-friendly B&B or those cat people? No matter where you end up, fun-loving Geminis will share the cat's meow with their cat crazy human valentines. Purr-fect days: 28, 29. Human tip: Stock the pantry with kitty's fave cat food (splurge on the gourmet stuff).
CANCER (June 22 – July 23)
Yeah, those animal ghosts from the past can shake your cat tree early this month. Perhaps a stray dog or cat on the block brings back SPOOKY memories. By the Full Moon on February 27, you'll be a trustful fur face. Read: Present-day relationships are SAFE, Moonkitty. Purr-fect days: 23, 27. Human tip: Buy or make an outdoor birdhouse to keep the indoor cat entertained.
LEO (July 24 – August 23)
It's four paws up if you wait to make your Morris the Cat finicky feline demands until after the New Moon on February 12. Private time with your caretakers can be so-o-o sweet on Valentine's Day. It'll be a Kodak moment. You'll feel like The Lion or Lioness of the house. In other words, you are The C-A-T and love it. Purr-fect days: 15, 16. Human tip: It's the month to buy interactive cat toys to promote heart-healthy fun for both of you.
VIRGO (August 24 – September 23)
Hooray for the New Moon on February 12. Take charge and revamp relationships in your cat world. Provide extra purring for your humans. Um, lose the constant meowing, yowling and erratic hours for a spell. Your humans and pet roomies will love you for this. Purr-fect days: 26, 27. Human tip: Get your sweet feline groomed from head to claw and it'll make you both feel good.
LIBRA (September 24 – October 23)
It's your month oh-romantic one, sort of. Until the New Moon on February 12, count on plenty of strokes and "Good Kitty!" affirmations. But caution: t-e-n-s-i-o-n soars after Valentine's Day. Blame it on your fickle Libran behavior. Try to be loyal (and no spats!) for YOUR sanity's sake! Purr-fect days: 1, 2. Human tip: Read poetry (from cat-loving poets Lord Byron or John Keats) to your beloved cat.
SCORPIO (October 24 – November 22)
The New Moon on February 12 may frazzle your sensitive nerves. Grooming yourself from head to paws will be healing for you since you like to be pampered. By Valentine's Day, your Scorpion craving for lap sitting will be satisfied and you'll be primped for the sensual occasion. Purr-fect days: 3, 8. Human tip: Make or buy a flashy and safety-smart cat collar for your furry friend.
SAGITTARIUS (November 23 – December 21)
Thanks to energizing Mars, seize the day for travel and adventure with your caretakers from February 1 to the 12th. Post-cuddle time with your pet pals will give you that romantic homebody fur fix. A must-have to stay exuberant and regroup. Purr-fect days: 12, 15. Human tip: Take holiday photos of you and your cat and get them framed for purr-fect memories.
CAPRICORN (December 22 – January 20)
This is the month for tension, action and romance. (Think Disney's "Homeward Bound" film.) After February 14, stop trying to claw to the top and curl up to a homebound post-holiday family affair. Go ahead–befriend your human's guests during the Full Moon on February 27. Pssst! It'll promote "good cat" things next month. Purr-fect days: 18, 19. Human tip: Order a cat toy or two online and surprise pussycat on Valentine's Day.