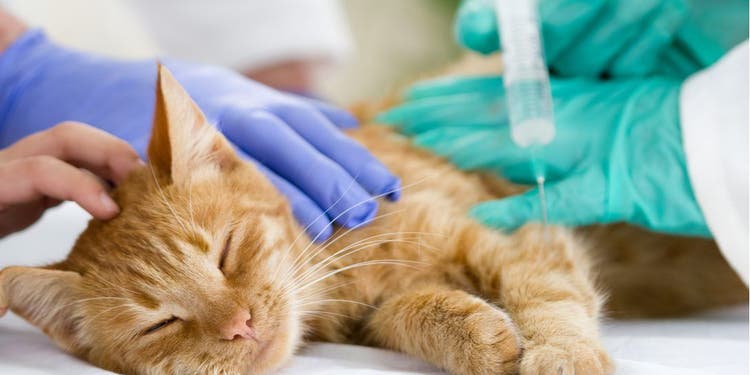 A Guide To Cat Diabetes
Have you noticed a change in your cat's personality or behavior? Has your once playful pet abandoned its mischievous energy in favor of a warm spot on the couch or increased its water consumption at an alarming rate? If so, your faithful companion may be suffering from feline diabetes, a condition that affects roughly 1 in 230 cats and can be common among aging pets and those with weight and dietary issues.
Types of Diabetes in Cats
Known in the medical community as diabetes mellitus (DM), cat diabetes has two common types, both of which may have different causes, symptoms, and treatment regimens. Type 1 diabetes occurs due to a lack of insulin production, frequently associated with damage to the pancreas. Type 2 diabetes deals with a cat's inability to respond to insulin, commonly caused by excess weight or an unbalanced diet. This type of diabetes is more common in overweight and indoor-only cats.
Unlike Type 1 diabetes in cats, Type 2 patients are not only treated with insulin shots, but dietary management, exercise, and other methods of weight control. It's also possible that your cat's disease is transient, meaning that, with courses of insulin injections and a significant change in diet, your pet may no longer be a diabetic. This will often fluctuate and the important thing is that either way, your cat will need treatment and monitoring of their diabetes with your veterinarian.
The first step in treating diabetes is diagnosing the illness and pinpointing the root of the problem.
Possible Signs of Cat Diabetes
Some of the more common signs of cat diabetes include:
Increased frequency of urination and larger clumps of urine in the litter box
Increased thirst and/or appetite
Obesity
Poor physical condition, including an oily coat
Sluggishness
Weakness, especially in the hind legs
Weight loss, despite normal appetite or increased appetite
Diagnosing Diabetes in Cats
When it comes time for your vet to diagnose your cat's illness, they may implement any of the tests noted below to determine the underlying cause of your pet's elevated blood sugar.
Biochemical analysis of the blood and complete blood count (CBC).
Abdominal ultrasound, if inflammation of the pancreas is suspected.
Serum biochemical analysis to determine blood glucose concentration and exclude other potential causes related to your pet's symptoms.
Urinalysis to check for traces of glucose, ketones, and signs of urinary tract infection.
Ketone check in the urine and serum
Serial electrolyte panels to monitor your cat's response to treatment.
Weight monitoring
Cat Diabetes Treatment Options
Since every cat will have a unique set of symptoms, treatment options will vary based on your pet's needs and the specific treatment plan outlined by your veterinarian. Before taking any course of action on your own, be sure to consult your cat's vet, confirm that they're suffering from diabetes, and heed their advice concerning pharmacological treatment, exercise, and dieting.
Insulin Injections and Oral Medications
Typically, cats will need two daily insulin injections, based on their size and the severity of their condition. Injections are given under the skin with a small needle and may be done in the privacy of your own home, that is, once you receive vet approval and your cat becomes accustomed to the process. Oral hypoglycemic agents may also be administered if your cat's pancreas is still failing to produce insulin, but are less effective than insulin injections.
Weight Management
A nutritious diet (preferable high in protein and low in carbohydrates) and an appropriate amount of exercise can aid in the control of Type 2 diabetes in cats. Specialized food can also help keep your pet's daily calorie count under control, coupled with blood and urine testing to monitor their condition.
Ensuring that blood glucose levels are safe is your best bet to avoid diabetic ketoacidosis, but visits and hospitalization can ultimately turn into a huge financial responsibility. The only way to cut costs when treating feline diabetes is attentive at-home monitoring, communication with your veterinarian, preventative care and avoiding hospitalization by keeping your diabetic cat healthy.. Consider purchasing pet insurance, since most monthly plans can you save you hundreds of dollars and cover costs associated with diabetes long term.
Tackling Your Cat's Diabetes With PetPlace
We know that it can seem daunting to take on feline diabetes, but we're here to help. Between your vet and our online archive of cat articles, you'll be able to find all the help you need to battle your pet's condition.
PetPlace Tips for Managing Your Newly Diagnosed Diabetic Cat
Practice at your veterinary office giving insulin injections with their staff prior to leaving and trying at home. They are the experts and can show you how to administer these injections.
Double check the insulin syringe size and type of insulin before administering, especially if you have recently changed insulin types. Not all insulin types use the same insulin syringe sizes.
Monitor your cat's urine in the litterbox with ketodiastix (prescription can be obtained from your veterinarian). This will give you a day-to-day assessment of how your cat's sugar levels are doing. Ask your veterinarian when they would like to be called based on these readings. Ketones are bad! Call your veterinarian if you see any ketones in their urine.
Keep a journal or a checklist on a bulletin board. Every day, write down how much your cat ate and how much insulin your cat received. This will also prevent double dosing if multiple family members are giving insulin.
Try to keep insulin within one hour of a "goal time." For example, if you are giving insulin of a goal time of 7:30am and pm, you can give at 6:30am and 8:30pm with little adjustment.
Monitor your cat's weight at home! The best way to do this is check your weight while you are holding them and subtract your own weight. Cat's can be tricky to keep on a scale! Record this in your diabetic journal.
Be patient! It may take several months before you and your veterinarian settle on a dose and type of insulin that works for your cat.