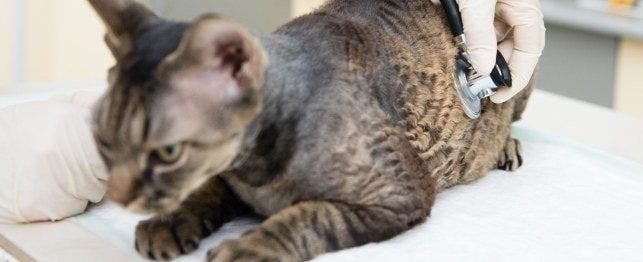 Misconceptions about Pet Health Insurance for Cats
Is what you know about pet health insurance true? Maybe not! Even though pet insurance is growing and become more and more popular, plenty of cat parents still have some misconceptions about what pet insurance can do and how it works.
Here are the facts:
Pet health insurance doesn't get in the way of your relationship with your cat's veterinarian; it removes a financial barrier that's already there. With a good pet insurance plan, you and your veterinarian can make decisions based primarily on the best interest of the cat and your vet's medical advice, rather than money. Your pet insurance company won't be involved with treatment decisions in any way.
There's nothing to gain, and plenty to lose, by waiting to get insurance for your cat. Just like you can't get covered for a wrecked car after it's already been in an accident, or buy flood insurance when your house is already four-feet deep in mud and water, you can't buy insurance to pay for an illness your cat already has. You have to have active coverage when the issue first becomes apparent in order to receive benefits. You can understand my heartbreak when friends call me from the emergency vet looking to sign up for pet insurance – by this point, it's too late to get covered for that condition.
Cats who have had past illnesses or injuries can still be insured. Pet insurance companies will cover your cat in spite of a prior health issue. For example, if your cat has a history of a respiratory infection, they won't cover any additional respiratory infection treatments. However, if your cat develops cancer, it's covered! If you're not sure about what's pre-existing or related to a pre-existing condition, ask one of the company's agents about a medical history review of your cat's records.
Genetic conditions are covered. While not all pet insurance companies have the same policy, many doesn't view genetic conditions as pre-existing as long as they have not been diagnosed or shown clinical signs/symptoms before the policy was purchased or during the waiting period.
Pet insurance will be there for you when your cat gets sick or old. It may not be true for every company, but many have a soft spot for seniors. They'll never drop your cat due to age or health status. That means even when your 17-year-old kitty develops cancer, it's covered. Your 14-year-old cat has kidney failure? Covered. That's the entire point of insurance. Purchase it when your cat is healthy, and it'll be there when you need it the most.
It's easy to know what's covered and what isn't. If your pet insurance company has terms and conditions that are hard to understand, they're going to have a lot of unhappy customers. Before making a purchase decision, talk to an agent and discuss your concerns, get clarification, and get things in writing. Reasonable companies should show you their policy terms and conditions upfront before you even enroll. Not only that, but pet insurance policies include a money-back trial period to account for buyer's remorse, so you're not stuck if you start to feel icky about something.
Pet insurance premiums cost less than major vet bills. Financial challenges do exist, but that's the very reason why pet insurance is important to get if you can find a way to fit the premiums into your budget. After all, it's easier to find a small amount each month than thousands of dollars in an emergency. So if you're the type of person who would take a second job or sell plasma to save your cat, it's better to pay a small premium for even a basic policy to help keep your cat alive.
There's no "network" of covered veterinarians. Pet health insurance doesn't work like a human HMO; there's no "network" of providers for pet insurance. Because they reimburse you directly, you're free to take your cat to any vet. They just have to complete your claim form. The reimbursement works sort of like a rebate. They'll cut you a check for their portion of the care. Most people put the bill on a credit card and pay it off with the reimbursement funds.
Some veterinarians will accept payment directly from the insurance company. If you don't have credit available, more and more veterinarians are willing to work with cat parents who have insurance. Be sure to discuss this option with your vet!
Savings Accounts Don't Always Work. According to a recent financial study, 64% of Americans cannot come up with $1,000 in the case of an emergency. Many cat owners believe they will establish a pet savings account on their own to cover a possible pet health problem. When they do have an account, they often haven't' accumulated enough in their account when there is a problem.
Is Pet Insurance Right for you?
The best pet insurance offers coverage that's broad enough for whatever care your pet needs and with enough options to get the perfect coverage for you and your pet.
Are you pet crazy? Sign up for our email newsletter and get the latest health and wellness info, useful tips, product recalls, fun stuff, and so much more!