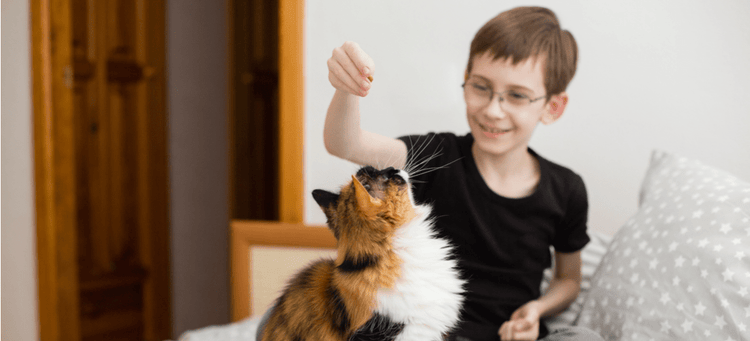 PetPlace Chat: How Can Cats Help Children with Autism?
The potential impacts of animal companionship are well documented. Anecdotal evidence about the therapeutic powers of cats and man's best friend have inspired expert-led studies linking quality time with animals to a range of mental and physical benefits.
Many of these studies have taken place at the University of Missouri's Research Center for Human Animal Interaction (ReCHAI), including a recent look into the role cats can play for the families of children with autism spectrum disorders. The latest study, conducted by Dr. Gretchen Carlisle, followed 11 families who'd recently adopted cats to observe the effect of pet ownership and companionship on their child's everyday life.
PetPlace spoke to Dr. Carlisle to learn more about the Feline Friends study, the work she and her colleagues at ReCHAI are doing, and the history of efforts to understand human-animal interaction.
The Benefits of Animal Therapy
PetPlace: You used to work as a school nurse, when did you first observe the potential benefits of animal companionship?
Dr. Gretchen Carlisle: My observation as a school nurse was that children and especially those with special needs responded positively to companion animals in the classroom. The presence of a dog, guinea pig, rodent, or fish was associated with happiness and motivation to learn, especially in reading to the dogs.
PP: Have studies into the potential therapeutic benefits of animals tended to focus on dogs? If so, why do you think that is?
DGC: Most human-animal interaction (HAI) studies have focused on dogs, as they are the most common companion animal in homes and the animal most likely to participate in animal-assisted therapy. A growing body of research is exploring equine-assisted activities, but access to these programs is limited by availability of programs and cost.
How Animal Companions Help Kids with Autism Spectrum Disorders
PP: Can you tell me more about your previous work with pets and children with autism spectrum disorders (ASD)?
DGC: Our previous research at ReCHAI includes a study funded by Nestle Purina in which we surveyed 764 parents of children with ASD. We found parents of children with ASD perceived experiencing the most benefits when they lived with multiple pets (dog/cat). 90% of the parents said they were attached or very attached to their pets. Additionally, we found that parents with an income of <65K perceived more benefits and these same parents rated their children as more strongly bonded to their pets.
PP: In what ways is ReCHAI's latest study unique from previous explorations of animals and ASD?
DGC: The Feline Friends study is the first randomized controlled trial (RCT) including the adoption of a shelter cat in the families of children with ASD.
PP: Could you describe your methodology for this study?
DGC: Participating families were randomized to either the control or treatment group; those in the treatment group adopted cats. We followed treatment group families for 18 weeks with measures at baseline, 2 – 3 days after adoption, and then every 6 weeks. Families randomized to the control group were followed for 18 weeks and we collected data every 6 weeks. After 18 weeks, the control families converted to the treatment group and adopted a cat. We followed these families and collected data for an additional 18 weeks.
PP: How did the results of the study compare to similar studies focused on dogs?
DGC: The parents and children in our study developed strong bonds with their adopted cats right away, and this is similar to dog studies. Additionally, children in our study had an increase in empathy and decrease in problem behaviors such as hyperactivity/inattention. Again, this is similar to the results we've seen in studies with dogs.
Dr. Gretchen Carlisle and Mira
Why Cats Make the Best Companions
PP: Are there any types of families or children in particular who might benefit from a cat more than another type of companion animal?
DGC: Children with ASD who experience hypersensitivities to sound and who have a fear of dogs may benefit more from the quiet, calm behavior of a cat.
PP: What should families be cognizant of when choosing a pet? In particular, what should they look for in a cat?
DGC: All the cats adopted in our study were between the ages of 10 months and 4 years old. Adult temperament has been found to be stable by the age of 10 months in cats, and younger cats have been found to be more interactive with children. Additionally, we screened for cats with a calm social temperament using the Feline Temperament Profile. This objective measure allowed us to select for cats with a calm social temperament, thus increasing the likelihood the cats would be tolerant in the home of a child with ASD.
PP: What would you like to see happen next?
DGC: More studies with larger sample sizes to validate our findings would be helpful. In addition to this, RCT studies with other companion animals, such as guinea pigs, in the home. We also encourage animal shelters to consider the use of objective temperament screening to aid families in finding a companion animal with the best match for their family.