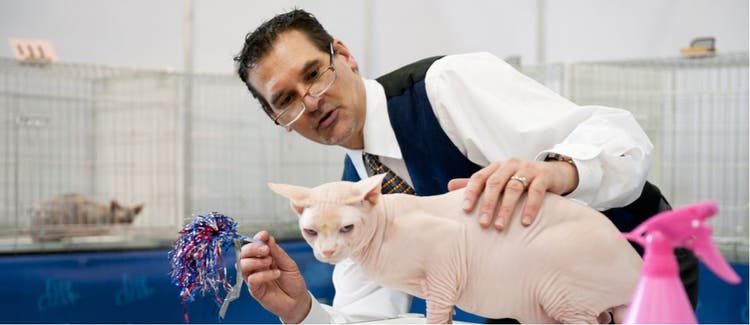 How to Show Your Cat
Does your cat have what it takes to compete in a cat show? Knowing how to show your cat is the first step to training a champion.
If your cat is easily scared or very shy, a cat show might not be the best choice. However, if your cat is okay with new people, crowds, and a lot of other cats, you just might be able to win a prize.
Cat shows are a little different than the dog shows we watch on TV. Rather than parading around in a circle and lining up on the side of the ring with their owners, cat handlers sit in the crowd and aren't part of the judging.
The judging process is completely objective. Cats are placed in cages with an assigned number, and the judge goes and examines each cat based on their breed standard. From there, a winner is chosen and the winning cat can move onto the finals.
The First Steps to Showing Your Cat
The best way to understand how to show your cat is to go to a cat show and see what it's like. You'll be able to get a feel for how things work, and the structure of how cats are judged. Going to a show as a spectator will help you be more confident in the environment, and you might even be able to pick up some tips from experienced handlers.
Grooming your cat is very important if you want your cat to be a contender in their class. Most shows will require that your cat's nails are trimmed before the show, so you'll want to make sure you have a good pair of nail trimmers handy.
It's not uncommon for cat owners to spend hours grooming their cat to perfection before a show, so make sure that you're prepared for the time commitment.
Now that you understand what it takes to show your cat, you'll need to determine what show you're going to compete in. Cat shows are run by different organizations, and sometimes they'll require you to become a member before you can enter your cat.
You'll also want to make sure your cat is up to date with all of their vaccines in case the show requires you to prove that your cat is healthy and not a threat to other entrants' health.
A good cat crate will help you transfer your kitty to and from the show, but you'll want to make sure they're comfortable in it first.
One other thing you can do to help your cat prepare for a show is to have visitors pick them up and get them used to being around people they're not familiar with. If your kitty is already okay with this, gradually have your guests feel their tail and try to open their mouth, as this is what judges will do during their examination. Exposing them to new situations will help your cat perform at their best during the show.
What Is Your Cat's Category?
Cat shows are split into different categories depending on the age and breed of your cat. Kittens can be shown in the kitten class from the age of 4 months until the age of 8 months, then they can compete in the adult class.
If your special feline is a purebred, you'll be able to compete in the champion or premier categories. The champion class is for cats that are not neutered. You'll need to have a copy of your cat's specific breed standard guide, and, typically, you'll need papers showing your cat's pedigree in order to enter.
Don't have a purebred? No problem, your cat can still compete. The household pet class is for cats that are mixed breeds.
The Big Show
When the day finally comes for the show, it's best to arrive two hours early to find your cage and get settled in. Arriving early will also ensure that you have plenty of time to groom your cat before judging.
You and your cat will receive a number, and that number will correlate with the cage on the judging table that you'll put your cat in. When your number is called, take your cat to their cage and sit in the designated spot for handlers. All you have to do now is wait for the judges' decision.
Cat shows can be a fun experience for any curious cat, and it can also be a great bonding experience for both you and your feline friend. Think of the first show as practice, and if it goes well, you could be well on your way to becoming the Grand Champion.