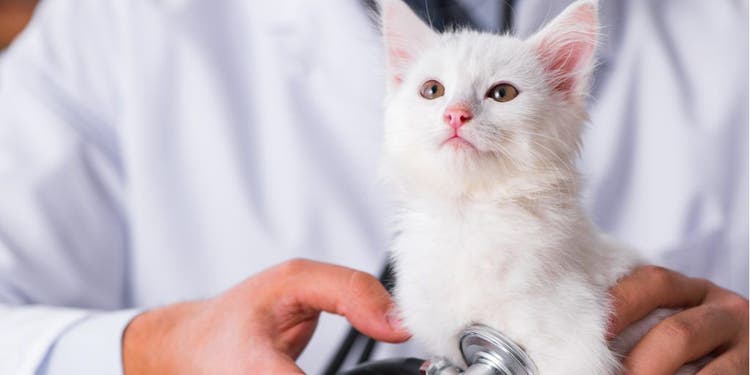 All About Your Cat's First Vet Visit
Keeping your new kitty healthy and happy is critical to forming a trusting and nurturing bond. As you prepare for your kitten's first vet visit, it is important to know what you should ask and what to expect.
What You Should Do Before Your Kitten's First Vet Visit
As you bring your new cat to the doctor, there are some helpful things you can do to prepare. The first step is to answer the question, "When should I take my cat to the vet?"
The answer varies depending on the age of the cat, but most vets recommend a trip to the doctor before you bring your new feline friend home.
Once you choose your veterinarian and make an appointment, consider your goals for your pet. Do you want a routine check-up? Do you want to ensure your new cat has all required shots, deworming, and testing? Are you addressing a particular problem?
Be prepared to pay for the costs related to your kitten's first vet visit.
Ask the veterinary team if there is anything you should bring with you to the appointment, such as a fecal sample.
Know your cat's history. This information may be difficult to compile, for example, if you found a stray, but if possible, be prepared to answer questions including:

Has your cat ever been sick?
If so, what was your cat treated for and how were they treated?
Has your cat had any vaccinations? If so, what kind and when?
How old is your cat?
What is your cat eating?

If your cat has been to another vet – what is their contact information?
At your kitten's first vet visit, you can expect the following:
Creation of a medical record. The front desk will ask you for information, including your name, address, and phone number. They will likely also ask for the age, sex, and name of your cat. Some veterinary clinics have questionnaires for you to fill out to help them identify behavioral or medical problems in your kitten.
Examination. The veterinary clinic team will move you and your cat to an examination room. The technician or doctor will help get your cat out of the carrier, and then check their current weight. Your veterinarian will examine your cat's coat, ears, teeth, and gums. They do this to look for ailments, such as fleas and ticks, abnormal developments, and heart murmurs.
Development of a history. The veterinarian will review your cat's history by asking you questions about prior vaccines, what your cat is being fed, and if they have any prior medical problems.
Testing. Your cat's first vet visit may also include fecal testing for worms that can live in their gastrointestinal tract, as well as blood testing for feline leukemia and feline immunodeficiency virus.
Vaccination. Depending on the age of your kitten, their first vet visit may also include a vaccination, deworming, and a discussion of their vaccine schedule. Kittens are vaccinated starting at six to eight weeks, and then again every three to four weeks until they are about 20 weeks old. Vaccinations protect against several different diseases, including rhinotracheitis, calicivirus, and panleukopenia.
Advice. The veterinarian may also discuss behavior and feeding tips, the pros and cons of letting your kitten spend time outdoors, and possible toxins and dangers to avoid.
Plans for a forthcoming visit. At the end of your cat's first vet visit, the veterinary team will discuss plans for your next appointment. This may be in three to four weeks for a kitten, which will help them to stay on track for their vaccinations.
Questions. Lastly, the veterinary team should give you an opportunity to ask questions. If you are unsure of anything, this is your chance to ask!