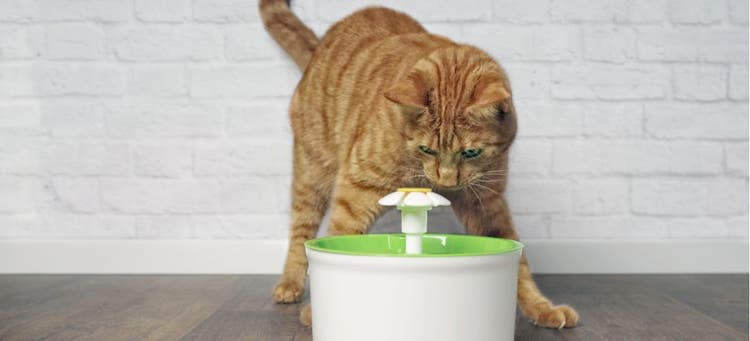 7 Perfect Drinking Fountains for Cats
All products featured in this article were independently selected by our editorial team. As an Amazon and Chewy Associate, PetPlace will earn if you click on the provided links and/or purchase a qualifying product from Amazon or Chewy.
Hydration is key for keeping your cat healthy, so it doesn't hurt that many frisky felines love to play with streams of water. Pet drinking fountains are the perfect way to keep your cat hydrated and engaged at the same time, ensuring that your pet maintains both mental and physical health.
But what's the best option for your pet and budget? The team at PetPlace have taken the guesswork out of choosing a drinking fountain for your fur-baby. Check out the list below and pick a fun and refreshing toy for your favorite feline.
Our Picks for Best Cat Drinking Fountains
Don't get deluged by the overwhelming selection of pet drinking fountains. We've filtered through the ocean of options and selected our favorites:
Best Bargain Buy
The affordable Comsmart Cat Water Fountain comes with a silicone mat to trap water spray, three additional filters, two specialized scrub brushes for cleaning, a stainless-steel bowl liner, a flower bubbler, and an LED light for easy evening access. You get to choose from four different colors of silicone mats, as well as adjust the flow to keep your cat guessing.
Cutest
We love the happy daisy décor of the Catit Flower Plastic Cat Fountain. This is an affordable (and cute) way to see if your picky cat likes the fountain lifestyle before making a larger investment.
Good for Dogs and Cats Alike
Do you have more than one cat or a thirsty dog prowling around the kitty's water bowl? Our pick for a large capacity pet fountain is the Drinkwell 360 Stainless Steel Pet Fountain, which holds a whopping gallon of water and shoots liquid from five spouts, so that the whole pet family can grab a drink together.
A Hygienic Option
The Pioneer Pet Raindrop Fountain can easily be disassembled for dishwasher cleaning, comes with its own replaceable charcoal filter, and its stainless steel design naturally slows bacteria growth and odor.
Most Artistic
The grey, Zen design of the Drinkwell Seascape Ceramic Fountain fits a modern chic aesthetic and promotes calm for both you and your cat.
Pampered Pets Only
The Drinkwell Pagoda Ceramic Fountain has two levels for pets of all ages and sizes, three different flow volumes, and a durable and quiet motorized pump. Your picky cat will love how easy it is for you to wash the ceramic container, so water always tastes as fresh and delicious as possible.
Quietest
The Cepheus 360 Ceramic Pet Fountain promises to be "whisper-quiet," with its submersible pump producing noise below 40 decibels.
Reasons Why Your Cat Needs to Drink More Water
The amount of water your cat needs to drink depends on their activity level, breed, diet, and size, but most vets recommend around 3.5 – 4.5 fluid ounces for every 5 pounds of body weight.
In the wild, cats consume a majority of their water content from food. Domesticated indoor cats chowing on dry kibble need to ingest more liquid than their wild counterparts.
Staying hydrated protects their urinary tract and prevents infection and kidney stones.
Water carries nutrients throughout the body, keeps joints lubricated, protects tissues, and helps keep kitty cool in hot weather.
Why Paying More for a Cat Drinking Fountain Pays Off
Some finicky felines need extra encouragement to stay hydrated. Drinking fountains can help.
The noise and motion of water through the fountain entices your playful cat to drink.
The motion of the water through the fountain prevents bacteria growth.
Some models come apart for easy sterilization in the dishwasher.
Look for models with carbon filters to remove bacteria, debris, and minerals to improve taste and keep your pet's water safer longer in between refills and cleanings.
Many fountains have adjustable settings for the speed at which the water flows through the bubbler, allowing you to find the perfect feline flow rate.
Some cats don't like the taste of plastic. Stainless steel or ceramic fountains may taste better to your cat's discerning palate. They are also heavier than plastic versions, so they are less likely to be knocked over in a frenzy of feline play.
Cleaning and Changing the Water in Your Cat's Drinking Fountain
Vets advise changing the water in your pet's drinking fountain every 2 – 3 days. You should wash the fountain with soapy water (or put parts in the dishwasher) every 2 – 3 days as well.
Although cheaper, plastic scratches more easily. These scratches can harbor slime-causing bacteria in plastic drinking fountains. You may get away waiting a bit longer if you pay up for a stainless steel or ceramic fountain. If your cat's fountain comes with a filter, be sure to change the filter every 2 – 3 months.
Make Hydration Fun for Your Favorite Feline
Pet drinking fountains will help your cat get their fill of water and have fun doing it. Getting your cat to drink water is just as important as feeding them high-quality cat food, so consider buying a cat drinking fountain as an investment in their health.
If you think that your cat might be dehydrated or drinking too much water, be sure to give your veterinarian a call.