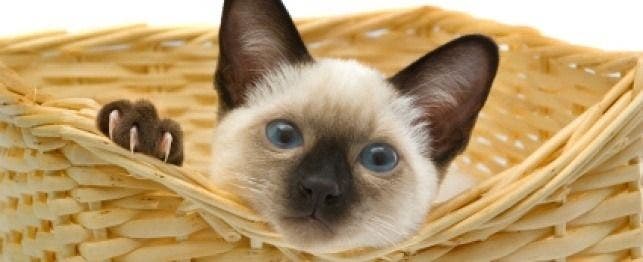 Siamese Cat Name Ideas – Naming Your Siamese Cat
Adopted or found a Siamese cat and looking for a suitable name?
Siamese have always been a highly regarded and gorgeous cat since they were brought from what is now Thailand, to England, to the United States where they were bred and new fur coats and eye colors were created but the elongated and delicate body structure stayed.
Siamese cats are known for the way they speak with both their body and their unique voices. They are popular among celebrities. And, they have been recognized by the Cat Fancier's Association since 1934.
To help you brainstorm a name for your new feline, we've created a list to help.
Siamese Cat Names
A list of alphabetical names created from origin, breed, physical appearance, temperament, social patterns and famous Siamese cats.
Ada
Am
Babble
Bali – Balinese are the long-haired Siamese
Bandit
Bangkok
Bimbo
Blabbermouth
Blabbie
Blue
Boca – Spanish for "mouth"
Bock
Bono – after the singer
Calliope – Greek as "she of the beautiful voice"
Carlyle – Fred Astaire's Siamese
Catherine Olivia de Havilland's Siamese cat
Chatter
Chatty
Cheeky
Cheyenne – means "little red talker"
Chickie Boom
Chidori – Japanese for 1000 chirping birds. Chi-Chi for short?
Chirp
Chocolate
Coo-Coo – would wake up like a coo-coo clock
Crackles
Crybaby
Crystal
D.C. for Darn Cat
Decibel – for a very vocal female cat!
Echo
Elvis
Elwood – was singing the blues when he was found, wailing and alone and scared
Fetch
Fieldy – The bassist Reginald "Fieldy" Arvizu of the band Korn
Gabby
Gould
Hayes – President Hayes had a Siamese
Howler
Jason – from BBC TV's Blue Peter
Java – Javanese
Joplin (for Janice Joplin)
Katt
KIKI – great name for a talkative and demanding cat
Kit
Koko
Lalage – Comes from a Greek origin meaning to chatter
Ling Ling
Lloyd
Lucifer
Lucy
Lulu
Maew
Marcus – James Dean's Siamese
MauMau
Meezer – Nickname that comes from the sound of their voice
Meow
Mew
Mew Mew
Mia
Mimi – was name of Siamese owned by John Lennon
Minou – Pablo Picasso's Siamese
Misty Malarky Ying Yang – Name of the Siamese owned by Amy Carter (daughter of President Jimmy Carter).
Munky Fields – After the lead guitarist James "Munky" Sheffield
Murmur
Natter
Olyote – Cherokee word for crybaby
Ori – For the ornamental Siamese
Pho
Pitty Pat
Point
Prattle
Purrbox
Rant
Rosie
Ruffus
Ruffy
Sammy
Samson – UK Heavyweight boxing champ, Frank Bruno's Siamese
Savannah
Screamer
Seal
Shriek
Sia – The singer
Siam – Where they are believed to have come from, now called Thailand
Siamois
Siamon
Simone
Siron
Skype
Smarty Pants
Sounder
Speaks
Squawky
Squeaky
Squeal
Squealy
Squeekers
Squirt
Tai Lu – Comic strip Siamese from the 1950's
Talker
Tamra Maew
Tao
Thai
Thailand
TICA
To-ku – Japanese for "talk"
Utter
Vinnie
Voxie
Wally – Wally Cleaver from "Leave It to Beaver"
Whimper
Whinney
Whipper
Yahzee – One of the Navajo in the movie "Wind Talkers"
Yodel
Yum-Yum
More Info
Doesn't matter how or what you would like to name your cat, we have the perfect name for you. Are you looking for a cat name to go with personality traits such as independent cats, playful cats, funny cats, cute or beautiful cats, loving cats, sweet cats, big cats or cats with big personalities, small cats, smart cats, not so smart cats, ornery cats, or talkative cats? Or how about a stray or rescued cat?
Or are you looking for a name your cat based on his hair coat color or type such as he is white, brown, orange or red, grey, black, black and white, tabby, calico or a fluffy cat.
Check out PetPlace.com's other articles on what to name your feline friend – Ultimate Guide to Naming Your Cat.
Have a name idea for a Siamese Cat? Share it below!