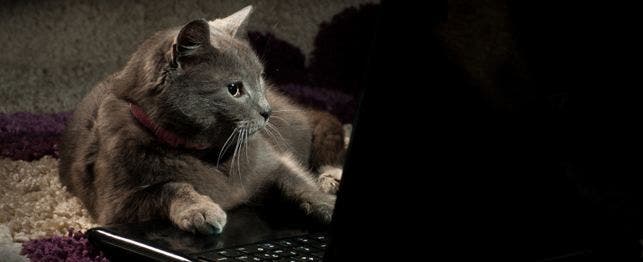 7 Ways Facebook Can Help Pets
What started as a college dorm room project has left an indelible mark on the world.
Since its founding on the campus of Harvard University 12 years ago, Facebook has morphed into a global phenomenon. Today the pioneering social media platform boasts nearly 1.6 billion monthly active users – more than half of the world's online population. Like dogs and cats themselves, Facebook has proven immensely popular and become increasingly ingrained in our culture.
While our furry friends lack the ability to send friend requests and upload profile pictures, our pets can still benefit tremendously from our society's ever-growing fondness for Facebook. And the impact extends beyond simply enjoying cuddle time with human companions as they scroll through their newsfeeds.
Facebook – when used responsibly and effectively – can assist with everything from helping pets in need to bringing light to heartwarming pet success stories. It's about ensuring news of a setter guarding his trapped hound friend for a week until help arrived or examples of unlikely animal friendships go viral for thousands to see. Now that's something that can entice anyone to hit the "like" button.
Here are seven ways Facebook can aid dogs and cats:
1. Locating Lost Pets
It used to be that when you lost a cat or dog, your only recourses involved notifying local authorities and posting "missing pet" signage within your neighborhood. Nowadays though, Facebook's digital world has rewritten the rulebook on locating displaced pets. Whether searching for a lost companion or attempting to connect with the owner of a lost dog or cat you've located, Facebook's vast social network enables you to easily post missing pet information and photos to be shared and passed along to thousands of users.
2. Supporting Worthwhile Pet Causes
Have a pet-related cause for which you care deeply? Then Facebook represents the perfect forum for advocating your viewpoint or conducting fundraising initiatives. Perhaps you're seeking to lift a pit bull ban within your community or raise money to help fund a dog or cat's cancer care. Whatever your pet cause may be, chances are Facebook represents the ideal platform for spreading your message to your followers and beyond.
3. Finding Homes for Rescued Pets
In the United States alone, there are millions of homeless dogs and cats – many of whom ultimately suffer a fate of euthanasia. But, thankfully, Facebook has emerged as the perfect means for rescue organizations and animal shelters to promote those stray dogs and cat in need of forever homes. While there's still much progress to be made, Facebook has helped rescue organizations save many canine and feline lives by enticing prospective pet adopters with their posts.
4. Raising Awareness Regarding Animal Welfare Issues
The popularity of dog and cat ownership has never been higher, yet animal welfare standards often remain a work-in-progress. Facebook can shed light to the masses when a dog or cat gets mistreated, helping foster awareness and preventing similar incidents from occurring. When an airline leaves traveling dogs out in the rain during a flight delay, a timely Facebook post not only ensures the canines receive shelter, but also pressures that airline to reevaluate its procedures pertaining to pet travel safety.
5. Sharing Heartwarming Pet Stories
Let's face it – pets are incredible creatures, capable of bringing smiles to our faces and winning over our hearts. From a cat that participates in cross-country skiing to a dog train for rescued pups, Facebook brightens our lives by broadcasting the best of pet feats and antics on a daily basis. When society constantly visualizes everything dogs and cats have to offer, pet well-being stands to benefit.
6. Offering Veterinary Advice
Although any serious pet medical issue requires professional advice from your veterinarian, Facebook represents an excellent starting point when seeking preliminary information regarding a minor health or behavioral issue. Breed- and age-specific Facebook pages abound where you can pose health-related questions and receive prompt answers from experienced pet owners. It's pet social networking made easy.
7. Providing a Platform for Showcasing Our Pet Love
Many of us love our pets as much as life itself. One outlet for expressing our canine or feline pride is Facebook, where we can post photos and videos that demonstrate our pet love and share our joy with online followers. We can also keep tabs on our favorite "pet celebrities" via Facebook. When it comes to social sharing of your pet pride, post away – just don't forget to devote ample time to shutting your laptop, putting down your phone, and giving your dog or cat the loving attention he deserves.