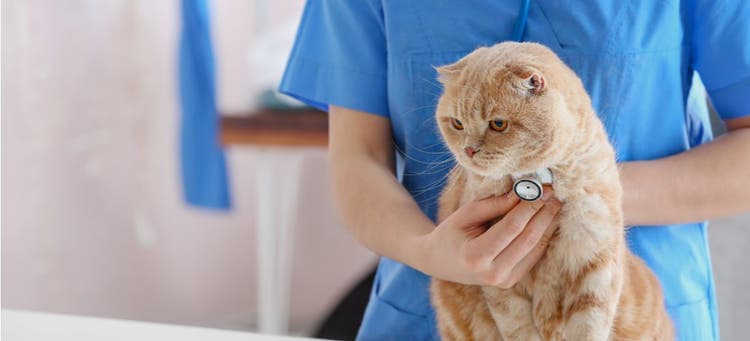 What Do Those Veterinary Abbreviations Mean?
An A-Z Guide to Veterinary Abbreviations
If you have ever tried to read your dog or cat's medical report, you've likely encountered a veritable alphabet soup of abbreviations. What do all those letters mean?
Here's a list of abbreviations your veterinarian uses, from A to Z.
Abc Or Abx – antibiotic(s)
Abd – abdomen
Ac – before meals
ACT – activated clotting time
ACTH – adrenocorticotropic hormone
AD – right ear
ADH – antidiuretic hormone, Vasopressin
Ad Lib – as desired
ADR – ain't doing right
AF – atrial fibrillation
AG – albumin/globulin ratio
AI – artificial insemination
AIHA – autoimmune hemolytic anemia
Alb – albumin
ALKP – alkaline phosphatase
ALT – alanine aminotransferase
ANS – autonomic nervous system
AP – anterior posterior
APC – atrial premature contraction
ARF – acute renal failure
AS – left ear/aortic stenosis
AST – aspartate aminotransferase
ATE – aortic thromboembolism
AU – both ears
AV – atrioventricular
Ba – barium
BARH – bright, alert, responsive, and hydrated
BAR – bright, alert, and responsive
BBB – blood brain barrier
BD/LD – big dog/little dog
BID – twice per day
BM – bowel movement
BP – blood pressure
BPH – benign prostatic hypertrophy
BT – bleeding time
BUN – blood urea nitrogen
Bx – biopsy
C. – with
C – Celsius
C1, C2 – first cervical vertebra, second cervical vertebra
Cal – calorie(s)
Cap – capsule
CBC – complete blood count
CC – chief complaint/cubic centimeter
CD – canine distemper
Chem – profile, blood profile, chemistry, blood chemistry, diagnostic profile
CHF – congestive heart failure
CK – creatine kinase
Cm – centimeter
CNS – central nervous system
CO – carbon monoxide
CO2 – carbon dioxide
Code/Code Blue – emergency help
COPD – chronic obstructive pulmonary disease
COR – care of remains
CPCR – cardiopulmonary cerebral resuscitation
CPK – creatine phosphokinase
CPR – cardiopulmonary resuscitation
CPV – canine parvovirus
Creat – creatinine
CRF – chronic renal failure
CRI – constant rate infusion
CSF – cerebrospinal fluid
CSVD – coughing, sneezing, vomiting, diarrhea
CT Scan – computed tomography
CV – cardiovascular
CVA – cerebral vascular accident
CVI – cervical vertebral instability
CVT – certified veterinary technician
CXR – chest X-ray (radiograph)
D – diarrhea
D/C – discontinue
DCM – dilated cardiomyopathy
DDD – degenerative disc disease
DDX – differential diagnosis
Derm – dermatology
DFW – dog fight wounds
DI – diabetes insipidus
DIC – disseminated intravascular coagulation
Diff – differential count
Dig – digoxin
DJD – degenerative joint disease
DLH – domestic long-haired cat
DM – diabetes mellitus
DMH – domestic medium-haired cat
DNA – deoxyribonucleic acid
DPL – diagnostic peritoneal lavage
DSH – domestic short-haired cat
Dx – diagnosis
ECG or EKG – electrocardiogram
EEG – electroencephalogram
EENT – eyes, ears, nose, and throat
ELISA – enzyme-linked immunosorbent assay
EMG – electromyogram
EOD – every other day
Eos – eosinophil
ED – every day
EMD – electromechanical dissociation
F – Fahrenheit
FA – fluorescent antibody
FAD – flea allergy dermatitis
FBS – fasting blood sugar
FDA – Food And Drug Administration
Fel – feline
Felv – feline leukemia virus
FHA – femoral head and neck osteotomy
FIA – feline infectious anemia
FIP – feline infectious peritonitis
FIV – feline immunodeficiency virus
Fl – fluid
FLUTD – feline lower urinary tract disease
FNA – fine needle aspirate
FORL – feline odontoclastic resorptive lesion
FSH – follicle-stimulating hormone
FU – follow-up in reference to next lab procedure, re-evaluation, etc.
FUS – feline urologic syndrome
Fx – fracture
G or Gm – gram
Gal – gallon(s)
GDV – gastric dilatation volvulus
GFR – glomerular filtration rate
GH – growth hormone
GI – gastrointestinal
Glu – glucose
Gr – grain
GSD – German Shepherd dog
Gtt – drops
H. – hour
Hb – hemoglobin
HBC – hit by car
HCM – hypertrophic cardiomyopathy
HCT – hematocrit
HD – hip dysplasia
HDDST – high dose dexamethasone suppression test
Hg – mercury
HGE – hemorrhagic gastroenteritis
H/L – heart and lungs
HOD – hypertrophic osteodystrophy
HR – heart rate
Hs – bedtime
HSA – hemangiosarcoma
HW – heartworm
Hx – history
H2O2 – hydrogen peroxide
ICU – intensive care unit
IC – intracardiac
ID – intradermal
IFA – indirect fluorescent antibody
Ig – immunoglobulin
IM – intramuscular
IMHA – immune-mediated hemolytic anemia
Inj – injection
IO – intraosseous
IOP – intraocular pressure
IP – intraperitoneal
IPPV – intermittent positive pressure ventilation
ITP – immune-mediated thrombocytopenia
IU – international units
IV – intravenous
IVDD – intervertebral disk disease
IVP – intravenous pyelogram
K9 – canine
K – potassium
KBr – potassium bromide
Kcal – kilocalorie(s)
KCS – keratoconjunctivitis sicca
Kg – kilogram(s)
L – liter(s)
L1, L2 – first, second lumbar vertebra
LA – left atrium
Lat – lateral
Lb. – pound
LDDST – low-dose dexamethasone suppression test
LH – luteinizing hormone
LN – lymph node(s)
LRS – lactated ringers solution
LSA – lymphosarcoma
LV – left ventricle
LVT – licensed veterinary technician
Lymphs – lymphocytes
Mg – milligram
MI – mitral insufficiency (commonly used for myocardial infarction in humans)
Ml – milliliter
MM – mucous membranes
MR – mitral regurgitation
MRI – magnetic resonance imaging
MS – musculoskeletal
Na – sodium
NAF – no abnormal findings
NPO – *nil per os (*no food or water by mouth)
NSA – normal sinus arrhythmia
NSF – no significant findings
NSR – normal sinus rhythm
NSU – no significant change from last exam
NVL – no visible lesions
O – owner
O2 – oxygen
OD – right eye
OES – Old English Sheepdog
OFA – Orthopedic Foundation For Animals
OHE – ovariohysterectomy
OR – operating room
OS – left eye
OSI – owner stopped in
OU – both eyes
OV – office visit
Oz – ounce
Path – pathology
P.C. – after meals
PCFO – phone call from owner
PCTO – phone call to owner
PCV – packed cell volume
PDA – patent ductus arteriosus
PE – physical examination/pulmonary edema
PEA – pulseless electrical activity (previously EMD)
Pl Eff – pleural effusion
PLN – peripheral lymph nodes
Plt – platelet
PO – per os/by mouth
PPM – persistent papillary membrane
PPMSH – past pertinent medical and surgical history
PPN – partial parenteral nutrition
PRAA – persistent right aortic arch
PRBC – packed red blood cells
PRN – as needed
PT – prothrombin time
PTH – parathyroid hormone
PTT – partial thromboplastin time
PU/PD – polyuric/polydypsic
PVC – premature ventricular contraction
Px – prognosis
Q – every
Q4h – every 4 hours
QAR – quiet, alert, responsive
QD – every day
QID – four times daily
QOD – every other day
RA – right atrium
R & A – resection and anastomosis
RACL – ruptured anterior cruciate ligament
RBC – red blood cell
RDVM – referring veterinary colleague
REM – rapid eye movement
RMSF – Rocky mountain spotted fever
R/O – rule out
RT – radiation therapy
RV – right ventricle
RVN – registered veterinary nurse
RVT – registered veterinary technician
Rx – prescription
S. – without
SA – sinus arrhythmia
SC – subcutaneously
SID – once per day
SLE – systemic lupus erythematosus
Sig: – directions to patient
SOAP – signalment, objective, assessment, plan
SQ – subcutaneously
Staph – staphylococcus
Stat – immediately
SX – surgery
Sz – seizure
T – temperature
Tab – tablet
Tbsp – tablespoon (15 ml)
TID – three times per day
Top – topically
TP – total protein
TPN – total parenteral nutrition
TPR – temp, pulse, respiratory rate
Tsp. – teaspoon (5 ml)
Tx – treatment
U – units/urine
UA – urinalysis
UGI – upper gastrointestinal
URI – upper respiratory infection
URV – upper respiratory virus
US – ultrasound
UTI – urinary tract infection
UO – urinary obstruction
V – vomiting
VA – veterinary assistant
VD – ventrodorsal
V/D – vomiting/diarrhea
VPC – ventricular premature contraction
VWD – von Willebrand's disease
WBC – white blood cell
WNL – within normal limits
Wt – weight
X-Ray – radiograph (C-X-ray = chest X-ray; Abd X-ray = abdominal X-ray)