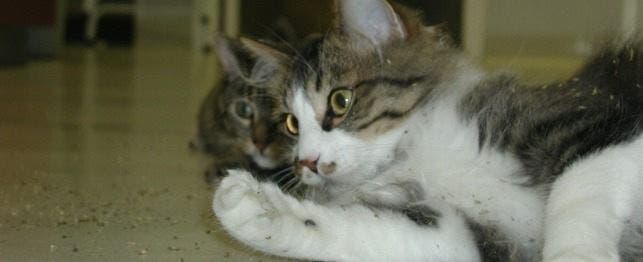 How often is too often for a cat to get catnip?
Our question this week was:
Hi Dr. Debra – I'm in college and I have a 2-year-old cat named Buddy. My roommate gives him cat nip several times a day – sometimes 10 times or more. He thinks it is funny when he acts all silly. How often do you think he should get catnip or…how often do you think is TOO often?
**
John – Morgantown, WVA
Answer
Thanks for your question. I think that your cat is getting catnip too often. I've never read any hard rules about the frequency but I think a couple times a week is an ideal frequency. You could give it daily but I think that may even be a little much for some cats. If you want to stimulate your cat, try a variety of toys- e.g. laser pointers, furry mice or feathery flyers. Toys with catnip are okay as well. I'd recommend talking to your roommate and develop other ways of stimulating your cat.
Regards,
Dr. Debra
To read most recent questions Click here!
Click here to see the full list of Ask Dr. Debra Questions and Answers!