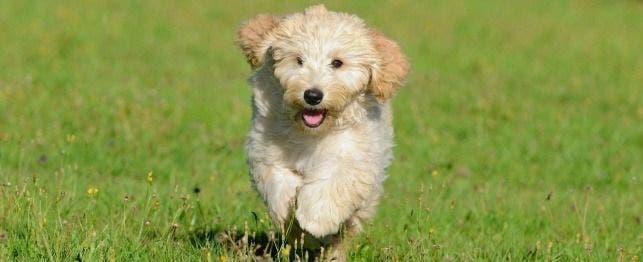 Choosing a Goldendoodle Dog (Golden Retriever and a Poodle Cross)
Breed Information on Goldendoodle Dogs The Goldendoodle dog is a cross between a Golden Retriever and a Poodle, usually a Standard or Miniature Poodle. At their best, these dogs are intelligent, friendly and affectionate. Goldendoodle dogs are one of the most popular mixed breed dogs in the United States.Goldendoodles come in three sizes: miniature, weighing 15 to 30 pounds; medium, 30 to 45 pounds; and standard, 45 to more than 100 pounds. Because they are a cross breed, their traits are not fixed, so there is not a guarantee that the Goldendoodle puppy you purchase will fall into the desired weight range. Goldendoodles are one of the most popular "designer mixed breeds" in the United States.
Personality of a Goldendoodle Dog
Goldendoodles have a moderate activity level. Larger Goldendoodles may be more active than their smaller kin. They need a good walk or active playtime each day, and if you're interested, they are athletic enough to participate in such dog sports as agility, flyball, obedience and rally. They can also be excellent therapy dogs.
Both of the breeds used to create Goldendoodles are smart and learn quickly. If you begin socialization and training early and use positive reinforcement techniques such as praise, play and food rewards, you will be rewarded with a wonderful companion.
Poodles have a reputation for being hypoallergenic, meaning that they can be tolerated by people who have allergies to dogs. Because they have the Poodle in their heritage, Goldendoodles are sometimes promoted as being hypoallergenic.
But allergies are caused not by a particular dog coat type but by dander, the dead skin cells that are shed by all dogs (and people, for that matter). There is no scientific evidence that any breed or cross breed is more or less allergenic than any other dog. Some people with mild allergies react less severely to particular dogs, but no reputable breeder will guarantee that her dogs are hypoallergenic.
Appearance & Care of a Goldendoodle Dog
Goldendoodles can have different types of fur. Some look like shaggy retrievers, others resemble a Poodle with loose curls and some fall somewhere in the middle. They are not low-maintenance dogs when it comes to grooming. Plan to brush the Goldendoodle at least every other day, using a slicker brush, and have him clipped every eight to 12 weeks.
Ear infections can be a problem in Goldendoodles. Be sure to keep the ears dry and clean, especially after the dog has had a bath or gone swimming. In addition, trim his nails at least monthly – more frequently if necessary – and brush his teeth as often as possible, especially if he's on the small side. Small dogs are especially prone to periodontal disease.
Goldendoodles are companion dogs. They love being with people and need to live in the house, never outdoors.
Goldendoodle puppies are adorable, and it's one of the reasons they are so popular. Cute puppies sell, and that makes the Goldendoodle a favorite of puppy mills and greedy, irresponsible breeders. But there's no need to pay big bucks for a Goldendoodle. You can often find a wonderful example of this hybrid dog at your local shelter or through adoption organizations.
If you do choose to buy one, however, select a breeder who has done the health testing to ensure that her puppies won't carry the genetic diseases common to both Golden Retrievers and Poodles.
Health Issues Common to Goldendoodle Dogs
All hybrid dogs have the potential to develop genetic health problems, just as purebred dogs can and just as all people have the potential to inherit a particular disease. Run, don't walk, from any breeder who does not offer a health guarantee on puppies, who tells you that the Goldendoodle is 100 percent healthy and has no known problems, or who tells you that her puppies are isolated from the main part of the household for health reasons. A reputable breeder will be honest and open about health problems in the Goldendoodle and the incidence with which they occur in her lines.
Goldendoodles may develop health conditions common to both Golden Retrievers and Poodles, especially if you aren't cautious about whom you buy from.
They include:
• Hip dysplasia
• Skin disease called sebaceous adenitis
• A heart condition called subvalvular aortic stenosis
• Addison's disease
• Progressive retinal atrophy
• Cataracts
• Glaucoma is a disease of the eye that develops when the pressure within the eye increases.
For a full list of conditions common to the goldendoodles – see the full article.