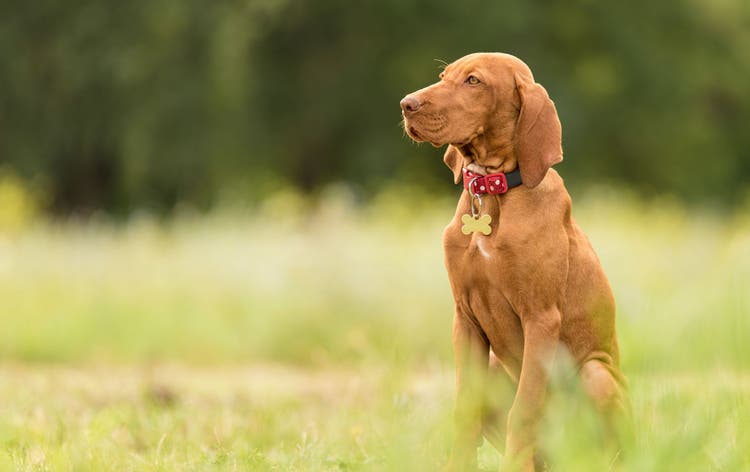 Meet the Vizsla
The Vizsla is a highly energetic Hungarian dog that excels at hunting, agility and search and rescue work. They are sometimes called the Hungarian Vizsla or the Hungarian Pointer.
This medium size hunting dog originated from Central Europe. The Vizsla was developed in Hungary as a hunting dog that was capable of both pointing and retrieving. Once upon a time the Vizsla hunted in partnership with falcons. The Vizsla would point and flush out the bird and then the falcon would dive and bring it to earth.
During World War I, the Vizsla served as a messenger dog. The effects of World War I and World War II nearly brought an end to this breed, but it managed to survive. In the 1950's, Americans began taking an interest in the breed and it was officially recognized by the American Kennel Club in 1960.
In the present day, the Vizsla is much more than a hunting dog and a companion. Vizslas can work as guide dogs, drug detection dogs, and search and rescue dogs. Some were even working at Ground Zero after the terrorist attacks of September 11, 2001.
Overview of the Vizsla
The Vizsla is lightly built but muscular. Their golden rust color distinguishes the Vizsla from other breeds. Stealthy and elegant, the Vizsla is quick and can run at very high speeds.
The Vizsla is big but not too big. It stands about 21 to 24 inches tall at the shoulder and weighs between 50 to 65 pounds. The male is larger than the female. The average lifespan for the Vizsla is 10 to 14 years.
A hunting dog by nature, the Vizsla is always on the lookout for interesting scents.
If you are looking for a dog that you can spend a lot of time with and if you can give him plenty of opportunity to run, hike and play every day, then the Vizsla is the dog for you. The Vizsla is a very active people-oriented dog who requires a lot of daily exercise. Without it, the Vizsla will become bored and destructive. This is a dog who does not want to be separated from his family, so it is not a breed that can live outside in the yard.
The Vizsla is great with children and other dogs, however this breed is untrustworthy around pet cats and other small pets.
The Vizsla is intelligent and loves a good puzzle toy. He thrives on gentle consistent training from an early age. Training should begin the day you bring you Vizsla home. They are natural born chewers, so keep your Vizsla entertained with plenty of fun chew toys.
This hunting dog is capable of pointing and retrieving before they are a year old. This versatile hunter can point and also retrieve on land or from the water.
Personality of the Vizsla
The Vizsla loves spending time outdoors. This breed loves hunting birds and has an innate instinct to target them.
The Vizsla is a highly energetic dog who makes a great companion for hikers, runners or active owners who spend a lot of time outdoors. The Vizsla can become frustrated and destructive if not given adequate daily exercise – at least an hour per day. They require a lot of strenuous exercise every day like running, jogging, playing fetch or dog sports. They need to run, swim or have the run of a large enclosed area. They do best in homes with fenced yards where they can run and play.
This is a gentle, affectionate and sensitive breed. He is fearless and more protective of his family than the average Sporting dog, which makes the Vizsla a very good watchdog. The Vizsla can be very stubborn. Sometimes the Vizsla is timid and others can be overly excitable, depending on the dog. Most often, they are full of energy, warm, sensitive and gentle.
Because of its hard working nature, the Vizsla is happiest when it has a job to do. That job can be a hunting companion or a therapy dog. Vizslas also love to accompany their humans while jogging and hiking.
The Vizsla is a lively, loving, gentle friend who will more than return the love you give him. They thrive on human companionship and will follow family members from room to room. They love to be touched and petted by their humans. They are very affectionate with children and make great companions for older, energetic kids. (The Vizsla is not recommended for homes with very young children.)
The Vizsla craves human companionship and is happiest in a home where someone is there all day to keep him company and to give him the activity and mental stimulation he needs. Otherwise, the Vizsla can become bored and destructive, and he may develop separation anxiety.
What people love about the Vizsla
The Vizsla is a dog that is very easy to care for. They are low to moderate shedders. Their coat requires little care except for the occasional brushing. Bathing is needed only about four times a year.
The Vizsla are very affectionate and attached to their human family. They love to stay close to their humans.
Protective of their humans, the Vizsla's keen senses make him a very good watchdog.
To learn more about the pointer breeds, go to All About the Different Types of Pointer Breeds.