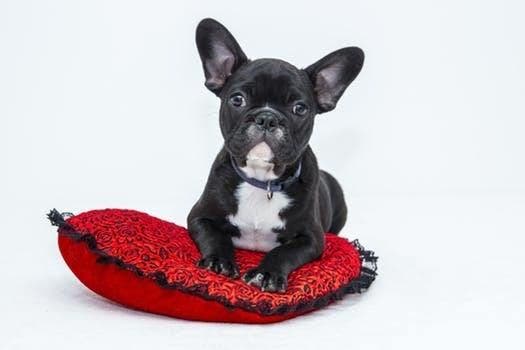 What to Feed Your French Bulldog Puppy
French Bulldogs are a loveable, adorable, and playful dog that is the sixth most popular breed according the AKC rankings. The French Bulldog's popularity isn't surprising to anyone who has spent time around the majestic little pups. Their scrunched noses and pointy ears give them a unique appearance from other similarly-sized dog breeds. If you recently got yourself a French Bulldog puppy, you're in for a wonderful experience raising and getting to know your new friend.
Whether your French Bulldog is your first experience with a puppy or not, there are a few things that you'll want to know concerning vaccination schedules and the dietary needs of your new puppy. Let's start with food.
When to Feed Your French Bulldog Puppy
When you bring home your French Bulldog puppy, he or she will already have transitioned from nursing to eating dry food. It's important to set a regular and consistent diet for your puppy to promote healthy growth. A regular, spread out feeding schedule is optimal due to creating time for your puppy to burn calories by playing throughout the day.
Ideally, your puppy should be fed three times per day. Typically, you'll want the feeding periods to stay consistent so your dog can get accustomed to digesting and metabolizing their meals. Feed your French Bulldog once in the morning, once around noon, and once more in the evening.
What to Feed Your French Bulldog Puppy
There's a lot of different food options for you to choose from when you're in the dog food aisle of your local pet store. For your French Bulldog puppy, you're going to want to find a nutrient-rich formula that is designed for puppies. The amount, and type, of nutrients within the food is what separates puppy formulas from adult formulas. Growing puppies have a heightened need for nutrients, as their bodies depend on nutrients to grow. Because of this, puppy food is formulated to have more proteins and vitamins per ounce than adult food. While your puppy is growing, there won't have much trouble making use of all the calories, nutrients, proteins and vitamins that are found in puppy food. However, adult dogs can struggle to keep a healthy weight if they're eating foods that are formulated for puppies.
Particular to your French Bulldog, you should try and target a formula that is designed to feed small breed or medium-sized breeds and that is rich in animal proteins. These types of food will feature more nutrients and calories per ounce of food than food formulated for bigger breeds of dogs, because the rate in which smaller dogs grow is greater than that of larger breeds.
As your puppy continues to grow into an adult French Bulldog, you'll want to start feeding them adult food gradually. It's best to consult with your vet to put together a schedule and plan for doing so.
Another thing to consider when selecting the type of puppy formula is allergies. French Bulldogs can have food allergies to dairy products, beef, chicken, lamb, fish, corn, wheat, soy and various other ingredients that are found in all types of dog food. If your puppy does have a food allergy, you'll know pretty quickly. Vomiting, gas, diarrhea, excessive itching, and gastrointestinal issues are all symptoms of food allergies for dogs. To figure out if your French Bulldog has one of these food allergies, you can either have your vet conduct a blood test.
Learn More About Your French Bulldog at PetPlace!
As your French Bulldog grows up, you're going to find yourself in situations where you are in needed of some pet-related information. During those times, come back to PetPlace! PetPlace is an online resource with thousands of vet-approved articles, and we're publishing new stuff each and every day.
Whether you want some tips on training your French Bulldog, have questions about their health, or want to learn fun facts about other breeds of dogs, PetPlace has you covered.