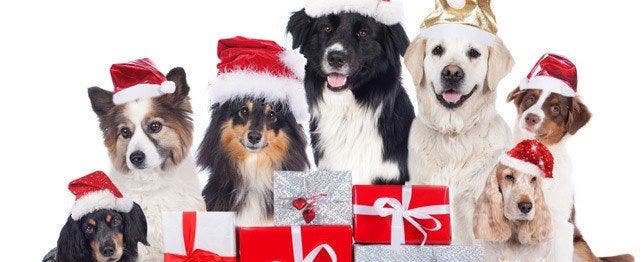 5 Paw-Fect Christmas Gifts for Dogs
Christmas is coming soon, and whether you're all done shopping or you still need to hit a couple people on your list, you should make sure you include a Christmas gift for your dog.
Christmas gifts for dogs are a great way to include your pup in the family celebration. Your pup will enjoy a fun treat and the time spent with the family, and it could also provide a good distraction while everyone is opening their gifts.
If you have to keep gifts hidden in a secret place, you might want to do the same thing with your Christmas gifts for your dogs. If you're giving treats, especially ones with a strong scent, keep them up and away where your dog can't get into them before the special day. Tuck them into a high cabinet so even the sneakiest tricksters will have to wait until Christmas morning to open their presents.
If you take the moment to stuff a stocking for your dog, he'll appreciate it. Your dog will love being included in the excitement of Christmas morning, and it's always fun to see your dog get excited over a bone or a new toy. Show your dog you care this Christmas with a special gift you picked out just for him, it'll help you bond and could even become a new holiday tradition.
Having your dog be a part of the Christmas morning celebration will make this year's holiday one to remember. If you're starting to feel the stress of holiday shopping, we've picked our favorite gifts to make gift shopping for your dog quick and easy. Check out our favorite Christmas gifts for dogs to make sure you're prepared for the holidays.
Give Your Pup the Best Howl-iday Ever With These Christmas Gifts for Dogs
If you're looking for a bone that will last longer and won't make a mess in your house, the Goodie Bone is exactly what your dog needs. This tough rubber bone will satisfy your dog's craving to chew and keep him entertained all day long. The ends of the bone even have holes for treats for an added surprise. If your dog is more of a destructive chewer, KONG also makes an Extreme Goodie Bone made with extra strong rubber to withstand even the strongest dogs.
The perfect Christmas gifts for dogs always include a treat or two. Blue Buffalo makes a wide variety of treats so you can fill your dog's stocking and make his dreams come true. The best part is that Blue Buffalo's treats are all natural, so you don't have to worry about mysterious ingredients or weird chemicals that might upset your dog's stomach. Whether you get a variety or just a bag of his favorite, these treats are sure to make your dog's Christmas the best one yet.
If your dog has a beloved, ratty, old tennis ball that's getting kind of gross, this ball could be the upgrade you're looking for when you go to play fetch. The Chuckit! ball is made of natural rubber, so it's tougher than your average tennis ball. It even floats in water, so you can take your game of fetch to new heights. The Chuckit! ball promises to fly farther and bounce higher than any other ball. Your dog will love being able to chase this ball further than before. The ball also fits with the Chuckit! launcher, so if you need to give your throwing arm a rest, the launcher will do all the work.
Do you love the feeling of laying down on a brand new bed? That perfect comfort is hard to beat. Give that feeling to your dog this holiday season with a high quality dog bed from Orvis. If you have a dog who loves to sleep, a superior bed is the ultimate Christmas gift for your dog. Orvis makes several different kinds of beds so you can choose the perfect one for your pup to snooze in. They can even embroider your dog's name on the side to make this Christmas gift for your dog extra special.
Want to upgrade your dog's style this Christmas? Found My Animal makes unique collars, leashes, and harnesses for every dog, and they have a special mission. Found My Animal is dedicated to pet adoption and animal welfare, and they help raise money to spread the word about animal adoption and to support shelters. If you have an adopted pup, a Found My Animal collar or leash will show your values of giving every pet a home. Have your dog look extra stylish with these accessories that have a little more meaning behind them.