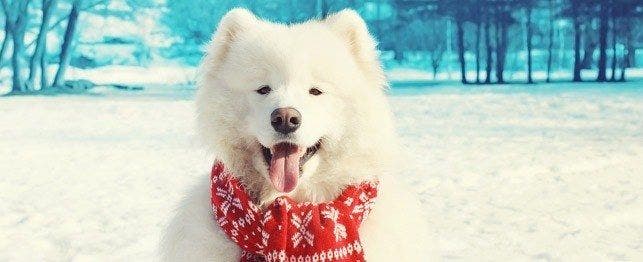 5 Ways Your Dog Can Spread Joy This Holiday Season
If your dog's like most canines, he has an innate ability to bring happiness to most of the people he encounters.
This talent – while completely unbeknownst to your dog – has many applications in everyday life, most notably during the stress-filled holiday season. Simply by being himself, your dog can ease tension like a stress ball and incite laughter like a clown.
Help your dog improve moods during the holidays by cultivating his built-in skill set. If you place your dog in the right situations, he'll take care of the rest by enthusiastically wagging his tail, offering sloppy kisses, and showcasing his goofy personality.
Here are five ways your dog can induce merriment this holiday season:
1. Accompany Holiday Carolers
Although no longer as common as they once were, holiday carolers still usher delight at the doorsteps of the homes they visit by breaking into holiday-themed song. The recipient's enjoyment can be magnified when you incorporate a dog into your caroling trip, adding to the element of surprise. For his part, the dog will enjoy the neighborhood stroll, and some canines have even been known to complement "Deck the Halls" and other carols by contributing howling.
2. Greet a Visiting Family Member
A dog treats every greeting like a long-awaited reunion of loved ones following overseas military service. When your relocated family members travel across the country to visit your home during the holiday season, your dog will greet them with a brand of palpable excitement as if they never left. You can sit back and play a supporting role to your dog's enthusiastic greeting. It's a wonderful way to kickoff a "Welcome Home" celebration.
3. Visit a Nursing Home
Seeking a way to help others during the holidays? Involve your dog to maximize your impact. With receipt of proper permission beforehand, many nursing homes and assisted living facilities allow you to bring your dog to visit the residents. A thrilling and nostalgic experience is sure to ensue for nursing home residents, as many of them appreciated the companionship offered by pets during earlier stages of their lives. And your dog will enjoy making new friends too.
4. Make Your Home More Comfortable
Picture this: Family members gathered around a living room reminiscing, holiday music playing softly in the background, and the family dog sleeping peacefully in front of the fireplace. With an inherently calming quality, your dog adds an element of coziness and ambiance to any holiday atmosphere. Moreover, since the holidays typically prompt an increase in home burglaries, the security your dog's presence provides will also contribute to your peace of mind.
5. Enjoy Winter Weather
While many folks root for a white Christmas, excessively wintry weather often draws complaints during the holiday season. People simply aren't ready for winter to arrive in full force, particularly when holiday travel is planned. But your dog, on the other hand, welcomes snow with open paws. When your dog's snow enthusiasm proves contagious, you can alter your attitude regarding winter. Incorporate your canine into winter activities like snow hiking and snowman building, and his joy for the season may rub off on you.