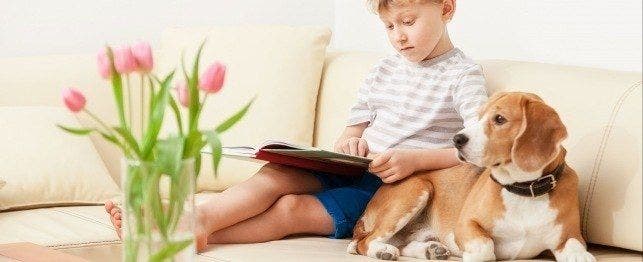 A Collie Saves a Baby
Try to imagine, if you can. You have just brought home your premature twins. You already have three young children, now you have five, two of which still need around the clock medical care. These two little bundles of joy are fighting for their lives at every moment with a multitude of health problems, not the least of which is sleep apnea. Thankfully, there are monitors to alert you when the babies stop breathing, and you have been well trained in resuscitation techniques. You even have a nurse to help you. So, getting a dog to be part of the family seems a small thing.
This was the setting for Diane Johnson and her husband Forrest, when they got Zeke, a two year old champion collie. Diane had wanted a puppy, but the breeder talked her into getting an adult dog that had already proven to be good with children, house trained, and so forth. Her older children were thrilled to have a dog to love, and as anticipated Zeke was patient and kind. Diane planned to have Zeke sleep in the master bedroom and set up a bed for him there. But, right from the start Zeke insisted on sleeping in the nursery with the babies. And since the nurse didn't seem to mind, Diane acquiesced and moved his bed to the nursery where he happily slept between the cribs.
One night Diane was awakened by Zeke jumping up on the bed and hitting her with a paw. Grumpy and groggy, Diane assumed that Zeke needed to go outside and so headed for the back door calling to him. But Zeke was barking and running to the nursery and Diane was worried that he would wake the babies. When she checked to see if they were still sleeping she found that one was not breathing.
As you can imagine, Diane screamed to her husband to call 911 while she immediately began resuscitation. Soon the baby began breathing and coughing; and a thorough checkup at the hospital later showed no signs of any permanent damage. When Diane and her husband checked the monitor to see why it had not gone off, they found that the wires between the two monitors had been crossed.
Although they immediately got a new nurse and continue to use the monitors, they are forever indebted to Zeke, for without him their baby would most certainly have died. It seems that Zeke had chosen to be the babies' guardian, just as if he knew that this was his purpose for living with this family. No longer did the decision to get a dog seem to be such a small thing.
Read more of Diane's story and others like it at: http://www.beliefnet.com/story/178/story\\_17808\\_1.html
This is just one of many stories out there about the ability of dogs to sense when a person's life is in danger. They may not understand why, but they know, often before we do, when help is needed. Bringing a dog into your life and your family may seem like an extra hassle, but the rewards are well worth the effort. When you take care of a dog, that dog will most certainly take care of you.