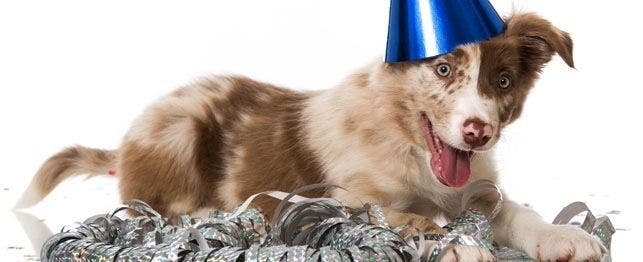 A Letter From Your Dog: 7 News Year's Resolutions for my Best Friend
Dear Loving Owner,
It's me, your dog. It goes without saying that I'm super excited to write you.
At first I was hesitant to approach you about this. You're my best friend, I'm your top dog, and I don't want you to take this the wrong way. This is not meant to come across as overly critical (I won't be withholding treats), and I'm happy to call off the dogs if need be.
As you know, a new year is right around the corner, just a few devoured meals from now. It's been a fun year full of interesting smells and some tail-waggin' good times, but I think we can make next year even better. I've heard it'll be the "Year of the Monkey" but it's always the year of the dog in my book.
Anyway, I'm a pooch of few words so I'll stop blabbering before you grow dog-tired of my letter-writing antics. Here are my New Year's resolutions for you.
1. Save Money
I don't know a lot about money, but I know it's a source of stress for you. By eating out less and dining in more this year, you'll save money and get to spend more time with me! Candles are optional for your doggy dinner dates.
2. Respect Your Belongings
I'll admit it – sometimes my instincts get the best of me. I was born a chewer and that's what I'll always be. But I'm willing to compromise. If you invest in a few more chew toys for me, then I'll spend less time gnawing on your prized possessions. Everybody wins, most notably that family heirloom in the dining room.
3. Maintain Good Health
We can both agree visiting our respective doctors is a drag. But I'm overdue for my latest rabies vaccination and you've put off that colonoscopy far too long. I can't speak for your gastroenterologist, but my vet isn't actually that bad. Let's both schedule appointments, then reward ourselves with doggie donuts afterwards!
4. Make New Friends
You may have noticed, but whenever I meet someone new, I can barely contain my excitement. I know, I know – I need to work on that. But anyway, let's visit our local dog park more next year. We can both sniff out our respective types of new buddies there. Plus, it's basically my favorite place on the planet.
5. Get Active
Your sibling always likes to remind you – "The dog's not gonna walk himself." Frankly, I'm happy to take myself on walks…I simply prefer having your company. When we're out exploring together, it feels like the world is our oyster. With regular walks in the morning and evening, you burn extra calories and I get to enjoy my second-favorite daily activity (behind eating) twice each day.
6. Take a Trip
It feels like it's been forever since we went somewhere together. Let's plan a vacation for next year and take in new smells. You decide where to go and pack our bags, and I'll come along for the ride. When I tell my friends about our faraway travels, they'll all say, "You lucky dog, you."
7. Reevaluate What Matters Most
It's a dog-eat-dog world out there. I've witnessed many evenings when you've arrived home after a long day clearly distraught by something. When you proceed to tell me about your struggles at work or with relationships, I try my best to listen. There's much about the world I don't understand, and I can't promise everything will always go well. But whether you hit a home run or strike out that day matters not to me. Either way, I'll be here waiting to shower you with affection and unconditional love.