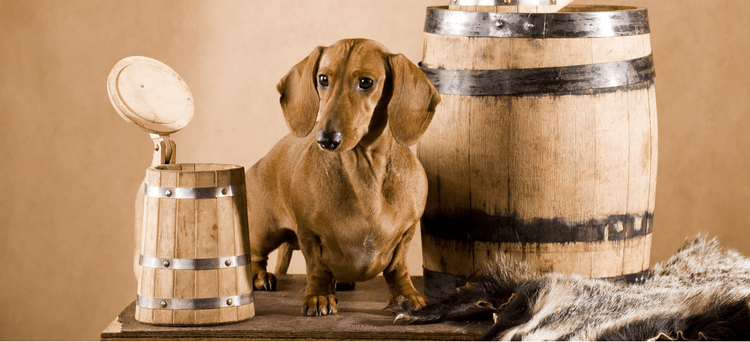 Brewing Has Gone to the Dogs
When it comes to beer, a few top dogs dominate the market. Anheuser-Busch InBev and MillerCoors account for an outsized portion of annual sales, roughly 90% in 2012. Despite consolidation at the top, the number of small and mid-sized brewers has skyrocketed over the last decade. Since 2008, the total number of breweries has sextupled (increased by a factor of six) and the industry's workforce has more than doubled.
These new brewers and distributors have claimed their piece of the industry by offering novel products and catering to tastes that normally go unserved. The major players have taken notice. They're embracing new product lines in hopes of shaking up a space that's gone a little flat. This summer, Busch chose to diversify its offerings in an unusual way. To celebrate National Dog Day (August 26th), The Anheuser-Busch InBev brand introduced its very first dog-safe beer: Dog Brew by Busch.
Beer for Dogs?
Alcohol of any sort is toxic to pets and beer is especially dangerous. Hops, one of the brewer's primary ingredients, can cause a dangerous spike in your dog's body temperature. The condition can prove life threatening if symptoms go unaddressed.
Fortunately, Dog Brew isn't brewed through traditional means. There's no alcohol, hops, wheat, or barley. The human palate probably wouldn't recognize it as beer at all. Even Busch themselves note that human taste-testers will probably find Dog Brew "bland."
Dogs, on the other hand, will enjoy the taste of pork, basil, corn, celery, and mint. Ginger and turmeric add more than just extra flavor. These tasty ingredients can have digestive benefits, easing upset stomachs and promoting intestinal health.
Busch's first batch of Dog Brew sold out almost instantly. The brand ensures beer lovers, dog lovers, and everyone in between that more "Nectar of the Dogs" is on its way. They invite consumers to join the waiting list and secure a shipment.
More Dog-Safe Beers
Busch is the first big dog to try its paws at pet-friendly beer, but it's hardly alone in the market. Retailers across the country offer Bowser Beer to thirsty pups and their owners. The brand brews a range of flavors including Cock-a-Doodle-Brew and Beefy Brown Ale. Dogs can also enjoy a jerky "cigar" and a bag of dog-safe pretzels with their beer.
Across the pond, Scottish brewery BrewDog offers what it calls "the first craft beer for dogs." Subwoofer IPA, approved by a panel of dogs, is crafted with the same care as any of the organization's other varieties. It even boasts a healthy dose of probiotics and B vitamins. Belgian brand Snuffle has earned fans of its own throughout both Europe and Asia.
Keep Your Dog Safe
Want to enjoy a cold one with your best friend? Remember that alcohol is extremely dangerous to pets. If you believe your dog has ingested alcohol (or any hazardous substance), seek emergency veterinary care immediately. The ASPCA's Animal Poison Control Center can offer guidance if you are uncertain about warning signs or next steps.