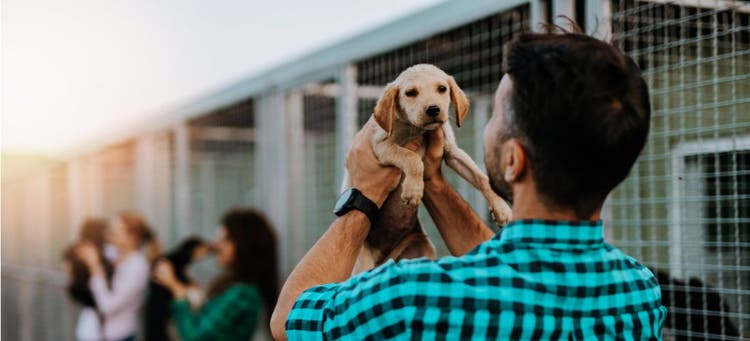 Celebrate National Rescue Dog Day
May 20th is National Rescue Dog Day. On this special holiday, you can celebrate the amazing dogs that have been adopted from rescue organizations and those still waiting in animal shelters across the country to find their fur-ever homes.
National Rescue Dog Day was founded in 2018 by Lisa Wiehebrink, the Executive Director of Tails That Teach, an organization that helps children learn how to properly care for their pets. After caring for her own rescue pup, Cooper, she founded the holiday to raise awareness of animals in need of adoption.
Read on to learn what makes rescue dogs so special, and how you can celebrate these amazing dogs on May 20th.
What Makes Rescue Dogs Worth Celebrating?
If you're thinking about adding a dog to your family, a rescue dog is a great option. Not only do they have so much love to give, but by adopting a dog from a shelter, you can directly oppose puppy mills and mass breeding facilities.
When you adopt a rescue pup, you also receive the added benefit of getting to know your dog and their personality before you take them home. You can visit with the dogs in the shelter and choose the one that fits your family best.
Rescue dogs are also more likely to be mixed breeds than purebred, making them less likely to have genetic health issues. In fact, one study found that purebred dogs were 42% more likely to have a genetic disorder than a mixed breed.
Above all, adopting a rescue dog into your family teaches you gratitude, patience, and the true meaning of love.
6 Ways to Celebrate National Rescue Dog Day
There are many ways you can celebrate National Rescue Dog Day, whether you've adopted a rescue pup of your own or you're looking for a way to support those dogs currently in need. Here are 6 ways to celebrate National Rescue Dog Day.
1. Show Your Rescue Dog Extra Love and Attention
If you have a rescue dog of your own, National Rescue Dog Day is all about them! There are so many fun ways you could celebrate with your dog:
Give them a special treat
Take them to the dog park
Go for a long walk and explore a new area
Buy your dog a new toy
Set up a doggie playdate with some of their favorite rescue pals
No matter how you choose to celebrate, make sure your dog gets plenty of extra love and attention, so they know just how special they are!
2. Adopt a Shelter Dog of Your Own
If you aren't the proud pet parent of a rescue dog, National Rescue Dog Day is a great day to consider adoption.
There are so many wonderful dogs, approximately 3.1 million, waiting in your local animal shelters and rescue organizations for their second chance at a loving home. You can help give one of these dogs the care and comfort they deserve.
Adopting from the shelter may also be cheaper than going through a breeder, which is an added bonus!
3. Volunteer at Your Local Animal Shelter
If you're unable to adopt a dog right now, volunteering is a great way to help rescue pups, while also getting to spend time with them.
Animal shelters and rescue organizations are often entirely volunteer-run, so they need all the help they can get. There are almost always volunteer positions available in all departments within the organization, so you can find something that interests you and meets your skillset.
You can take rescue dogs for walks or help to socialize them, clean cages and help with general maintenance, or even create social media posts.
4. Make Sure Your Dog Is Spayed or Neutered
One of the best ways you can help support rescue dogs is by spaying or neutering your pup.
Many shelters across the country are at capacity, leaving vulnerable dogs to face life on the streets. Spaying and neutering reduces the number of strays and homeless pets in your community, making sure no more dogs live without loving, happy homes.
Less stray pets also means more shelter resources can be used to help current dogs in need.
5. Donate to a Local Rescue Dog Organization
If you can't donate your time, donating monetarily is still a great way to help rescue dogs receive the supplies and care they need.
Animal shelters and rescue organizations rely on donations to purchase food, buy toys and other supplies, and provide the medical care that many shelter pets need.
Dogs come to the shelter in many different circumstances, and some require extensive medical attention and rehabilitation before they can be adopted. Shelter pets are also always put up for adoption after they are spayed/neutered and after they're up-to-date on their shots.
The price of veterinary bills can add up quickly, so your donations are always appreciated.
6. Spread the Word About Rescue Dogs
The more people understand how special rescue dogs are, the more dogs can finally go home with their forever families.
If you have a rescue dog of your own, National Rescue Dog Day is a great excuse to talk about the adoption process with your friends and family (and brag about how great your rescue dog is).
If you don't have a dog, you can still raise awareness, especially through the power of social media. Like, follow, and share content posted by your local animal shelters and rescue organizations to spread the word.
You can also share the profiles of dogs currently waiting to be adopted. The more eyes on the profiles, the more likely they'll be adopted.
How Will You Celebrate National Rescue Dog Day?
All dogs are special, but rescue dogs bring something different to your life than any other dog. Because so many of them have experienced life on the streets or in poor living conditions, experiencing love and becoming a part of your family means so much to them.
National Rescue Dog Day is the perfect opportunity to celebrate these wonderful animals in any way that you can, whether that's opening up your home to a new friend or simply raising awareness. We hope you'll join us in celebrating this special day on May 20th!