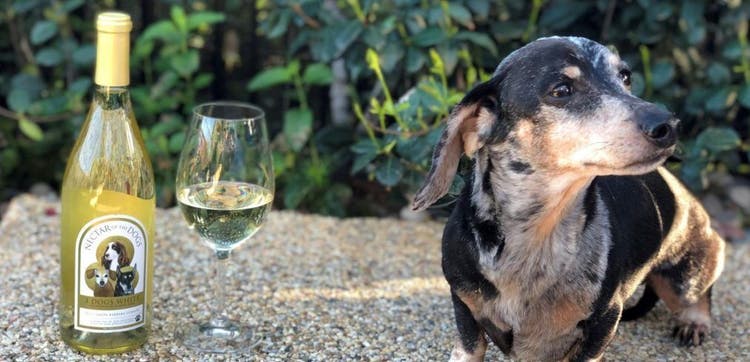 PetPlace Chat: Meet the Founder of Nectar of the Dogs Wine
At PetPlace, we meet a lot of inspiring, passionate people and their pets. We want to introduce you to one of those people: Melanie Garibay, co-founder of the Simi Valley-based company, Nectar of the Dogs Wine. She is a total dog devotee and wine lover who decided to combine her two passions and start a wine company with the mission to support non-profit pet organizations through its sales proceeds. What a cool idea, right? The wine bottle labels feature the founders' beloved dogs in a loving tribute for their inspiration.
We spoke to Melanie about starting the business, winemaking, and dog adoption.
PetPlace: So nice to e-meet you, Melanie! Tell us, what inspired you to launch Nectar Of The Dogs?
Melanie Garibay: I have always loved wine, as well as the culture of wine, and in early 2015, I started to delve a little deeper into what it would take to get into the wine biz.
One day, while talking in their tasting room at Sunland Vintage Winery, I asked my close friends Mike & Debby Giovinazzo how to go about getting started. They had recently opened their own small family wine business creating Italian varietals. They were a huge help and I'm so grateful for their guidance.
I wanted to bottle a pallet of Chardonnay to start with, and was looking for a very specific flavor profile, similar to many I had tasted in Napa. I was introduced to Bob Colarossi at Estate Crush in Lodi, described what I was looking for and, as fate would have it, he said he happened to have some juice fermenting in the back cellar. I tasted straight from the tank and found exactly what I was looking for!
Then I approached a good friend, Donna Graves, about the idea of bottling and then selling the wine for a good cause. We made a commitment to give back to dog rescues by donating a portion of all wine sales to various non-profit organizations. What started as a passion project for us has turned into a growing wine business that I am still pursuing as the sole owner now. By the end of 2015, Nectar of the Dogs Wine (NOTDW) was born.
Melanie Garibay sampling the first varietal from Nectar of the Dogs Wine.
PP: What was the initial public response?
MG: The first pallet (672 bottles) of Chardonnay was introduced to friends and family, who enjoyed the wine so much it sold out in about 6 months, with everyone asking what was next! From the sales of that pallet, we gave $1,000 to two rescues, All American Dachshund Rescue and Bark Party. We were selling the wine through the Sunland Vintage Tasting room at the time, and really weren't sure what was going to happen next. But I knew I wanted to continue on, so I started the LLC for the company in 2016 and we were licensed in January of 2017 and ready to go out on our own! We are getting ready to bottle our 11th varietal in August, so really excited about coming out with our second edition of our "3 Dogs White" blend.
PP: Are you a professional winemaker by training?
MG: While I am not a certified winemaker, I consider myself an experienced wine drinker and have developed a deep appreciation for the business and the intricacies of bringing quality wines to consumers. I sample every wine before deciding what varietals and blends to bottle, because if no one buys the wine, someone still has to drink it, and I will not drink bad wine! As I progress further into this business, I do plan to learn how to make wine, but for now, I leave the science of winemaking to the professionals. I still maintain my full-time corporate job as a Live Events Producer in the professional beauty industry, while running Nectar of the Dogs Wine with a small team and the support of my husband, friends, and family. And as a producer, part of the job is knowing when, where, and how to bring in the professionals to produce a great show. This is the approach I take for NOTDW as well.
PP: How do you select the blends? What is the process?
MG: I work with a few boutique wineries in the Central Coast and Central Valley of California to select and produce the wines we bottle. I am always looking for new varietals, as the majority of wines we produce are limited edition. But when I find one I really like or one that sells well, I will bottle the new vintage again, as I'm doing with our 2017 "3 Dogs White." This white wine blend of Viognier, Gewürztraminer, and a kiss of Muscat Canelli is a very popular blend and was recently featured in The Tasting Panel Magazine, earning a 92 point rating! The 2019 is being bottled in August. I tasted the final blend recently with some wine club members and we thought it was even better than the 2017, something I never thought I'd say.
When I am looking for new wines, the wine club members are a big part of the process. Based on what we have previously bottled and what I would like to consider for future bottling, I will work with the winery partners to find what is available. Then, I get samples for single varietal and blending options. Next, the fun part! I will have some members come over to taste, blend, and select what will be the next NOTDW wine for the year. Our goal is to produce high-quality, easy-drinking wine for many to enjoy, because the more wine we sell, the more we are able to give back to the rescue organizations that help our furbabies in need!
NOTDW went virtual in April with their weekly "Wine Time" series.
PP: What a creative way to combine your passions! Now, let's fast forward to 2020, how has the COVID-19 pandemic impacted your efforts?
MG: Since we do not have a tasting room yet, we rely heavily on events as a way for us to share our wine and mission with people. We had really started to gain momentum at the start of 2020 and were scheduled to pour and sell at several high profile events throughout the year. Unfortunately, due to COVID-19, it's no surprise that all events have been canceled. We are trying to stay positive and be creative to still keep selling wine this year. We introduced a weekly series, Wine Times, on Facebook in April, where we were able to shine a light on a different rescue group on each episode. It was a great way to allow them to get the word out about their organization, highlight adoptable dogs, and encourage people to volunteer, foster, donate, or buy some wine! We were able to reach some new people, make some sales, and give back to each rescue that joined us. We had to put these on pause starting in June, but are looking to bring them back this fall, so stay tuned!
PP: Many people are rescuing and adopting cats and dogs due to shelter-in-place orders, with some shelters reporting empty cages! What does this mean for the organizations that your company supports? Is there less need for now or has the need shifted somehow?
MG: During our Wine Time series, we learned so much from talking to the various organizations, and one of the things we kept hearing was that even though COVID-19 has negatively affected so many, the good thing that has come out of it is, yes, shelters are being cleared and furbabies are being fostered and adopted. From our conversations, I think there will always be a need for fostering and adoption, but there is now also a focus on education for the new fosters and adoptees. Not everyone knows what it takes to care for a dog, so we all want to make sure the new owners know what they need to do to ensure a long, loving life for their new four-legged kids. Wine Time episodes can be found on our website and Facebook page and I encourage people to take a peek and learn more about the rescue organizations we've featured. You'll learn so much about what their needs are, see their passion for saving animals, and it will inspire you to want to do more.
PP: Anything new on the horizon for NOTDW?
MG: We plan to start the Wine Time episodes again in September, but for now, we are doing a "Wednesday Wine Time" on our Instagram page. Viewers can tune in to @nectarofthedogswine at 5:15 pm/PST if they want to see what we are up to and hopefully be inspired to buy some wine! We can only ship wine in California and Nevada, but we also have candles that we make from recycled wine bottles that can ship anywhere in the U.S. The IG sessions are less formal but we still want to stay engaged with our fellow dog and wine lovers. We are hoping that the 2020 events will be back in 2021, as we're ready and can't wait to get back out there. As I mentioned, we are bottling our new "3 Dogs White" this year and hope to have other new varietals coming out in 2021, as well as a tasting room in the near future. COVID-19 has delayed those options for us this year, but we will remain hopeful and try to keep getting the word out about our wine and our mission!
Those outside of California and Nevada can still order Nectar of the Dogs' candles and support the cause.
PP: Anything else you'd like to share with our readers?
MG: We are so inspired and grateful for the incredible work being done by all of the rescue organizations out there. We hope that our contribution is helping to make a difference, so these wonderful people can continue to do what they do.