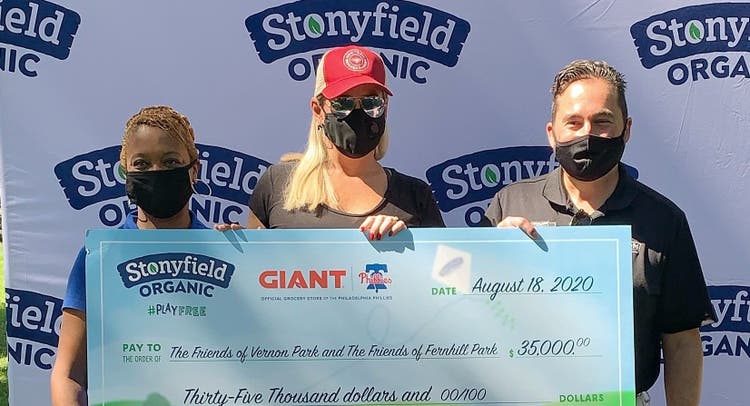 PetPlace Chat: Philadelphia Councilwoman Cindy Bass Talks About the #PlayFree Initiative
Studies have shown that dogs have a 70% higher risk of canine lymphoma cancer after herbicide-treated lawn exposure than dogs not exposed, yet those pesticides reside in many of the grassy spaces where our pups play.
Stonyfield Organic has announced a new partnership with 35 communities across the nation as part of their #PlayFree initiative that will help address this issue. As advocates for clean, green spaces, Stonyfield Organic's new campaign aims to convert outdoor fields and parks to organic spaces that everyone can enjoy–including our furry friends.
Philadelphia, where PetPlace is headquartered, is one of the communities that received grant money to be used toward the purchase of organic inputs and/or landscaping equipment needed for organic grounds management. Stonyfield Organic found a partner in Philadelphia Councilmember Cindy Bass, of the 8th District, who launched the City of Philadelphia's Organic & Regenerative Pilot Park Project.
The goal of this pursuit is to make public outdoor spaces cleaner and safer for the most vulnerable in our community: children and pets. We had the opportunity to sit down with Councilwoman Bass to talk about her involvement in the #PlayFree initiative and why this is such an important cause to support.
PetPlace: Can you explain how we strayed so far for so long in keeping our green spaces healthy and accessible for kids and animals?
Councilwoman Bass: I am working very hard to propose legislation to end the use of harmful pesticides in city parks within three years. I believe the hold up from making these changes is related to cost. I also believe it's a cultural thing. In Philadelphia, we often do what we do because that is what we've always done. Not anymore. I am working to enact change and am committed to creating healthy and clean environments for our citizens and wildlife alike.
PP: This is no small feat! How do you plan on doing this?
CB: I am prioritizing the people's wants and needs, particularly those of our underserved communities, to create healthy and safe environments. I'm grateful for the help and support from partners at Stonyfield Organic, national non-profit Non-Toxic Neighborhoods, and The GIANT Company who are providing resources needed to successfully convert Fernhill and Vernon parks in Germantown to proven organic and regenerative land management to protect our residents and their pets in the 8th district.
PP: Why do you think this is an important project for Philadelphia?
CB: More than 100 United States cities have already banned the use of glyphosate and other toxic pesticides. Philadelphia should and can be on that list.
This year especially, our communities are turning to their public parks, fields, and playgrounds more than ever before. We must prioritize the health and safety of our communities, particularly our underserved communities, which have been plagued by enhanced exposure to environmental toxins.
A furry friend supports organically maintained parks.
PP: This initiative focuses on the conversion of Fernhill and Vernon Parks, but is slated to take three years. Why such a long timeline? What exactly will be accomplished at the end of those three years?
CB: Yes, the parks will transition to organic maintenance over the course of the next three years. It takes time for organic practices to take effect, so the benefits of building healthy soil don't always become apparent in the first year or two. Usually by year three the benefits of managing fields organically starts to become really clear as the healthy soil starts to do the work of supporting healthy fields.
PP: What can the surrounding communities do to get involved and stay involved with this particular initiative?
CB: First, residents can educate themselves more about the use of toxic pesticides, go to phila.gov and search for the words "pesticides" or "herbicides" to find recent articles, meeting notes, or other documents.
Next, they can reach out to our partners at the Non-Toxic Neighborhoods national movement that provides pet parents with the tools they need, and practitioners with the training necessary to end the use of glyphosate and other harmful pesticides.
PP: How does this project fit into your vision for the wider city? Would you like to see more clean, green spaces created all over the city?
CB: Since day one I have been a fighter for quality of life issues that affect Philadelphians. I'm proud of the progress we have made, but we still have more work to do in making sure our public spaces are safe and healthy environments.
PP: What can the wider community (outside of Philadelphia) do to help support this initiative with Stonyfield and GIANT?
CB: An easy way for everyone to get involved is to start at home by making the change to organic lawn maintenance. As part of Stonyfield's #PlayFree initiative, they developed a useful Lawncare Toolkit that outlines four easy tips to get started and make the switch to organic maintenance.
For more resources and ways to help, check out www.Stonyfield.com/PlayFree.