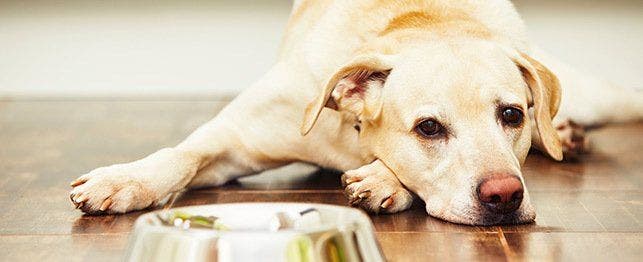 Companion Dog Food Recall 2017: What You Need to Know
If your dog chows down on Companion brand dog food, you might want to take a look at the packaging.
Three types of Companion dog food have been recalled in 2017 due to possible metal contamination in the food. All of the cans have a best by date of 08/05/2019. The three that are affected are:
Companion dog food with chicken and rice
UPC: 68826707501
Companion dog food with chicken, lamb, and rice
UPC: 68826700360
Companion dog food with turkey and bacon
UPC: 68826700356
The recalled foods are all in 13.2 ounce cans, and can be returned for a full refund. You also can call 479-935-6145 if you'd like to find out more information.
In order to best work your way around any dog food recall in 2017, the first action you should take is stop feeding your dog these foods immediately. This way you can try to avoid any risk of harm or serious injury. If your dog has been eating food that's been recalled, it's important to know why it was recalled and what kind of danger you're facing so you know what to watch for in your dog's behavior.
If your dog has been eating the recalled food and you decide to take him into the veterinarian, you should take a sample of the food with you so it can be analyzed. You should also compile all the information about the food possible, including the expiration date, UPC code, production lot numbers, and any receipts from your purchase. Having all of this on hand will allow you to easily determine if what your dog is suffering from is a consequence of his food.
You should also come to the veterinarian prepared with knowledge of how much of the contaminated food your dog ate, when he ate it, what point his symptoms began, and any important dietary information. In order to better treat your dog, having this prepared ahead of time will allow your veterinarian to come to a quicker diagnosis.
Companion Dog Food Recall 2017: What to Do if Your Dog is Affected
In regards to the Companion dog food recall, metal in your dog's food can be a serious issue if ingested. If you think that your dog is in danger due to metal contamination, you should know what to look for, and understand the signs that your dog is in trouble. The biggest risk with metal contamination is that it can cause your dog to choke, and if not caught in time could do serious harm.
You'll be able to tell if your dog is choking if he shows any of these signs:
Drooling
Gagging
Difficulty swallowing
Difficulty breathing
Pawing at face
Regurgitation
Anxiety and distress
If your dog appears to be choking, look in his mouth and remove any foreign objects if you're able to see them. Don't try and feel around for something you can't see and try to pull it out. You could easily end up doing more harm than good.
A trip to the veterinarian may be necessary if your dog continues to show signs of choking, or if you're unable to see anything and the problem persists. Your veterinarian will be able to determine what and where the problem is located and what will be the best course of action for your pet.
Not sure what to feed your dog now? Do your research to find a brand of dog food that is similar to what your dog was eating previously. If your dog has a certain preference to wet or dry food, finding a type of food that is similar will help you avoid any additional issues.
You should also be aware of your dog's diet when choosing a new food. You won't want to switch to a totally new kind of food because it could negatively affect your dog's health if he's not receiving the same nutrients or ingredients.
Overall, it's important to be aware of what you're feeding your dog and if there's anything going on with your choice of dog food brand. Sometimes recall information isn't always readily available when you're in the store, so doing frequent checks online will help you stay on top of any issues.