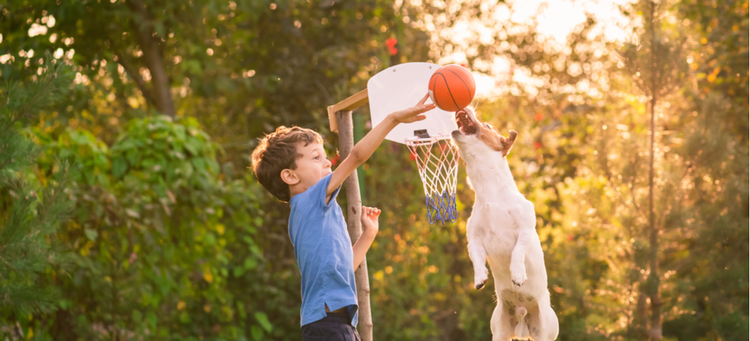 COVID-Sniffing Dogs Support the NBA
The National Basketball Association carried out a season like no other last year. COVID-19's spread and a number of high-profile diagnoses forced the league to suspend operations in March of 2020. In July, the season recommenced with 22 teams in a socially-distanced Florida "bubble." When the Los Angeles Lakers claimed the NBA Finals title in October, they did so without fans in attendance and while keeping mindful of the league's new safety regulations.
Though COVID-19 continues to affect people across the country, the fight against it has progressed considerably since the NBA took to its bubble last year. The 2020-2021 season began on December 22nd, and (as of February) 12 teams are currently admitting limited numbers of spectators into games. In Miami, dogs are beginning to play an important role in ensuring fans of the Heat can safely cheer on their squad. It's part of a plan that the team has been working on since the pandemic's early days.
The Canine Power of Smell
It's no secret why dogs have long served as an asset to the medical and law enforcement communities. To put it simply, their snouts are incredibly powerful. While you might use a walk to take in some beautiful sights, dogs are more likely to appreciate the intriguing smells of the world around them. An everyday fire hydrant or patch of grass may not catch your eye, but it will likely command your dog's attention and may prolong your strolls.
The average human nose contains around six million scent receptors. Canine snouts have as many as 300 million, enough to detect a substance that's concentrated to just one part per trillion. They learn to put these powers to use with the help of specialized training. Dogs are rewarded for identifying the appropriate scents and, with time, they begin to recognize and draw attention to these scents rather than others.
Can Dogs Smell COVID-19?
While dogs are trusted to sniff out narcotics, weapons, and even biological indicators for certain illnesses, doctors still aren't certain whether or not they can detect COVID-19. That's not for a lack of trying.
In late April of 2020, a team of researchers at the University of Pennsylvania's School of Veterinary Medicine (PennVet) kicked off a program to assess dogs' COVID-sniffing capabilities. Results from similar studies began to arrive in the succeeding months. A July article from the journal BMC Infectious Diseases described how German scientists trained dogs to identify infected saliva samples with a 94% success rate. Another controlled-environment study from a team of French and Lebanese scientists was published in December, reporting similar results. Elsewhere, dogs are supporting the COVID-19 response in a Finnish airport and aiding Chile's police force. These studies and developments, Matthew Jafarian suggests, are part of what encouraged the Miami Heat "to take a step forward" in bringing fans back to the AmericanAirlines Arena.
The NBA Goes to the Dogs
Jafarian, the Heat's Executive Vice President for Business Strategy, notes that the team considered a number of options for screening spectators before settling on dogs. "There were breathalyzer tests," he remarks, "We looked at traditional diagnostic tests, like rapid antigen and PCR tests. And we thought how we could administer that to hundreds and thousands of people coming into the building." When they were approached by an organization called SNIFF, the solution became clear. Speaking to Jafarian and SNIFF's CEO Aron Shteierman, CNN's Jacqueline Howard writes that SNIFF has partnered with the Global K9 Protection Group. The organization has not, however, shared details about its training processes or published the results of its research.
Dogs are not the only weapon in the Heat's antiviral arsenal. When fans arrived at the AmericanAirlines Arena on January 28th for the first time in nearly a year, their team had also introduced a number of additional precautions. All attendees must wear masks and take a health questionnaire, physical distancing is enforced, and concession stands are no longer accepting cash payments. Upon arrival, fans queue up in a designated testing area where a dog passes by. A dog sitting next to a person is considered to indicate a possible case of COVID-19. Infected fans are issued a full refund as well as additional information on staying safe and healthy.
As America slowly reopens and returns to normal, residents of high-risk areas are advised to continue complying with local regulations, as well as guidance from organizations including the Centers for Disease Control and Prevention and the Food and Drug Administration.