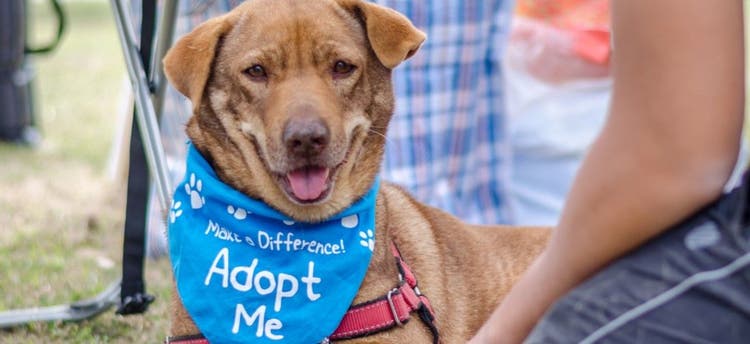 Crafts to Do with Your Pets
You love playing games with your dog; you play fetch, take him for walks, and even play hide-and-seek. Have you ever tried doing DIY dog crafts though? We know that your dog can't use scissors or glue but you can still get creative by doing some of these fun pet crafting ideas and find activities to do with your dog. July 21 is National Craft for Your Local Shelters Day, a holiday started by Erika of the blog Sew Doggy Style, so we've taken the time to list out some of our favorite crafts that you can do with your pets.
Why not give back to a shelter in your town by making one of these crafts? Some of them can be done with your dog; others are better for human crafting. Make the crafting even more fun by getting friends together to help. You may even be able to ask craft stores for donations if you'll be donating the products to a local organization. Happy crafting!
How to Stamp A Dog Paw Print
You can imprint an image of your pet's paw on almost any of the crafts that we'll be discussing in this article. To do this, you'll need non-toxic paint, a paint brush, and a substrate like paper or fabric. Hold your dog's paw, and quickly paint the pad. Press its paw onto the paper or fabric, and you're done. To make cleanup easier, keep a bowl of water, a wet washcloth, and a dry towel next to you. Immediately wash and dry your dog's foot. You might need help from another human if you have a fidgety pet because you probably don't want a permanent trail of paw prints decorating your carpet.
"Adopt Me" Bandanas
How sweet would it be to give each dog at the shelter a bandana that makes it look extra adorable? You can buy inexpensive squares of fabric at craft stores. Stamp your dog's paw print on one corner of the material. Write "Adopt Me" above it using puffy paint or fabric markers. Use bright colors so that the animals that are lucky enough to wear your bandanas can't be missed at the shelter.
Dog and Cat Feeder Toy
Use inexpensive PVC pipes and fittings to make interactive feeding toys for both dogs and cats. Take any length of 1 ¼-inch PVC pipe, and drill several holes in the sides using a ½-inch paddle bit. Use sandpaper to smooth out any jagged edges. To smooth the inside of the holes, wrap sandpaper around a screwdriver before running it along the surface. Attach PVC caps to the ends. If the caps don't fit tightly, use PVC cement to secure them.
Fill the tube with dry food, and watch your dog stay entertained. If you end up using this for your own pet, it's a great distraction to keep the dog busy while the family eats dinner. Get more details about how to make this DIY craft at dogtipper. Never leave a pet unattended with a toy like this.
Muffin Tin Treat Puzzle
Keeping your dog happy involves giving him plenty of mental and physical exercise. A muffin tin plus a few tennis balls can stimulate your dog's intellect and keep him entertained. Grab a muffin tin and enough tennis balls to fill each cup. Place a few treats or pieces of dog food in some of the muffin cups. Then, cover all of them with tennis balls. Set the puzzle down in front of your dog, and watch as he tries to figure out how to get to the treats.
Braided Tug Toy
Use a durable material to make braided tug toys. Fleece and denim work well. Use three lengths of fabric about one or two feet long. Knot them at one end. Then, weave a traditional braid, knotting the other end to secure them when you're finished. That's it! Dogs love tugging on the knotted ends or grabbing the toy in the center and your local shelter will love all the new toys that you donate!
Knotted Towel
This dog toy is simple to make and can keep dogs occupied for a while. All you need to do is take a dishtowel and tie it in a knot. Make these out of hand towels, dishtowels, and washcloths to create different sizes to donate to your local shelter. If you're making this for your own pet, soak it in water and freeze it to keep your canine cool on a hot day. You can also use a knotted towel to train a shy dog. If it's one of your dog's favorite toys, try hiding it. Reward your pup with play time or a treat when she finds it. Your dog will get a confidence boost, and you'll both benefit from spending quality time together.
No Sew Dog Bed
Cut two large squares, circles, or rectangles from fleece. Lay the pieces flat on top of each other, and cut perpendicular to each cut edge, creating fringe. Each segment should be about 1 inch wide and 3 inches long. When you're done cutting, knot each piece together. The easiest way to make this is to cut the fleece to the size of a pillow. Before you knot the bed together, stuff a pillow inside the fabric. Finish knotting around the pillow to complete the bed.
DIY Cat Crafts
Do you want to make a craft for a cat? Try putting together a kitty garden. Plant cat grass and catnip in shallow containers. Watch the felines roll around in this natural delight. Another option is to cut a few holes in the top of a plastic food storage container. Your cat should be able to stick its paw through the holes. Place some treats and cat toys inside the container, and watch your cat figure out how to get them out.
What Items Can You Donate To A Shelter?
If you're planning to give any of your crafts to a shelter, contact the organization first to make sure that they'll accept your items. If donating handmade goods is a problem, you can always ask for a list of other items that the shelter could use. According to Petfinder, common necessities include water and food bowls, pet beds, toys, leashes, collars and grooming tools. Of course, the most valuable thing you can offer is your time.