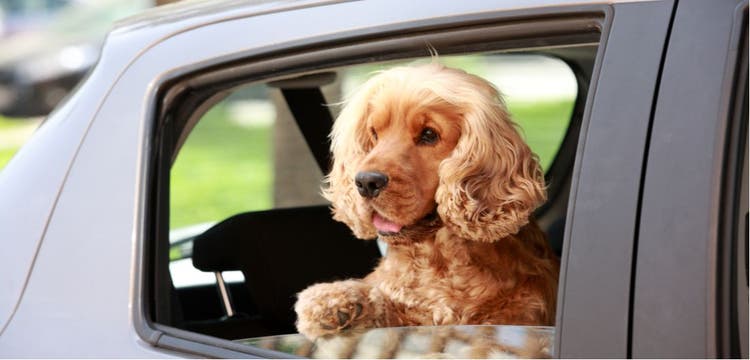 The Ultimate Guide to Road Tripping with Your Dog
Vacation season is just around the corner and, considering recent regulation changes for flying with pets, there's no better time than now to start planning for a road trip with your furry friend.
We've compiled pet-friendly tips from experts in travel, animal care, pet training, and the auto industry to ensure that you have a fun, safe, and memorable getaway with your whole family.
Pre-Trip Planning
The first thing to check off your list when planning a pet-friendly road trip is to make sure that your dog can handle a long car ride. Does your pet experience nausea or display fear and anxiety during trips in the car? According to Russell Hartstein, CEO of Fun Paw Care, these issues can be remedied before your departure date with medication or behavior modification. For example, taking your dog for short distance rides and gradually increasing the time in the car can help your pet adjust to the process. However, if you find that your dog is uncomfortable with car rides of any duration, the best solution is to keep them at a reputable boarding facility that provides routine exercise, meals, and the opportunity to make new friends.
It's also wise to consider your pet's health before taking a vacation. "Make sure their vaccines are up to date. Also, make sure you have a copy of their medical records with you. In case they get sick, the emergency vet knows their history," said Sara Ochoa, a DVM in TX and veterinary consultant for Dog Lab. Vaccination history will be especially important if you plan on crossing the border into another country. In addition to vaccines, "make sure your pets are up to date on flea, tick, and heartworm prevention," said a spokesperson for Subaru of America.
Lastly, is your pet potty trained? You don't want any accidents in the car, especially during a long drive!
Things to Remember Before Hitting the Road:
A great place to start your research for pet-friendly destinations, lodging, restaurants, and events is BringFido.
Always take travel breaks for a little fresh air and fun!
Start Your Engine!
After the initial pre-trip planning, getting ready for departure day is pretty simple. First and foremost, exercise your pooch with a long walk, if schedule allows. This will help your dog relax and possibly nap, which will make sitting still for hours a bit easier. Afterwards, safely clip your pup into the car seat or crate and be sure to have toys, treats, and water nearby for easy access.
On-The-Road Tips:
Once you hit the road, take frequent breaks. A rest every 3-4 hours is ideal for both you and your pet. At each stop, let everyone stretch their legs, take a potty break, drink water, and expend some energy. "If your pitstop allows, this is a great time to run and play – then they'll be more inclined to sleep some more in the car," recommends Nicole Ellis, a certified professional dog trainer and pet lifestyle expert with Rover. However, don't give your pet a full meal during your pit stop, since they will need to take a bathroom break within an hour of feeding.
If you can't bring your pet with you during a meal break, be sure not to leave them in a hot car. Most people dramatically underestimate car interior temperatures. It's not ideal, but the best solution in this scenario would be "leaving the car running with the AC on. Bring a spare key and leave the car running, then lock the door with the spare key. You should write a note and leave it on the dashboard that notes the AC is on, with your phone number in case someone feels the dog is in danger," advised Jme Thomas.
Driving long distances and being in a new, different place for days can make it tough to stick to a schedule. Sticking to your routine as much as you can helps avoid any discomfort for your pet. David Adler says he tries to feed and walk his dog around the same times he does at home and continues when he reaches his destination. "Sticking to the routine will give them a sense of order and allow them to relax a bit more," he added.
We'll leave you with this sentiment from veteran traveler J.B. Shepard, "Road tripping with a dog can be an absolute blast or a complete bust, largely depending on how well you prepare ahead of time."
Bon voyage and don't forget to drop us a line or a photo!