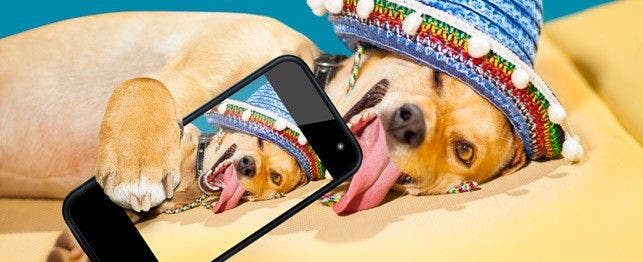 Double Tap These Dogs: The Top 10 Dogs of Instagram
Social media is great for connecting with friends and sharing your opinions, but did you know it's also a great platform for your dogs? The dogs of Instagram are taking over people's newsfeeds with cute tricks, silly antics, and plenty of begging.
Sharing your dogs' photos with your friends is one thing, but the famous dogs of Instagram have taken it to a new level. These pups have published books, made appearances, and rubbed paws with celebrities. While they're still goofy, lovable dogs, they're standing up for causes that affect canines across the country, and they're using their fame to help out within their communities.
From puppies to senior dogs, these dogs of Instagram have left their paw prints on the internet and our hearts. Their hilarious videos and adorable photos have brightened millions of days.
Want to brighten your day? Check out our favorite dogs of Instagram.
The Top 10 Dogs of Instagram
1. Harlow, Sage, Indiana, and Reese
These dachshunds and their weimaraner sister are the cutest best friends you'll find on social media. They do everything together, including advocating for dogs in need of adoption and even writing a book. The famous friends love naps and adventures. Follow them @harlowandsage.
2. Marnie the Dog
Both sweet and adorable, Marnie, a 14-year-old Shih Tzu has been captivating audiences for years. The fluffy pup was adopted at the age of 11, and supports the adoption of older dogs. Her long tongue and cocked head will make you fall in love instantly. Follow her @marniethedog.
3. Crusoe the Celebrity Dachshund
This dachshund's acting skills are Oscar worthy. Well known for his viral videos, Crusoe loves to dress up in costume. This intelligent pup will warm your heart with his obvious charm and love for exploring. Some of Crusoe's best posts are when he and his brother Oakley dress up as firefighters or cops and try to save the day. Follow him @crusoe_dachshund.
4. Tuna Melts My Heart
If funny faces make you laugh, this account is for you. This quirky little chiweenie loves to dress up in costumes and make people smile. With an adorable overbite, Tuna has delighted followers across social media. Tuna also is an advocate for the adoption of mixed breed dogs. Follow him @tunameltsmyheart.
5. Norbert
As the saying goes, great things come in small packages. Norbert is a mixed breed dog who weighs around three pounds, but his small size doesn't affect the size of his heart. Along with being incredibly cute, Norbert is a registered therapy dog and a philanthropist. A frequent volunteer at Children's Hospital Los Angeles, Norbert is doing more than just bringing smiles to people's faces. Follow him @norbertthedog.
6. Nelson the Goldendoodle
Goldendoodles are a classic family dog, but Nelson is a little different. Dogs love riding in cars, but Nelson rides in the sidecar of his owners' Vespa. Complete with goggles and the occasional classy outfit, Nelson travels in style. Check out his account and see where he's headed to next. Follow him @nelsonthegoldendoodle.
7. Bodhi the Menswear Dog
This dog probably dresses better than you. Bodhi, a shiba inu, operates under the title, "The Most Stylish Dog in the World." His trendy outfits are on par with every season. The only dog to ever make a turtleneck look good, Bodhi is setting the fashion standard for dogs all over the world. Follow him @mensweardog.
8. Dean the Basset Hound
Love floppy dogs with big ears? Dean the basset hound is for you. This little dog from Toronto loves outdoor adventures. With the trademark long ears and big, brown eyes, Dean's cute face will be a great addition to your feed. Get your weekend inspiration from this outdoorsy pup, and watch him bite off more than he can chew while he carries giant sticks around the forest. Follow him @deanthebasset.
9. Doug the Pug
If you follow pop culture, you know Doug the Pug. From meeting celebrities to making an appearance on Good Morning America, Doug has cruised through fifteen minutes of fame and chiseled his name in social media stardom. Don't follow Doug? You're missing out. Over 2 million people follow this pug's daily activities. Follow him @dougthepug.
10. Three Corgis
Corgis as a breed are social media famous because of their small stature and comical personality. Hambone, Wolfgang, and Cupcake are no exception. Photogenic is an understatement for these three corgis. These pups find themselves in all sorts of funny situations, as corgis typically do. Follow them @threecorgis.