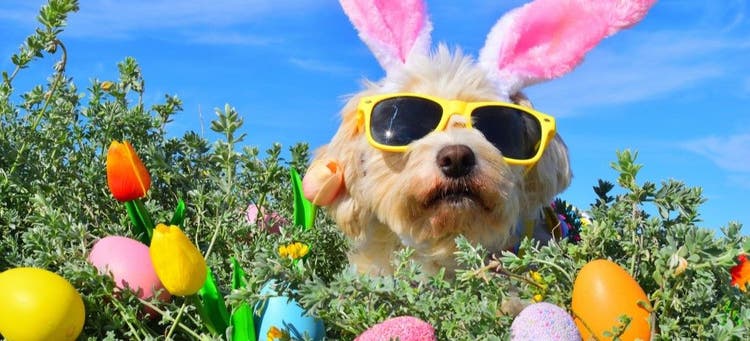 Easter Basket Ideas for Your Dog
All products featured in this article were independently selected by our editorial team.
This year, Easter is going to the dogs! 90% of Americans involve their dogs in their holiday celebrations, including buying them gifts. Easter should be no different, after all, your pup brings joy to your life every day, so bring a little joy to them on special occasions. With Easter so close, it's the perfect time to pamper your pooch with a fun Easter basket of their doggy favorites.
Choosing the Perfect Easter Basket for Your Dog
The foundation of any great Easter basket is the basket itself. If your pup is a chewer, make sure you select a basket that is made of something safe for them to play with, or keep it out of their reach so they don't end up chewing something they shouldn't.
Easter Toys for Dogs
What's Easter without your very own plush Easter bunny? Whether they're plush bunnies, chicks, or another stuffed animal, your pup will love Easter-themed plush toys. Don't forget to get a wide selection of toys with good squeakers.
Easter Treats for Dogs
What was the best part of your Easter basket when you were a kid? The candy, of course. While you can't share your candy with your pooch this Easter, you can get them adorable dog-safe treats to fill their basket. Stock up on their favorite treats and chews and pick up some of these charming Easter-themed dog treats.
Easter Outfits for Your Dog
Everyone deserves a new outfit for Easter, including your dog. Whether you just get them a new collar or go all out with Easter Bunny costumes for your dog, you'll get the whole family into the Easter fun by dressing up your pooch.
This Easter, bring your furry family members in on the fun by making them their very own Easter basket. Fill it with their favorite things, or find new, fun, Easter-themed dog treats and toys to make your pet's day.