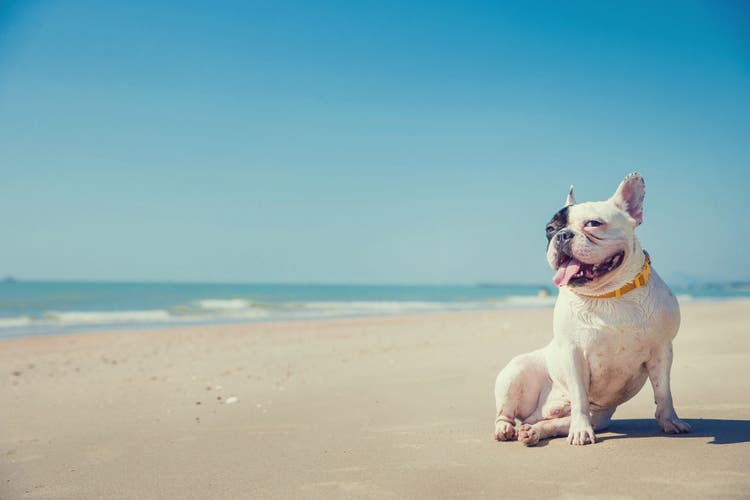 Make Summer a Blast With These Pet-Friendly Vacation Ideas
How many times have you found yourself struggling to figure out what you want to do or where you want to go on vacation because you're not sure what to do with your pet? Do you leave them at home or maybe with a pet sitter? Either way, leaving your pet at home while you leave for a couple of days doesn't sound enticing. Well, what if you could have fun on vacation and also take them? It sounds like the best of both worlds, but is it really possible? With these pet-friendly vacation ideas, you'll have a blast while also being able to bring your furry friend along for the trip!
Pet-Friendly Vacation Ideas
Since Lola, your trusty poodle never leaves your side, you've decided to bring her on vacation with you this summer, but you're not sure where you guys should go. Since most places aren't very dog-friendly, but you still want to have fun with your furry companion during your time off, where should you go?
San Diego, California
You'll be pleased to hear that San Diego is one of the most dog-friendly cities in the United States. Whether you're there for the attractions, tours, or restaurants, you and Lola will be welcomed with open arms. With beautiful weather, gorgeous scenery, and the incredible San Diego beaches, you and Lola will have a fantastic time. Start off with some lunch at the Patio on Lamont at Pacific beach, where you can get a taste for some authentic Californian cuisine, but Lola can also chow down on some of their homemade dog biscuits.
If that's not really your style, you can always hop over to the dog-friendly terrace at the Pier Cafe on West Harbor Drive. After lunch, let Lola loose at Nate's Point Off-Leash Dog Park at Balboa Park, which is open 24 hours a day, so you can enjoy a late night jog or an early morning walk as the sun is rising. Since Lola's an active one, you might want to go explore Fiesta Island, one of San Diego's many off-leash beaches and parks.
According to Smart Assets, San Diego has a whopping 530 dog-friendly restaurants, so you should have no concern as to whether you'll be able to find somewhere to eat. Want to sit around and drink a beer with your best bud by your side? San Diego has plenty of breweries where you can do just that. If you're in the city at the right time, you might even be lucky enough to catch one of the many canine-focused events that they put on every year.
Austin, Texas
If you're not really interested in visiting California and don't want to spend the money to do so, maybe Austin, Texas is the right place for you and your furry companion! Nationally known as one of the most pet-friendly cities in the United States, there are plenty of fun things to do with your pet in Austin. If you've brought along your pooch, you'll surely want to enjoy the great outdoors at Lady Bird Lake. Located in downtown Austin, this river-like reservoir provides plenty of fun for visitors as well as locals to get out and enjoy the weather. From hiking and biking trails to kayaking and paddleboarding on the water, you could spend a whole day at Lady Bird Lake with your pup.
What dog doesn't like running around off leash? Red Bud Isle Dog Park is 17.5 acres of off-leash fun for you and your dog. Since it's located right on Lake Austin, it's a great place for dogs to run around and then cool off in the water after a hot day in the sun. After your day in the sun, you'll surely want to cool off with some drinks. What better place to do so than Yard Bar. This local bar is a popular spot for dog lovers in Austin and allows you to enjoy some good food and drinks while you watch your dog play in the bar's off-leash dog park with fellow pups from the bar. If you're interested in getting some shopping done while on vacation, you're going to want to head to "The Domain." This outdoor shopping center has shops such as Macy's, Dillards, and more. The nice thing about this shopping center is that most shops allow pets and will even give out treats to dogs that stop by.
Sedona, Arizona
Let's say you're more of an outdoorsy sort of person and you'd like to go vacationing somewhere that you can things like hiking, going on adventure tours, and just being in the outdoors all day long with your pet. Well, Sedona is the place for you. A trip to Sedona is wasted without venturing out to their local hiking hills. The beautiful red-rock scenery will leave you wanting more and more. With dozens of fantastic routes to choose from, varying in difficulty level, you and your pooch can grab your canteens and get going on an all-day hike.
Sedona Red Rock Adventure Tours is the town's top tour company and they happily provide tourists with a personalized adventure, made to your liking. Your tour guide will put together a tour that fits your desires and needs perfectly. The best part is that all the tours are dog-friendly! You'll also get a 10 percent discount for bringing along your dog as well, so how can it get any better than that? If you're a little less interested in hiking, and just want to examine the scenery, you and your pet can take an off-road jeep tour and sit back, relax, and enjoy your surroundings.
Finish off your day at one of the 50 or so of the surrounding dog-friendly restaurants.
Recommendations on How to Keep Your Pet Safe/Healthy On Vacation
Anyone who's ever traveled with their pet knows the most important thing you have to make sure of is confirmation of their safety at all times. By taking the time to prepare for your trip beforehand, you're much more likely to enjoy and take full advantage of your entire stay, with little to no worry.
Make sure the hotel or place you're staying is pet-friendly. The last thing you want to do is get to your vacation spot and not have a place for your dog to stay. It's imperative that you never leave your pet alone in a parked vehicle. Whether it's just five or 10 minutes, a pet can get dangerously sick by being left in a parked car by themselves, even to the point of death. Animals can't tell us what they're feeling or that they're hot. Don't make the mistake of thinking you can leave them in the car to go run a quick errand. Either take them inside with you or don't have them with you, to begin with.
Always give your pets plenty of water while on vacation. Just like you get tired and dehydrated out in the sun all day, as do they. Ensuring that your pet is hydrated is extremely important if you want to avoid them getting sick.
Travel Tips To Keep In Mind
Traveling with a pet can be hectic, so if you're flying with your pet, make sure to try and book a direct flight to your location. This guarantees that your pet will spend as little amount of time as possible being confined in a crate, waiting to arrive at your destination. Remember, they don't get to sit all nice and cozy in their seats as you do.
If you're taking a road trip, make sure to prepare your pet for a long trip. This could include bringing their vaccination records for safety or even a pet-friendly travel kit, with all of the essentials, such as food, treats, water, a bowl, leash, plastic bags, grooming supplies, medication, etc. It's good common practice to make an appointment with your pet's veterinarian for a check-up before you leave to ensure your pet is in good health and good traveling condition before you book a trip.
Learn More About Traveling with Pets