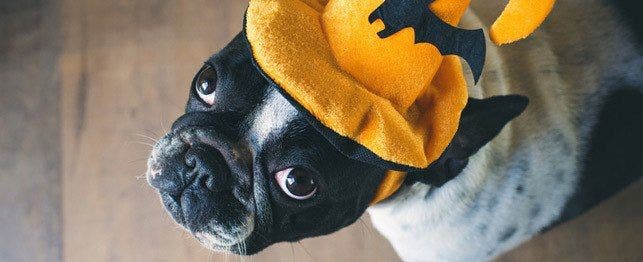 How to Throw a Halloween Costume Party for Dogs
It's a party and everyone's dog is invited.
People love to dress up their dogs for Halloween, and they love to host Halloween costume parties. But what about throwing a Halloween costume party for dogs?
While this idea may sound far-fetched to some, it's feasible so long as you have proper party planning and a strategy specific to dogs. Of course, the invitees' owners (the chauffeurs) would be present at the costume party as well.
Here are seven tips for having your dog and his "friends" party like rock stars on All Hallows' Eve:
1. Find the Proper Venue for Your Party
Ideally, you'd host your Halloween costume party for dogs at your own residence. This option, though, is only recommended if you have enough space to accommodate party-goers, a dog-proofed home, and a fenced-in yard.
If you're not able to meet these criteria, ask a friend to host or consider seeking permission to use a public space. A dog park could serve as a suitable spot, though weather can become an issue when throwing an outdoor-only party around the end of October.
2. Select Your Party's Date and Time
While hosting your party on the day of Halloween might seem appealing, you can select another fall date to minimize competition with other, human-only Halloween parties. This strategy should improve your party's attendance.
Although most Halloween parties are hosted in the evening, consider having yours during the day on a weekend. This technique should better accommodate your canine guests' activity routines, provide daylight for the possibility of outdoor activities, and, again, reduce competition with other parties.
3. Send Your Party Invitation
A written invitation is perfectly acceptable, but you can save time and money by sending your invitation virtually through a website like Evite (though many online invitation websites do charge a fee for their services).
Provided you and your guests are active on social media, consider using a free method like a private Facebook event to announce your party. This strategy proves particularly effective if you've already established a pet-based community or group on this social media site.
4. Decorate with Dogs in Mind
As with most parties, themed decorations are a must for your Halloween costume party for dogs. Create an atmosphere both dog and their human chauffeurs will enjoy. You can even furnish dog toys as a party favor.
Since your party is being thrown for dogs, however, keep your decorations out of reach for dogs. There ought to be enough stimulation to satisfy the dogs attending your party without having them contend with streamers and confetti at ground level.
5. Serve Appropriate Refreshments
It's not a party if there's not food. And while food for human chauffeurs is certainly welcome, center the food and drinks around your canine guests. Be prepared to have a variety of dog treats and plenty of fresh water available.
Inform your guests ahead of time that an actual meal for dogs will not be served. It's simply too complicated and expensive for you, as the party host, to try accommodating each guest's nutritional needs. Moreover, dogs who are not familiar with one another can become aggressive when a group feeding is attempted.
6. Have a Costume Contest
This might go without saying, but a Halloween party must include a costume contest – even when it's being thrown for dogs. Encourage your canine attendees (and accompanying human chauffeurs) to dress up and offer prizes for the best and most creative costumes.
Other contests can serve to supplement your costume contest. These include awarding prizes for oldest canine guest, best behaved canine guest, and longest ears among dog attendees.
7. Recognize the Possibility That Not Every Guest Will Have a Good Time
By adhering to the aforementioned tips, your Halloween costume party for dogs is sure to be a hit. That said, it's entirely possible that not all canine guests will enjoy themselves – especially if they're unaccustomed to this type of social environment.
Encourage your human chauffeurs to only transport their dogs to the party if those canines are generally well-behaved and comfortable with crowds. Has the dog visited dog parks in the past? Make sure your human chauffeurs realize they're welcome to attend solo and enjoy the entertainment afforded by other canine guests should they have doubts regarding their own dogs' ability to enjoy the party.
Even with this preventative approach, it's conceivable that certain canine guests won't get along. Have a contingency plan in mind – whether it's establishing part of your residence to house dogs that need to be separated or politely asking a guest to leave.
With proper planning and preparation, your Halloween costume party for dogs is all but assured to be a riveting success for canine guests and their human chauffeurs alike. You might even end up establishing a new Halloween tradition.