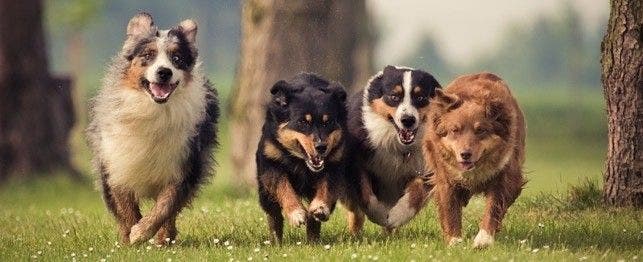 Just for Kids: Playing with Your Dog
Your dog loves to play. Even better, he likes to play with you. Puppies love to play with their littermates. When they wrestle and roll around with each other, they are developing the skills that they need when they are adults.
Adult pets enjoy play, too. It gives them needed exercise, and keeps them healthy, fit and trim.
It's always a good idea to play with your dog at the same regular time every day. Perhaps after school would be good or right after dinner. Your dog will enjoy looking forward to his playtime every day.
Safety First
Dogs like to chew their toys, so you have to make sure all of your pet's toys are safe. They shouldn't be too heavy but they should be large enough so they can't be swallowed. Make sure there aren't any small buttons or screws that could be bitten off and swallowed. Toys shouldn't be made of anything that could hurt your dog, either. Rubber toys made for your dog are usually the safest. Some, such as Kong toys, let you put treats inside. Your dog plays with the toy to get treats.
You also have to make sure that you don't exercise your dog so much that he gets too tired. Bicycling or skateboarding with your dog may be too much. If your dog looks like he is tired and wants to stop, let him rest.
Be very careful in the hot months, too. Make sure your dog always has plenty to drink and don't take him outside to play in the middle of the day when it is the hottest.
Games to Play
There are plenty of fun things to do with your dog. Here are a few:
Fetch. Dogs love to play fetch. Throw a ball or stick so your dog will chase it. When the object lands, your dog will likely pick it up and bring it back to you. Give your dog plenty of praise or a treat when he brings it back to you.
Play Frisbee. Put your dog on a long leash and toss the Frisbee a short distance away. When your dog grabs the Frisbee, tug on his leash to encourage him to bring it back to you. Then give him a treat or some praise.
Chase. Small dogs like to play chase around the dining room table or a swing set in the yard. You can even reverse direction occasionally to keep him guessing. Be careful he doesn't catch you. It's a good idea to check with your parents first, though. A running dog sometimes loses control and could knock over a lamp or other fragile object.
Hide and seek. Dogs like to use their skills when they play. Try hiding three objects like balls or toys and let your dog find them. Let him see and smell the three objects first, then have him sit while you hide them. Give him a treat each time he finds one.
Hold a dog race. If you have a friend who has a dog, you can have a dog race. Have your dogs sit and stay, then you and your friend should stand at the finish line. Call your dogs and the first one to reach you is the winner.
Have a dog contest. You and your friends who have dogs can have an obedience contest. You can see who can sit, stay and heel the best. You can also see which dog does the most tricks.
Take your dog for a walk. Sometimes just taking your dog for a nice walk around the neighborhood is a lot of fun for your pet. He likes to investigate the smells and walking gives him good exercise. Make sure you keep him on a leash, and clean up if he goes.
Playing with your pet isn't only fun for him; it's also lots of fun for you, too. No matter what the game, play is fun for both you and your dog, and helps to make you even closer.